Spreading the Spirit of the Season
Braydon Coburn talks to NHLPA.com after a visit to a Philadelphia children's hospital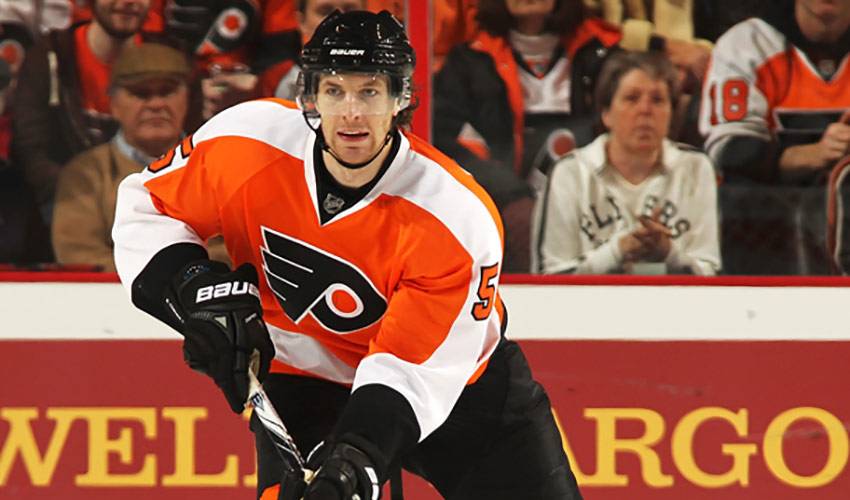 Although the hockey season has so far afforded Braydon Coburn and the Philadelphia Flyers great success, it hasn't stopped the defenceman and his teammates from thinking of others.

Coburn, in his fifth campaign playing defence for the Flyers, had any number of reasons to be in good spirits when he spoke with NHLPA.com recently.

On the ice, Philadelphia has carried over their strong playoff form from 2009-10, a year that saw the Eastern Conference club squeak into the post-season before making it all the way to the Stanley Cup finals.

The Flyers, who sit atop the NHL, also downed two bitter rivals in the Montreal Canadiens and the Pittsburgh Penguins.

It was the latter victory that dominated Coburn and his teammates' visit to a local Philadelphia children's hospital on December 16.
"To be honest, it was a really wonderful experience," said Coburn, the Calgary native who was selected first overall in the Western Hockey League Bantam Draft by the Portland Winterhawks. "We all had a great time meeting some very special kids. It was kind of funny when we walked in. A lot of them greeted us by saying things like, 'Alright! You guys beat the Penguins. Way to go.' That was pretty neat."

It was also a meaningful few hours for Coburn, who was awarded the WHL's Doug Wickenheiser Memorial Trophy in 2004 as humanitarian of the year.

"Any little nagging issues you have in your life, any small things that affect you, are nothing compared to what some of these kids have to battle through," said the eighth overall selection of the Atlanta Thrashers in the 2003 NHL Entry Draft. "You see how brave and strong-willed they are and it really hits you."

For Coburn, the visit and those he meets with stay in his thoughts long after he leaves.

"It feels good to know that these kids are happy you've come to see them to spend some time with them and show that you care," said the 6'5", 225-pounder, who, three days before his birthday, was dealt on February 24, 2007, at the trade deadline, to the Philadelphia Flyers in exchange for defenceman Alexei Zhitnik. "It really does make you feel good. It puts a smile on your face. I have a lot of admiration for how young kids can be so positive and so upbeat."

Coburn has plenty of reasons to be positive and upbeat himself.

The blueliner, who competed in two World Junior Championships for Team Canada, winning silver in 2004 and gold in 2005, is once again playing a significant part for the Flyers, providing steady play in his own zone and chipping in offensively.

Philadelphia, who lost in six games to the Blackhawks for 2010 Cup honours, has been a force this season, a team that looks eager to take things on step further.

It didn't take long for Coburn to realize it was a determined group that headed into their 2010-11 training camp.

"Obviously, we were happy at how hard we played last year," said Coburn, who had 36 points in 2007-08, his first full season with the Flyers. "But we were disappointed at how it finished. Everyone here knows what it will take to get back there. We are all on the same page."

Coburn isn't interested in having to wait until the final game of the season to secure a playoff berth, something the Flyers had to contend with in 2009-10.

Inconsistent play down the stretch forced the Flyers into a do-or-die shootout with the New York Rangers in the last game of the regular season, one that would determine who would land a playoff spot.

"I really don't think we'd like to deal with that type of scenario again," said Coburn. "There are too many good teams to put yourselves into that position again. We wanted to establish ourselves early and maintain consistent form throughout the year."

It's also just what Coburn wanted to bring to the rink.

"Consistency is what you always strive for," he offered. "Obviously you try and make strides in every part of your game with each season."

He likes what he sees in this edition of the Flyers.

"I think the one thing that certainly stands out is our depth. We have four very capable lines, all who can make an impact in some way. I also think we have great goaltending. We are very confident in whoever is in net. Hopefully, it all adds up to us being able to achieve our ultimate goal."

If so, Coburn knows there will plenty of happy and proud fans of the orange, black and white, including a group of kids who gave one of hockey's good guys an early Christmas gift.