From the Land of the Ice and Snow
Wild star Martin Havlat is happy to call Minnesota home; eager for shot at a playoff run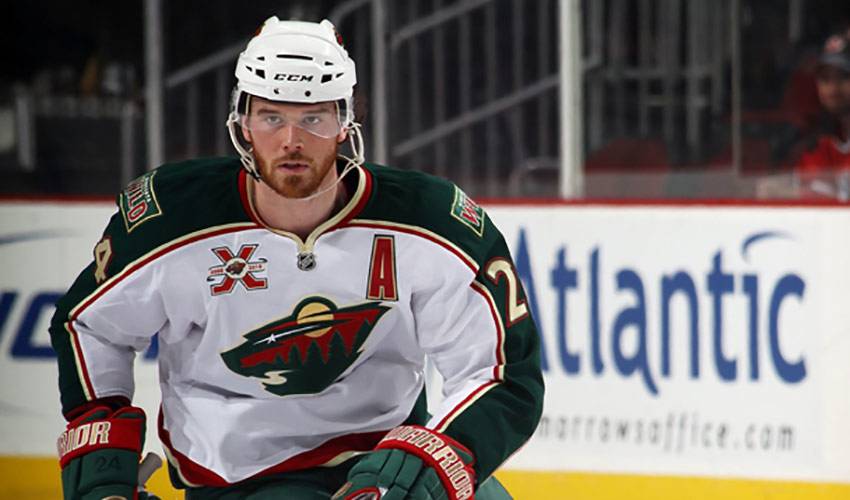 Whether it's in his native Czech Republic or the city of St. Paul, Martin Havlat feels right at home, both on and off the ice.
As one of hockey's most electrifying offensive players, Havlat, the 26th overall selection of the Ottawa Senators in the 1999 Entry Draft, has always had a flair for bringing the home fans out of their seats.
When he was growing up in Brno, a city famous for its trade fairs and motorcycling Grand Prix, Havlat, who started playing hockey at the age of five, worked hard to heighten his skills, often spending hours in his family's basement, perfecting his shot and accuracy.
"Hockey was always number one for me," said Havlat, who had a starring role in the Czech League ranks before making an impact in North America.
"My father (Slava) always supported me in my career. When I was a little guy, I'd play hockey all the time, in the streets or in the house, anywhere I could."
But it wasn't only hockey that occupied Havlat's leisure time.
"I loved a lot of different sports when I was growing up," he said. "I played a lot of soccer and tennis, too. I think soccer really helped me become better as a hockey player. In soccer, you really need to focus on footwork and quick starts and stops. But for me, hockey was it."
Although he still follows soccer – Havlat has a collection of signed jerseys he's purchased over the years – the forward gets his kicks from lighting the lamp against the best in the business.
A strong skater and accurate shooter, Havlat made the hockey world take notice in his NHL rookie season in 2000-01, a year in which he registered 42 points (19-23-42) in 73 games and was named to the league's All-Rookie Team. He was also a finalist for the Calder Memorial Trophy as the league's top first-year player.
It didn't take long for Havlat to realize just how passionate the people of Ottawa are when it comes to hockey.
"The fans in Czech Republic are much different than they are in Canada," said Havlat, who was given the nickname 'Mach-9' by Senators supporters. "During the games in the Czech Republic, people are constantly screaming and singing, some of the fans bang drums during the game."
While the atmosphere at the Xcel Energy Center in St. Paul might not be quite as raucous, Havlat, who had 54 points in 73 games with the Wild in 2009-10, understands that those who fill the arena can be just as vocal.
"There's nothing better than hearing the fans, especially during the playoffs," said Havlat, who had 31 goals, 37 assists and 68 points in 2003-04, despite missing 12 games. "If you're winning, it's the greatest feeling you can have."
In spite of all the action that takes place on the ice, Havlat admits he can still hear the cheers of those in the crowd.
"For sure, you definitely know how loud it is," said the centreman, who suited up for his home country at the 2010 Vancouver Olympic Games. "It's so much fun. It really gets you going."
With things once again appearing to be wide open in the Western Conference, Havlat, who signed as an unrestricted free-agent with the Wild in the summer of 2009, following a stint in Chicago with the Blackhawks, has his sights set on helping the Wild have a shot at competing for the Stanley Cup.
If Havlat, seems like he feels right at home, that's exactly the case.
But it wasn't always like that, especially when he first left the Czech Republic to embark on his big-league career.
"It was a bit difficult the first year because you miss your family and certain things from home," admitted Havlat, who has appeared in 67 post-season games, recording 49 points. "After two or three months, you begin to feel better. I loved the hockey right from the start, so that made things a lot easier, too."
Now, in his 10th NHL season, Havlat is just as hungry as ever, eager to play his part in the Wild's success.
"Every year, there is more pressure to do better, not just yourself, but the team, too," he said. "In this league, you can't be happy with what you did one night. Every game matters. That's why you have to expect the best from yourself."
And, according to Havlat, you can never look too far ahead.
"Everyone says you have to take things one game at a time, but it's really the best way to look at it," said Havlat. "There are plenty of good teams in both conferences, so you have to be prepared to play every night."
Does that mean Havlat is up for the challenge?
"For sure. That's what we all play for – the chance to win the Cup."