The Passion Still Runs Deep
Vincent Lecavalier still loves to play hockey & his love for charity is just as strong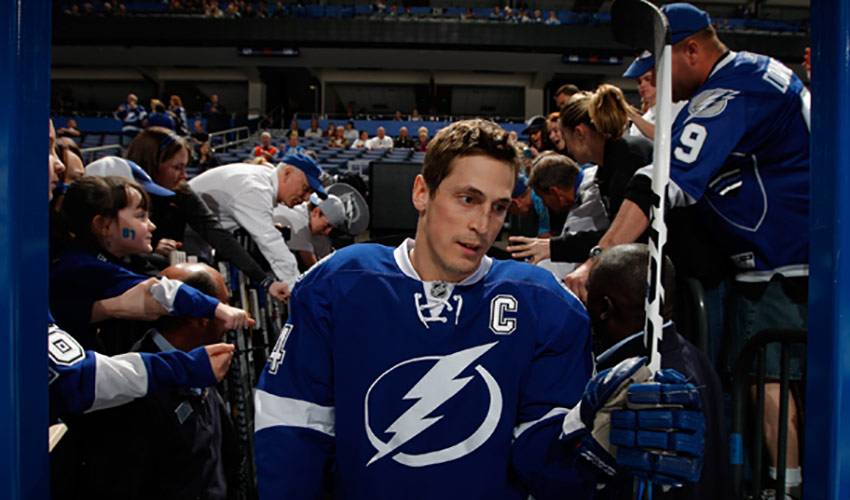 As a player, Yvon Lecavalier has seen his son go through several changes in his rise to prominence. As a person, Vincent Lecavalier has remained as humble as the day he skated in his first big-league game.
He still shakes his head when he realizes its' been 13 years since his son first burst onto the NHL scene as the first overall selection of the Tampa Bay Lightning in 1998.
"I was just thinking about that the other day," Yvon Lecavalier told NHLPA.com from Tampa Bay. "I remember in Vinny's first year, (former head coach and former TV analyst) Jacques Demers told me, 'Mr. Lecavalier, make sure you enjoy all of this because it's going to go by very fast.'
"And it has. But that's not a bad thing. I still think there are many good things ahead for Vinny and for the team."
Yvon Lecavalier knew early on that his son had a great shot to make it to the NHL. He also knew that if Vincent did achieve that goal, it wouldn't affect his ego.
Now, nearly 900 games since he skated in his first NHL game in 1998-99, the native of Ile-Bizard, Quebec, who has won a Stanley Cup, a gold medal with Team Canada at the 2004 World Cup of Hockey and is a four-time NHL All-Star, remains as grateful as ever.
"Vinny absolutely loves the game," said Yvon, of the Lightning captain, who has played his entire pro career in Tampa. "Even through injuries and tough times, not making the playoffs, he still has the same passion for what he does."
His passion for making a difference, however, doesn't end when the final buzzer sounds.
Vincent has made community giving and charitable work a daily part of his life since joining the Lightning.
Early on in his NHL career, his efforts focused on an on-ice performance-based contributions program benefiting Tampa's All Children's Hospital.
In 2003, Vincent formalized his charitable efforts through the creation of The Vinny Lecavalier Foundation. Due to the NHL 2004-05 lockout, the Foundation was not officially launched until December 2005.
Since then, he has contributed significantly to local children's hospitals and charities through donations and personal support, including numerous patient and agency visits.
Prior to the lockout, Vincent looked at ways to make a significant contribution to the community that had supported him throughout his tenure in the NHL.
In an effort to immerse himself in the Tampa community, Vincent devoted two seasons to inviting 26 different charitable groups to Lightning games through the foundation's Suite Stanley program.
Three and a half years ago, Vincent announced a $3 million commitment to build The Vincent Lecavalier Pediatric Cancer and Blood Disorders Center at All Children's Hospital. Now open, the Center is one of the largest pediatric cancer centers in the state of Florida and houses 28 individual patient rooms with accommodations for parents to stay overnight with their child.
"To know that he has committed himself to working to make a difference in the community is something we are all proud of," said Yvon. "He really enjoys meeting people and is very comfortable speaking with them."
None of it comes as a surprise to Yvon, who recalls his son being just as relaxed in similar situations.
"For two summers, when Vinny was younger, he and his brother and sister went to a day camp where they helped disabled children," recalled Yvon. "I thought that my children are very lucky to have what they did, so they should see that not everyone is as fortunate in life.My children are very special to me and I wanted them to grow up being good people. And I believe they have done that.
"In Vinny's case, he's proved that through his foundation. Year after year, he's always ready to help. The city of Tampa loves it."
Yvon also knows the fans would love to add another Stanley Cup banner into the rafters of the St. Pete Times Forum.
"They are a good bunch of players," said Yvon. "They give their maximum effort every night. They show up and they want to win. They have a good spirit. I'm very confident something good will happen for them."
He also likes what he sees behind the bench.
"Their coach, Guy Boucher, is very, very good at what he does," praised Yvon. "I watched him play minor hockey and he coaches the way he played. He's a great competitor. He asks 100 per cent of the players. He's always been a winner."
His flattering words aren't solely reserved for the head coach.
"Steven Stamkos is a wonderful kid," said Yvon, of the third-year superstar. "I've met his parents and they are very nice people. Steven is very well-respected by his teammates. Everybody likes him. All of the players are great. I think the fans see that. That's good for everybody. There have been tough times, but the fans deserve to see the team doing well."
So, when it comes to his son, what is Yvon most proud of?
"There are many things I can think of," he offered. "But to know that he is living his dream and at the same time is helping others, that is something that means the world to us."