NHLPA & Pannini Ask Fans to Pick Their All-Star MVP
Winning entry takes home game-worn MVP jersey; contest available on NHLPA.com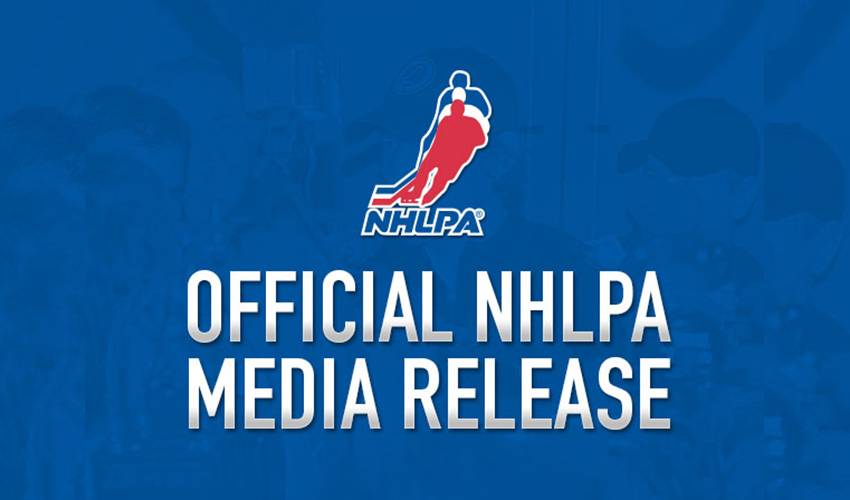 NHLPA & PANINI ASK FANS TO PICK THEIR ALL-STAR MVP
TORONTO (January 22, 2010) – Do you think you know hockey? Well, here is your opportunity to show the Players! The Players want to know who you think will step up his game and be named the Most Valuable Player at the 2011 All-Star Game on January 30th in Raleigh, North Carolina.
The NHLPA and Panini, an Official Trading Card Partner and Sticker of the NHLPA have unveiled a unique online contest asking fans to select who they predict will be named the Most Valuable Player (MVP) at the upcoming 2011 All-Star Game.
Fans can visit www.nhlpa.com/MVPChallenge to enter the "2011 All-Star MVP Challenge" presented by Panini for a chance to win the 2011 All-Star MVP's game worn jersey. By simply choosing which player they think will be named the MVP of the 2011 All-Star Game, fans will have an opportunity to win a unique piece of hockey memorabilia.
"Panini and the NHLPA are excited to provide hockey fans with a chance to take home a piece of hockey history," said Mike Ouellet, NHLPA Chief of Business Affairs. "With so many amazing players in the game it will be tough to predict which star will walk away as the Most Valuable Player."
"We are excited to be partnering with the NHLPA for this promotion as part of our efforts in our first All-Star Game. Panini is committed to giving collectors and hockey fans a level of engagement and experience in the sport they love," said Jason Howarth, Vice President of Marketing for Panini America. "This is a unique opportunity for a fan to have the chance to win a game-worn All-Star MVP jersey."

In addition, all entrants to the contest are also eligible to receive 10 virtual Adrenalyn™ XL hockey cards from Panini. Adrenalyn™ XL is the newest twist on hockey card collecting and gaming, combining stunning design and photography with the excitement of the fully-interactive Adrenalyn™ XL head-to-head card game.
ABOUT THE NHLPA:
The National Hockey League Players' Association (NHLPA), established in 1967, is a labour organization whose members are the players in the National Hockey League (NHL). The NHLPA works on behalf of the players in varied disciplines such as labour relations, product licensing, marketing, international hockey and community relations, all in furtherance of its efforts to promote its members and the game of hockey. In 1999, the NHLPA launched the Goals & Dreams fund as a way for the players to give something back to the game they love. Over the past 11 years, more than 50,000 deserving children in 23 countries have benefited from the players' donations of hockey equipment. NHLPA Goals & Dreams has donated more than $19-million to grassroots hockey programs, making it the largest program of its kind. For more information on the NHLPA, please visit www.nhlpa.com.
ABOUT PANINI:
The Panini Group, established almost 50 years ago in Modena, Italy has subsidiaries throughout Europe, Latin America and the United States. Panini is the world leader in officially licensed collectables and is the leading multi-national publisher of comics, children's magazines and Manga in Europe and Latin America. Panini has distribution channels in more than 100 countries and employs a staff of over 800. For more information visit us at www.paniniamerica.net or www.paninigroup.com.
NHLPA, National Hockey League Players' Association and the NHLPA logo are trademarks of the NHLPA. © NHLPA.