On To The Next One
Wild forward Andrew Brunette reaches 1,000 games milestone; focus remains on the next game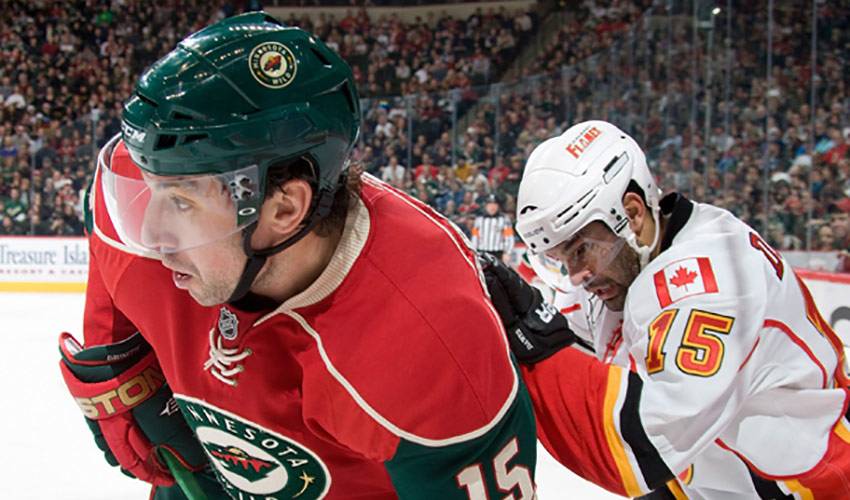 Even after reaching one of hockey's most significant milestones, Andrew Brunette's focus remains on the task at hand.
Despite playing in 1,000 NHL games, a feat he celebrated in a 1-0 Minnesota Wild home win over the Los Angeles Kings on February 1, he is still somewhat underrated for his contributions, but certainly not underappreciated by those he's played with.
For Brunette, the 174th overall selection of the Washington Capitals in the 1993 NHL Entry Draft, the honour of reaching the four-digit mark in games at hockey's highest level, one recognized by the NHLPA, is indeed a special one.
"You definitely feel a little nostalgic," said the 37-year-old forward, who continues to excel as a key member of the Wild. "It's humbling when people are congratulating you and acknowledging that you reached the milestone. You think of all the guys you started out with, the guys you've played with over your career. It's a little strange, to be honest." Perhaps so, but for the northern Ontario native, individual recognition will take on more meaning once he decides to hang up his skates.
"For me, it's always been about the next game," said Brunette, who grew up in the small community of Valley East, Ontario just outside of Sudbury, going on to play three seasons of junior hockey with the Owen Sound Platers. "Since I started, I've always prepared for the next game. Believe me, I am humbled by this. I really am. But I suppose it's something that will take on even more meaning once I'm done."
Brunette didn't exactly have lofty aspirations when he launched his NHL career. He was called up from the minors by the Capitals for the first time in the 1995–96 NHL season and played 11 games.
He played 23 and 28 games, respectively, in the following NHL seasons before he was selected in the 1998 NHL Expansion Draft by the then new franchise, the Nashville Predators.
"I didn't have any number in mind when it came to how long I wanted to play in the NHL," said Brunette, who scored the Predators first goal in a 3–2 win versus the Carolina Hurricanes. "I really just wanted to play hockey. I'm most proud of the fact that I did this my way. I suppose I'm a unique player. I'm not the fleetest of foot, but I've been able to contribute offensively. I battled in the minors and I battled to stay in the NHL."
Brunette has earned kudos for his physical durability and consistency, qualities which enabled him to play in 509 consecutive games. On December 31, 2001, he missed a game due to a shoulder contusion. After that, however, he proceeded to play in every game until February 21, 2009, when a lower body injury forced him to sit out of a contest between Minnesota and the Detroit Red Wings.
Couple his toughness with six, 20-goal campaigns, and Brunette, who has played with Washington, Nashville, Colorado, Atlanta and Minnesota (twice), is indeed a true NHL success story.
Not bad for someone who once dreamed of emulating one of the game's most revered stars.
"I guess I was like a lot of kids in my era that wanted to be like Wayne Gretzky," offered Brunette, of the Hall of Fame legend. "Then there came the realization that I couldn't be that, so things change.
When I first started in the NHL, I kept my eyes open. I was around a lot of great people. In Washington, Dale Hunter was a great leader. Ray Ferarro was someone you could always learn from. And when I was in Colorado, I got be around Joe Sakic. That's one thing…I've been blessed to have played with some fantastic people."
Now, it's Brunette who fills the veteran role, a highly-respected player that is a significant contributor to a Minnesota team eager to grab a playoff spot in 2010-11.
"Every year, you see the young guys come in and you see that enthusiasm," reflected Brunette, who is closing in on 700 career points. "It's been great. There is always something to look forward to."
In the case of the latest player to achieve a notable milestone, that just happens to be the next game on the Wild's schedule.