Turning it on in Tampa
Lightning forward, Teddy Purcell is finding his game and comfort level in 2011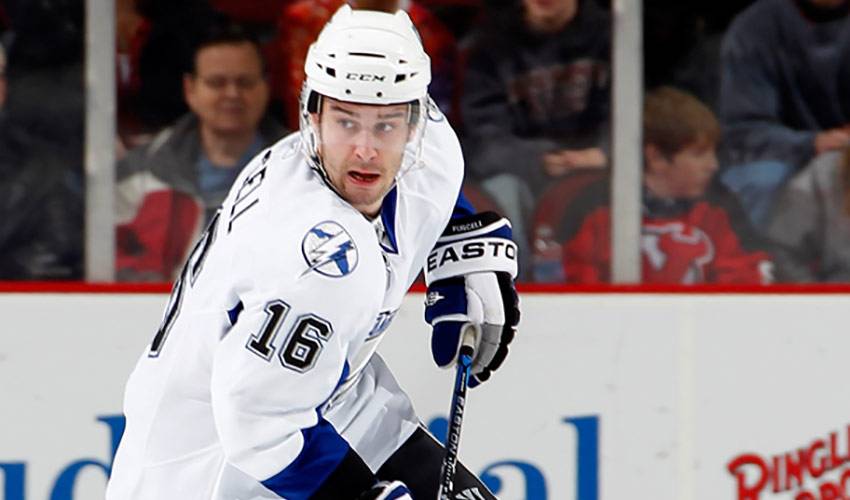 It was, in almost every conceivable way, the perfect game to illustrate the emergence of Teddy Purcell as a bona fide big-league talent.
The shot that left his stick from the slot just 19 seconds into Tampa Bay's clash against Eastern Conference heavyweights Philadelphia in early February, proved to be the game-winning tally in a 4-0 win over the Flyers.
And while his next goal, just one minute later, wasn't quite as pretty (Simon Gagne's shot ricocheted off his leg), it was a brilliant all-round performance by a player that not so long ago was struggling to earn a full-time NHL roster spot.
"I suppose it was the ideal game," Purcell told NHLPA.com the day after the Lightning's emotional home victory. "It's exactly what you'd want it to be. The team won, you played a part in making it happen and it gives you and the team a big confidence boost."
It was Purcell's first NHL multi-goal game, one that saw him net his ninth and tenth tallies of the season.
While there is no cockiness in his tone, or any trace of his wanting to prove he belongs, Purcell, who went undrafted, is a very happy man these days.
And he certainly should be.
Purcell played junior hockey for the Cedar Rapids RoughRiders of the United States Hockey League (USHL) where he set the career scoring mark, recording 138 points on 39 goals and 99 assists in two seasons with the RoughRiders.
The Newfoundland native was the team leader in scoring his first season with the RoughRiders, courtesy of 67 points. In his second campaign, he was outscored by teammate Chad Costello by just one point, notching 71 points. Purcell then played one season of college hockey at the University of Maine in 2006–07.
In 2007–08, his first professional season, Purcell played most of the year with the Manchester Monarchs of the American Hockey League, but he also saw action in 10 games with the Los Angeles Kings. On February 15, 2008, Purcell scored his first NHL goal against the Calgary Flames at the Staples Center in Los Angeles, California.
Back in the AHL, Purcell was named to the 2008 AHL All-Star Classic and became the first rookie to notch an All-Star Classic hat trick. He also scored the decisive goal in the shootout to give the Canadian All Stars a 9–8 win over the PlanetUSA All-Stars and was named the game MVP.
Purcell ended his rookie AHL season with 83 points in 67 games, en route to being honoured with the Dudley "Red" Garrett Memorial Award as the league's top rookie. In 2008–09, Purcell split the season between the Monarchs and Kings, playing 40 games in the NHL, contributing four goals and 12 assists for a total of 16 points.
In and out of the lineup, Purcell never got into a rhythm in Los Angeles. At the trade deadline in 2010, he was traded with a third-round draft selection to the Lightning in exchange for forward Jeff Halpern.
He wasn't aware then, but the trade would prove to be a pivotal point in his NHL life.
"It was tough at times," recalled Purcell, of his days in Los Angeles. "I'd play some games and then I wouldn't be in the lineup. But I was treated very well when I was there. It was just a question of wanting to play more."
With the Lightning, Purcell would get that opportunity. In 19 games with Tampa Bay in 2009-10, Purcell contributed nine points, including three goals.
This season, he's logging more ice time, while playing alongside Vincent Lecavalier and Simon Gagne, a trio that continues to become more and more potent as the season goes on.
There's no need to even ask if this is the happiest, hockey-wise, Purcell's ever been.
"It couldn't have worked out any better," he admitted. "I didn't play against Tampa very much or know that much about them, but you could tell they had a fun group. Simon Gagne is a phenomenal player and Vincent and all the guys have been great to me.
"I always knew Dwayne Roloson was a good goalie, but he's just unbelievable. He's an awesome guy and a really great presence in the locker room."
And as for that win over the Flyers, Purcell certainly doesn't mind discussing the game over and over.
"We knew coming off the All-Star break that both teams might be a little sloppy early on. But for us to get a goal 19 seconds in and set the tone, it was great for us to get them down on the rug. They are an excellent team and you have to be at your best against them.
"For us, though, we can't be satisfied. We know we have to work harder and be at the top of our game." Teddy Purcell would certainly know all about that.