A Perennial Contender
Niklas Kronwall helps make the Red Wings a championship threat every season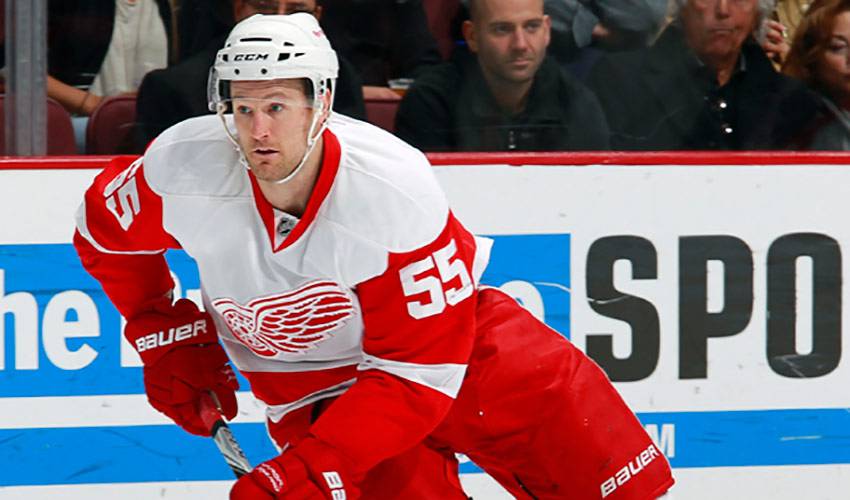 On the ice, he exudes confidence and composure, a hard-hitting defenceman with a knack for delivering massive open-ice hits. But there was at least one hockey moment when Niklas Kronwall was anything but calm, cool and collected.
Even before the Detroit Red Wings selected him 29th overall in the 2000 NHL Entry Draft, Kronwall, a native of Stockholm, Sweden, had already cemented himself as a player to keep tabs on, an up-and-coming blueliner with plenty of talent and a team-first attitude.
Kronwall, who was an Elitserien champion with Djurgårdens IF in 2000 and 2001 in his native Sweden, along with Elitserien Junior Hockey Player of the Year honours in 2000, was hardly disappointed to hear the Red Wings call his name at the annual draft.
"In my mind, I was hoping to play for an Original Six team," said Kronwall, who continued to play for Djurgårdens IF until he came to North America in 2003. "All the tradition and the history made it very appealing to want to be on one of those teams."
Playing for Detroit, a team that has been a perennial Stanley Cup contender for years, also had another benefit.
"When I was in Sweden, I always admired the way Nicklas Lidtsrom played the game," offered Kronwall, of the future Hall of Fame defenceman and fellow Swede. "I love the way he is able to make the game so simple. I would watch him play and always just shake my head at how he made everything look so easy."
When Kronwall came to the Red Wings, one of his first priorities was to reach out to Lidstrom. When one of the assistant coaches provided him with a cell number, the rookie wasted little time in dialing.
Although he wasn't quite sure what to say, he made the call to Lidstrom.
"I had never met him before in Sweden and never had a conversation with him at all," recalled Kronwall, who played in 20 games with Detroit in the 2003–04 season, scoring one goal and four assists. "But I thought I'd call him because we are from the same place and maybe he would have some advice for me."
Was Kronwall nervous?
"Are you kidding me?" he laughed. "I was really nervous. But he was great. It was just nice to know that he was exactly how you would expect him to be. He was very nice and helpful."
It was just one of many things that made Kronwall comfortable playing in Detroit.
"I never felt homesick at any point," said the defenceman, who during the 2004–05 NHL lockout, Kronwall played a complete season for the Grand Rapids Griffins, the Red Wings' top affiliate in the American Hockey League, where awarded the Eddie Shore Award as the top defenceman in the AHL. "I felt at ease right from the start. From the ownership, to the players, to the people selling hot dogs, to every person in the organization, it was first-class. I felt very lucky to be part of the Red Wings."
While it hasn't always been perfect - Kronwall was injured in an exhibition game against Colorado Avalanche in September 2005 and missed more than half of the 2005–06 season with a serious knee injury – life in Motown has been good for the 30-year-old.
It's also been quite prosperous outside of NHL circles.
Kronwall, who won gold with Team Sweden at the 2006 Winter Olympics, also struck gold at the IIHF 2006 World Championship, making him one of just eight players who have won both Olympic and World Cup gold the same year.
He hoisted the Stanley Cup aloft with the Red Wings in 2008, making him a member of the exclusive Triple Gold Club (an Olympic gold medal, a World Championship gold medal, and the Stanley Cup), a group that also includes Lidstrom and seven other Swedes.
Kronwall wouldn't mind seeing his name on another Cup.
"Since the 90's, it seems as though the team always has a chance to win it all," he said. "This is the best place to play for so many reasons."
His success has no doubt inspired young Swedes looking to one day make their mark in the NHL.
It's obvious Kronwall takes his status as a role model seriously.
He established the Niklas Kronwall Award, an honour given to a player from Stockholm-based hockey club Jarfalla HC. The criteria for winning the award includes: hard work and accuracy, talent, with a future as a professional player, while exhibiting sportsmanship and gentlemanly conduct.
"I'm very fortunate to be playing the game I love," he said. "I felt very welcome from the first moment I came to Detroit. It's been great."
You don't need to tell Niklas Kronwall it could get even better.