A Coyote with Quiet Confidence
As he approaches 1,000 games played, Adrian Aucoin knows what he is part of in Phoenix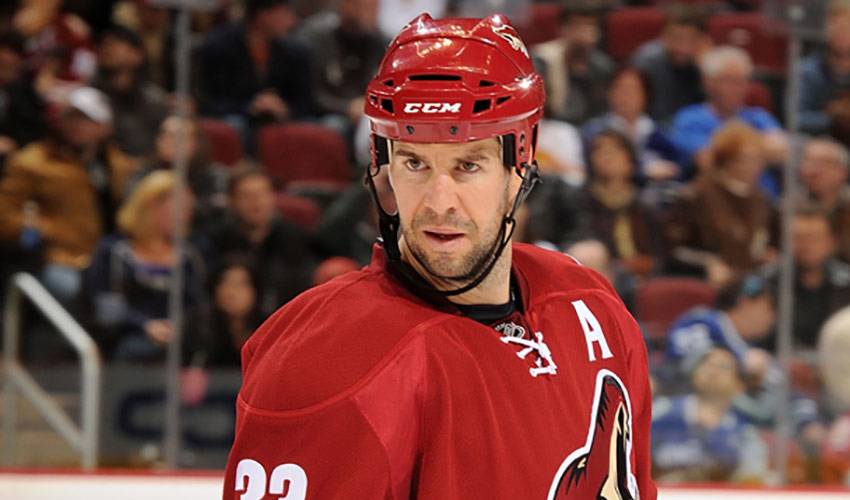 Adrian Aucoin is used to all the questions regarding the legitimacy of the Phoenix Coyotes as a playoff-worthy club. But the veteran defenceman, who is approaching an impressive personal milestone, is confident he and his teammates have all the right answers.
Pundits didn't expect much from the Coyotes for the 2009-10 NHL season. In fact, there was little, if any, talk of Phoenix making the playoffs.
The players, however, felt confident in what they could achieve.
"I suppose we epitomize what teamwork is," said Aucoin, who is less than 10 games away from hitting the 1,000 plateau at the NHL level.
"We don't have two or three players we rely on. We depend on contributions from everyone to be successful."
That was never more evident than last season.
On March 27, 2010, the Coyotes clinched a playoff spot, their first since the 2001-2002 season, and in the process, reached the 100-point mark for the first time in franchise history.
Their first-round opponent in the 2010 Stanley Cup Playoffs was the Detroit Red Wings. The Red Wings won the series four games to three, but in spite of the loss, the Coyotes proved they could skate with some of the Western Conference's elite clubs.
But would they be able to carry that momentum into 2010-11?
A sluggish start didn't help bolster their reputation as a team on the rise, but an extended mid-season win streak changed their fortunes and showed Phoenix was no one-hit wonder.
"First and most importantly, we believe in one another and in what we are capable of achieving," offered Aucoin, who was selected 117th overall by the Vancouver Canucks in the 1992 NHL Entry Draft. "We had a slow start, but we stuck with it and knew what we had to do to turn things around. There wasn't any panic. And when things started to turn around, it continued to build our confidence."
Aucoin, who has also played with the Canucks, Tampa Bay Lightning, New York Islanders, Chicago Blackhawks, Calgary Flames, can point to any player on the roster and speak highly of their contributions.
"I think Keith Yandle is someone who impresses you night in and night out," said Aucoin, of his fellow blueliner, who has been one of the game's top defencemen in 2010-11. "I don't think he ever gets tired out there. He's one of those players that can make a difference at both ends of the ice."
And while the hockey world has only recently taken notice of Yandle, Aucoin knew he was something special early on in his days in Phoenix.
"You could tell he had the skills and work ethic to be an impact player," praised Aucoin. "He can log a lot of minutes and he's willing to work hard."
The same can also be said of Martin Hanzal, the Coyotes' first-round draft pick, 17th overall, in the 2005 NHL Entry Draft.
Standing 6'5", the strapping centreman is often charged with keeping the opposition's top players in check.
"You see what he does out there and it's really impressive," offered Aucoin, of the 24-year-old Czech Republic native. "He plays a lot of minutes and he does a great job taking away scoring chances through his two-way play."
As for his own contributions, Aucoin is simply doing what he always has: providing solid defensive play and consistency on the blueline.
It's hard for him to even fathom the thought of playing in 1,000 NHL games.
"I played for a pretty good minor hockey team and I think a lot of us dreamed about playing in the NHL," he recalled. "But I wasn't so sure. And when I finally did make it, I really didn't have any thoughts on what my career would be. I felt lucky to play with and against great players. And as time went on, you become more comfortable and more confident.
"But to say that you played in 1,000 games is unbelievable," said the 37-year-old Ottawa, Ontario native. "It's tough to process it all when you're still playing. But I feel very blessed to have played this long."
With a junior gold medal to his name – he was assistant captain on Team Canada's 1993 squad – Aucoin is hoping to strike silver by adding a Stanley Cup to his list of accomplishments.
Getting that opportunity, however, isn't exactly a given.
"It's amazing how tight the race is for the playoffs almost every year," offered Aucoin. "I think at one point, we moved from 12th to fourth in a matter of days. I think it's compelling for the fans. It makes it very interesting."
Which is why you don't have to remind Aucoin that every game is an important one.
"That's definitely true. You can't afford to let games slip away. Every point is a valuable."