A New Approach to the Ultimate Goal
Mike Knuble & the Capitals are gathering steam towards the playoffs with a commitment to defense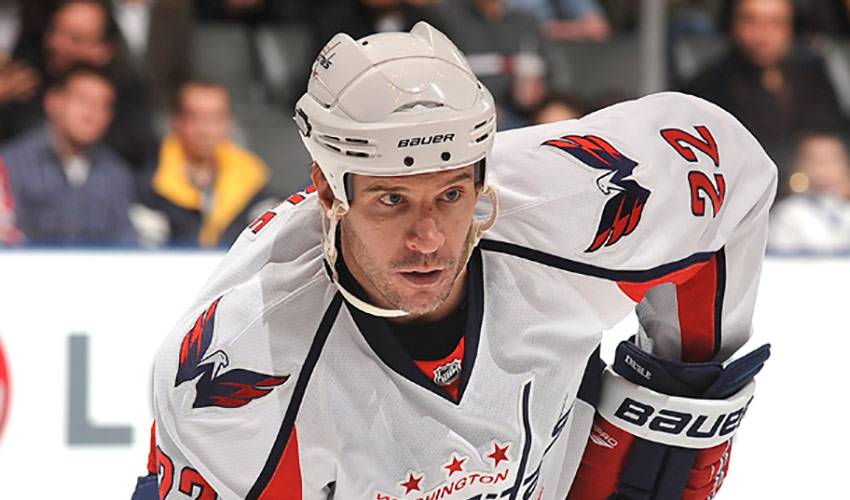 Mike Knuble has learned that sometimes less is more, especially when your No. 1 goal is to bring a city its' first Stanley Cup championship.
It's been an interesting past two seasons, namely, 2009-10 and 2010-11, for the Washington Capitals.
Last year, the high-flying Capitals were an offensive machine, churning out goals (313, 45 more than their closest competition) at a league-leading rate, while boasting some of hockey's most dynamic offensive performers.
This season, however, Washington has scored at a lower rate, well outside the top 10 in the league, than last campaign, instead relying on a re-vamped defensive approach to get the job done.
For a team that led the league in points in 2009-10, but failed to make it past the first round of the playoffs, scoring less has not meant a drop in production where it counts the most – the standings.
"It's been quite a change, but we've found a way to make things work," said Knuble, who has over 950 regular season NHL games to his name. "Our power-play hasn't been good the whole year, but we've played extremely well on defence."
That commitment to keeping the puck out of their net was punctuated by a recent road win over the Tampa Bay Lightning, a 2-1 shootout victory that kept the two teams in a battle for first place in the contentious Southeast Division.
"I suppose it was a perfect example of how we have played this year," said Knuble, who had 53 points in 69 games for the Capitals last year. "Last season, we were aggressive on offence and that sometimes led to giving up quality scoring chances in our own end. We've understood that we can win games by being defensively responsible and also creating our own chances."
The Caps will undoubtedly look towards Knuble down the stretch.
Having scored 20-plus goals on seven occasions, the Toronto native, who recorded his first career hat trick on February 2, 2008, scoring all the goals in a 3-0 Philadelphia Flyers win over the Anaheim Ducks, has the veteran credentials that will certainly benefit younger players.
It's a label Knuble, who was selected 76th overall by the Detroit Red Wings in the 1991 NHL Entry Draft, is extremely proud of.
"I'm the oldest guy on the team and hopefully, I can use my experience to help the guys out," said the 38-year-old forward. "I don't see being the oldest guy in a negative light at all. I've been lucky to have had a good career and I've learned a lot from several players over the years."
The former University of Michigan star, who received Second Team CCHA All-Star honours in 1994 and 1995 and NCAA West All-American Team honours in 1995, is hoping to shrug off a less than ideal start to his own 2010-11 campaign and make an impact as the divisional and playoff races intensify.
With nearly 300 goals at the NHL level, Knuble, who netted a career-best 34 tallies with the Flyers in 2005-06, is hoping he and the Capitals can continue their recent strong play of late.
"All it takes is one look at either conference and you can see just how vital every point and every game is," said Knuble, the 2006-07 recipient of the Yanic Dupre Memorial Award, given to the "Flyer who best illustrates character, dignity and respect for the sport both on and off the ice" as decided by the Philadelphia chapter of the Professional Hockey Writers' Association. "Last year, we had big expectations as to what we wanted to achieve. It's no different this year."
The only difference being in how Washington is going about their ultimate goal.
Rather than looking too far down the road, Knuble and his teammates have narrowed their focus, preferring to prepare for the next game on the schedule, rather than getting caught up in any Stanley Cup talk.
"I don't really think you can single out one person and say that they have been the one to make a difference," Knuble explained. "It's been a collective effort. You can't overstate how important it is when everyone is on the same page and everyone is willing to do the right things to win. We're fortunate to have that."
And the Capitals are fortunate to have one of hockey's most respected veterans helping to lead them back into the playoffs in hopes of erasing last year's disappointments.
That's why it's a good thing to be just like Mike.