Daley & Stars are shining bright
Dallas defenceman knows the Stars have a team that can give anyone a run in this year's playoffs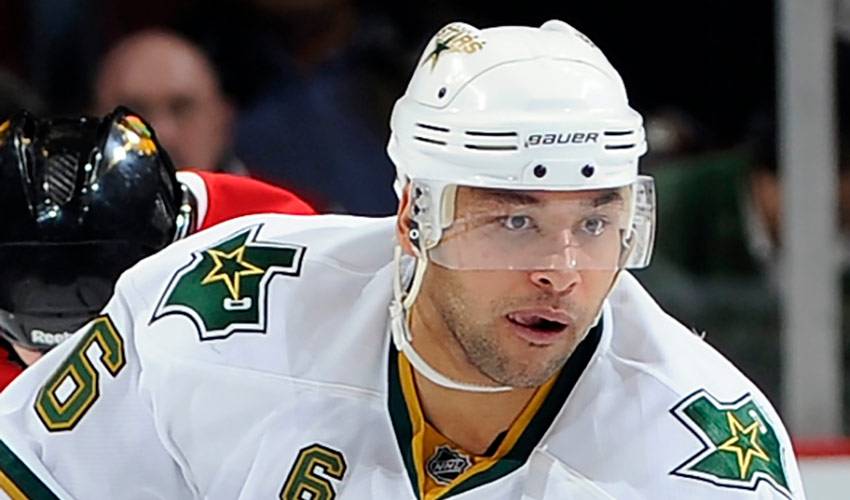 It wouldn't be surprising if Trevor Daley was a fan of rollercoasters.
After all, the Dallas defenceman is part of a resilient Stars squad that has gone through their share of ups and downs in 2010-11.
"That's a great way to put it," laughed Daley, the morning after Dallas downed Western Conference rival Los Angeles, in a key road win on March 7. "It's definitely been a wild ride at certain points of the season."
Having not qualified for post-season play the past two campaigns, it's understandable why Daley and his teammates are eager for a return to the playoff picture.
The Stars, for a vast majority of the campaign, have found themselves in the top eight of the West, a conference where a couple of wins can catapult a team into a home ice advantage spot, while two losses can see a squad fall outside of the playoff picture.
A recent rough patch had the Stars falling and many in the hockey world wondering if the Pacific Division club, who were forced to deal without the services of star forward Brad Richards for an extended period of time, were on the path to a third consecutive campaign missing out on playoff action.
Daley, who was selected by the Dallas Stars in the 2002 NHL Entry Draft, 43rd overall, in the second round from the Sault Ste. Marie Greyhounds of the Ontario Hockey League, admits the losing streak was troublesome.
"Obviously, when things don't go your way, it's cause to worry," offered Daley, who made his NHL debut with the Stars in the 2003–04 season and established himself as a regular in the 2005–06 season when he played in a career-high 81 games. "It's unbelievable how tight the races are in both conferences. You know how much meaning each game has and you know that every single point can make the difference."
In spite of the skid, Daley was buoyed by the words and actions of the team's leaders, a group that includes captain Brenden Morrow.
"We're very fortunate to have a lot of great leaders on this team, players who can look at a situation and assess what is the best way to approach things," said Daley, who was named to the Canadian squad for the 2006 World Championships. "Brenden, Steve Ott, Jamie Langenbrunner, Stephane Robidas – the guys all said what they had to. You felt very good after listening to what they said.
"It was never about a lack of confidence," Daley continued. "With the group that we have and all of us knowing what's at stake, we just needed to sit back, look at improvements we could make, and then go out and play hard. And that's what we did. It would be nice to get home-ice advantage in the playoffs, but I think we have a team that can surprise anyone."
Where it once appeared Dallas was in peril of letting their grasp on a playoff spot elude them, the Stars are once again playing some of their best hockey.
For Daley, who is approaching the 500 games-played mark, he's not looking to drastically alter his style as the games continue to take on more meaning.
"I really think the key for me is to just maintain a consistent level of play," said the 27-year-old. "We're confident as a group and I'm confident, too. I'm just looking to do my part to help us be strong down the stretch."
The Toronto native is well-regarded by Dallas brass.
In December of 2010, the club signed him to a six-year contract extension worth $19.8 million ($3.5 million for each of the first four years, $3.1 million in 2015-16, and $2.7 million in 2016-17).
Trevor is a big part of our team and an important member of our blue line," said former NHLPA member and current Dallas General manager, Nieuwendyk. "At 27 years-of-age, we feel his career is pointing up. We expect him to continue to develop and grow as he takes an even bigger role on our team."
His solid defensive play will undoubtedly be one of the keys to the Stars' playoff fortunes.
And while the pressure is on for Daley and the Stars, he's not letting any of the stress get to him. His preferred choice of unwinding, however, might not be what many would have expected.
"If you can believe it, I'm on my way home and one of the first things I'm going to do is take my son (Trevor Jr.) outside for a little game of hockey."
Really?
"Yes, honestly," he laughed. "My son really likes it when we play together. The weather's been good, so I figured we should get out there and have some fun."
Perhaps it's not a bad way to unwind after all. There aren't too many opportunities, at least at this time of the NHL year, where a player can play the game he loves and not have to worry about wins or losses.