Whatever, Whenever, Wherever
Ryan White relishes his role with the Habs and is ready to do his part to make an impact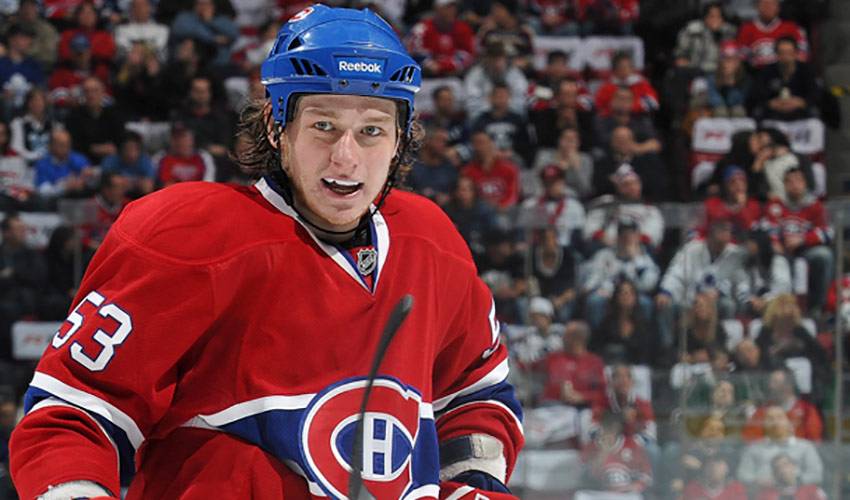 Ryan White can certainly feel the love when he walks down the street or through the dressing room doors. But it doesn't mean he's taking any of it for granted.
When the Montreal Canadiens called up White from their American Hockey League affiliate, the Hamilton Bulldogs, they knew what they were getting: a no-nonsense player with an unselfish attitude and team-first mentality.
So, it should come as no surprise that the Habs' faithful and his teammates have embraced White, grateful for his energetic, upbeat demeanor, both on and off the ice.
And while the accolades have poured in, White isn't letting any of it go to his head.
"It's a very good feeling when you know what you do is appreciated," said the 23-year-old native of Brandon, Manitoba. "Whenever we play in the Bell Centre and the fans get behind me, it's something that means a lot to me. It's always exciting. And when you are out on the street, I've heard nothing but kind words from people. They're very knowledgeable and very respectful."
White has the backing of his teammates, too.
"Everyone has been very good to me," said the centreman, who spent four seasons, from 2004–05 to 2007–08, in the Western Hockey League with the Calgary Hitmen. "They don't mind me running wild out there, doing what I have to do to make an impact. It's been fun."
White, who was selected by the Canadiens in the third round, 66th overall, in the 2006 NHL Entry Draft, has added some welcome grit to the lineup, a player who possesses the ability to bring the home crowd to its' feet in several ways.
While the 6'0", 200-pounder has no reservations about dropping the gloves, the energetic forward is looking to become as well-rounded a contributor as he can be.
That was certainly on display in a victory over the Minnesota Wild on March 20.
White helped set the tone early in an eventual 8-1 thrashing of the Wild, scoring just 31 seconds into the contest, his first NHL goal. He also added an assist on defenceman P.K. Subban's first career hat trick tally.
The scoresheet wasn't the only place where White left his mark.
Just over six minutes into the first period, he took on Minnesota tough guy Clayton Stoner in a spirited bout. It was part of a Gordie Howe hat trick, a term named after the NHL legend, when a player scores a goal, records an assist, and gets in a fight all in the same game.
"It was definitely a memorable game," noted White, who earned second star honours for his efforts. "It was nice to know that your first goal came in a game that you won."
That White had a multi-point game is hardly a surprise.
He reached the 20-goal plateau in three of his four seasons with the Hitmen, including a 34-goal, 89-point campaign in 2006-07. White also had 14 points in 18 playoff games that same season.
"All I want to do is get better," said White, who had 89 and 72 points, respectively, in his final two junior campaigns. "My attitude is that I'll do whatever it takes to help the team win. I want to be strong on the forecheck, make a big hit or create an offensive opportunity. Sometimes, I know I'll have to fight, but I have to be at my best because there are so many good players in this league. The more I'm able to do, the better."
A recent string of shutout losses had made for some unhappy times for both Montreal players and their fans.
And while the playoffs are looming, White and his fellow Habs, who beat Atlanta 3-1 to break out of their slump on March 29, aren't in panic mode.
"Obviously, we all had to do some soul searching," he said. "But we're an optimistic team. We're having a tough go of late, but we're all working hard to change that. Carey (goaltender Price) has been amazing the whole year and we can rally around him. We know it will come. We still believe we have a shot to win the Stanley Cup.
"It doesn't matter how you score the goals, just as long as you do. If it goes off one of our butts into the net, so be it. We know that we can score and we know we can turn it around."
White doesn't need to be reminded that Canadiens' fans will be watching them intently, in the arena and outside of it.
"There have been occasions when I've been out and you can feel there are eyes on you," noted White. "But everyone here has been very supportive and very good to me. To have fans that are that passionate, I don't think there's anything better than that."