NHLPA Announces New Long-Term Apparel Agreements
Reebok maintains license to produce all apparel featuring NHL players worldwide; deal also grants licenses to Old Time Hockey, Knights Apparel, & Elmau & Associates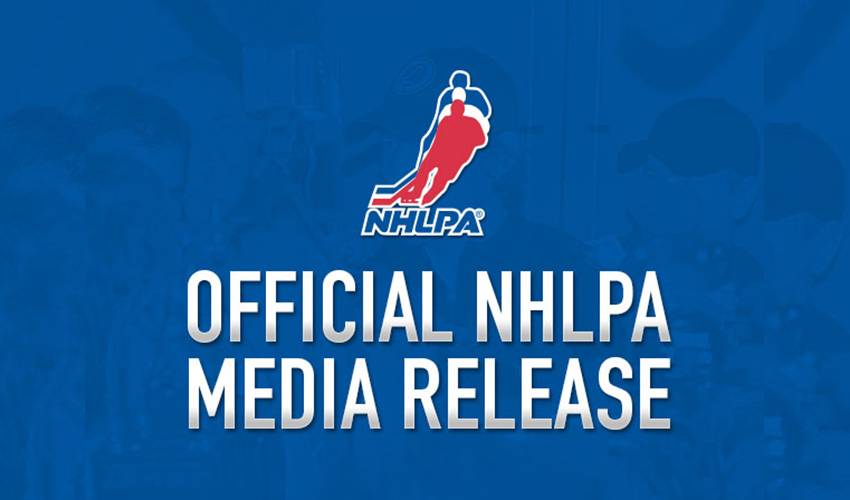 NHLPA ANNOUNCES NEW LONG-TERM APPAREL AGREEMENTS:
TORONTO (April 4, 2011) - The National Hockey League Players' Association (NHLPA) today announced new five-year apparel agreements, highlighted by the continuation of its partnership with Reebok, a long-standing NHLPA licensee. In addition, the NHLPA is expanding its roster of apparel licensees to include Old Time Hockey, Knights Apparel, and Elmau & Associates.

"We are very excited to continue our partnership with Reebok while bringing on board new NHLPA licensees Old Time Hockey, Knights Apparel, and Elmau & Associates, all of which will enhance player licensed product offerings for hockey fans," said Adam Larry, NHLPA Director of Licensing and Associate Counsel. "Reebok has done a great job supporting our player apparel program over the years and we're pleased they will continue to produce quality apparel featuring NHL players. Our new partners will enhance the NHL player apparel offerings in strategic areas, thus enabling the NHLPA to meet the growing demand for player apparel."

The new player apparel agreement with Reebok, which commences on July 1, 2011, sees Reebok maintain exclusive rights to produce the highly coveted jersey replica name and number t-shirts, as well as t-shirts containing full team rosters of NHL players. Reebok will also have non-exclusive rights to produce all other apparel featuring NHL players together with their team logos for distribution through all sales channels worldwide.

"We are excited to continue our partnership with the NHLPA," said Keith Leach, Director of NHL Merchandising for Reebok. "This agreement compliments our position as the authentic outfitter of the National Hockey League and allows fans to continue to support and connect with their favorite NHL players."

Old Time Hockey will offer player apparel together with their team logos through all non-mass channel outlets worldwide, while Knights Apparel will produce player apparel together with their team logos for distribution in the United States through mass channel retail outlets. Elmau & Associates has been granted rights to produce player-only apparel for distribution through certain retail outlets in Canada.

"As the leading provider of NHL licensed lifestyle apparel, Old Time Hockey is proud to partner with the NHLPA," said Bob Magnuson, President of Old Time Hockey. "We will offer hockey fans entirely new styles, silhouettes and applications featuring NHL players to compliment the NHL player apparel currently in the market place, allowing the fan and retailer more options than ever before."

Joe Bozich, Chief Executive Officer of Knights Apparel, also commented on the new agreement, "Knights Apparel has built its business by providing its brands and retailer partners with the best in class product design, quality, value and service, and we are very excited to bring our brand management capabilities to the NHLPA."

"We are very excited to bring this entirely new concept of NHLPA product into the Canadian market," said Nathan Saleh President, Elmau & Associates.

For Reebok, this announcement marks a new chapter in a long and successful relationship with the NHLPA. Adding Old Time Hockey, Knights Apparel and Elmau & Associates, will result in an even wider variety of officially NHLPA licensed player apparel reaching the marketplace.

ABOUT THE NHLPA:
The National Hockey League Players' Association (NHLPA), established in 1967, is a labour organization whose members are the players in the National Hockey League (NHL). The NHLPA works on behalf of the players in varied disciplines such as labour relations, product licensing, marketing, international hockey and community relations, all in furtherance of its efforts to promote its members and the game of hockey. In 1999, the NHLPA launched the Goals & Dreams fund as a way for the players to give something back to the game they love. Over the past 11 years, more than 60,000 deserving children in 23 countries have benefited from the players' donations of hockey equipment. NHLPA Goals & Dreams has donated more than $19-million to grassroots hockey programs, making it the largest program of its kind. For more information on the NHLPA, please visit www.nhlpa.com.

ABOUT REEBOK:
Reebok International Ltd., headquartered in Canton, Massachusetts, is a leading worldwide designer, marketer and distributor of sports, fitness and casual footwear, apparel and equipment. A subsidiary of the adidas Group, the company operates under the multiple divisions of the Reebok brand, Reebok-CCM Hockey and the Sports Licensed Division. For more information, visit Reebok at www.reebok.com.

ABOUT OLD TIME HOCKEY:
Old Time Hockey is one of North America's leading licensed hockey apparel manufacturer's. OTH is a supplier to the NHLPA, NHL, NHL Alumni, Canadian Hockey Association, as well as several other professional sports leagues. OTH creates, manufactures and delivers high quality apparel including fleece, headwear, jackets and accessories to a diverse customer base throughout the US and Canada. The company, which was founded in 1997, with headquarters in Boston and Montreal distributes to all 30 NHL teams, national chains, and regional and independent specialty stores. For more information, please visit Old Time Hockey.com

ABOUT KNIGHTS APPAREL:
Knights Apparel is a leading producer of licensed sports apparel for mass market retailers, department stores and sporting goods retailers. An NHL licensee since 1991, Knights Apparel also holds licenses with North American college teams and the NBA.

ABOUT ELMAU & ASSOCIATES:
Elmau & Associates currently holds a number of sports and entertainment apparel licences including the NHLPA, CFL, Team Canada, CHL, Disney, Cartoon Network, Dreamworks, and Universal Studios. The company is a fully vertical enterprise manufacturing apparel and accessories from overseas and distributing efficiently to major retailers and chain stores throughout Canada. Elmau & Associates has been in business for over 30 years and strives to achieve excellence for its clientele.

NHLPA, National Hockey League Players' Association and the NHLPA logo are trademarks of the NHLPA. © NHLPA.