NHLPA Beard-A-Thon Asks Fans to Join Players in Playoff Beard Growing
Proceeds will go towards purchasing AEDs for Canadian arenas & communities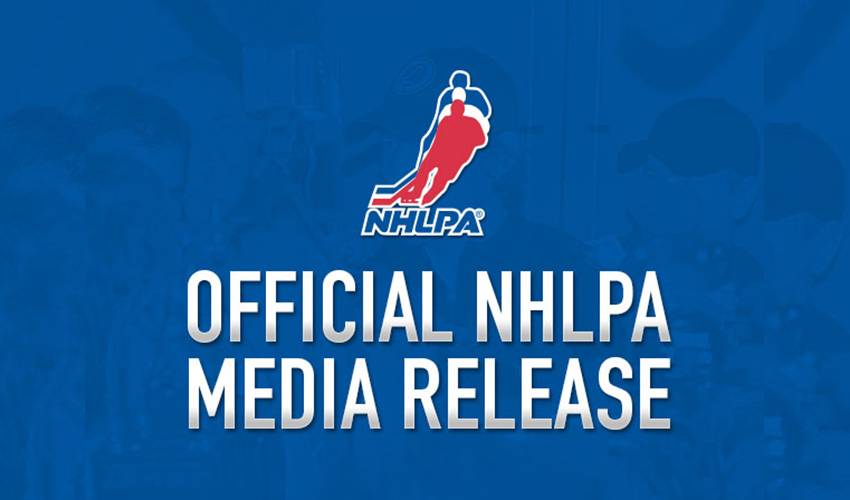 NHLPA BEARD-A-THON ENCOURAGES FANS TO JOIN PLAYERS IN PLAYOFF BEARD-GROWING TO BENEFIT THE HEART AND STROKE FOUNDATION OF CANADA
TORONTO (April 6, 2011) – With the postseason beginning next week, many NHL players are set to support a great cause by growing out their playoff beards – and they want hockey fans to join them. The National Hockey League Players' Association (NHLPA) and the Heart and Stroke Foundation (HSF) have joined together to launch the NHLPA Beard-a-thon, an exciting charitable initiative that will help the Foundation in purchasing Automated External Defibrillators (AEDs) for local hockey arenas and communities across Canada.

Scott Hartnell, NHL veteran and well-known beard grower, will serve as the "Chairman of the Beard" for the NHLPA Beard-a-thon in its inaugural campaign.

"I am very honoured to serve as 'Chairman of the Beard' for the NHLPA Beard-a-thon," said Scott Hartnell, whose mother survived a stroke in 2001. "This is a foundation that is near and dear to my heart and I hope other Canadians support it in a major way. I can't wait to grow the best beard and raise money to put more AEDs in local Canadian hockey arenas and communities."

Hockey fans everywhere can log-on to www.beardathon.ca or www.nhlpa.com for more information on the NHLPA Beard-a-thon. On the website they will be able to support the cause in three different ways: growing their own beard as they seek donations from friends and family; pledging a friend, family member or anyone else who is growing a beard; or, by making a pledge to their favourite beard-growing NHL player participating in the playoffs.

Several NHL players have already personally committed to 'grow hair because they care' and help raise money for the cause: Hartnell (Lloydminster, SK); Adrian Aucoin (Ottawa, ON); Patrice Bergeron; (Ancienne-Lorette, QC); Dan Cleary (Carbonear, NL); Dan Hamhuis (Smithers, BC); Brooks Laich (Wawota, SK); Jamal Mayers (Toronto, ON); Mason Raymond (Cochrane, AB); Martin St. Louis (Laval, QC); Max Talbot (Lemoyne, QC); and Jeff Tambellini (Port Moody, BC). Many more players will confirm their participation in the NHLPA Beard-a-thon once their teams clinch a playoff spot, and it is anticipated that players from each of the 16 playoff teams will be participating.

"The Heart and Stroke Foundation is thrilled to participate in the NHLPA Beard-a-thon and we applaud the NHLPA for this initiative," says Irfhan Rawji, Chair, Heart and Stroke Foundation of Canada. "Contributions from our donors over the course of the 2011 playoffs season will go a long way towards ensuring we create a cardiac safe Canada for everyone."

"NHLPA members are very aware of the need for AEDs in all of our community hockey arenas," said Mathieu Schneider, former NHL player who now serves as the NHLPA's Special Assistant to the Executive Director. "Personally, I was touched by the significance of defibrillators while on the bench in that November 2005 game when thankfully an AED was available to be used on my Detroit teammate, Jiri Fischer. Together with the Heart and Stroke Foundation, we hope to place many more of these life-saving devices in Canadian arenas through the annual tradition of growing playoff beards."

Proceeds raised in the NHLPA Beard-a-thon will go towards HSF purchasing AEDs to place in local hockey arenas and community centres nationwide, and will be allocated based on the local province where each donation is made; donations made outside of Canada will go towards the home province of the player or fan who is receiving the pledge. As many as 45,000 cardiac arrests occur each year across Canada. Research shows that the first three minutes are the most important when helping someone who suffers cardiac arrest. The use of an AED with CPR before the arrival of Emergency Medical Services can increase the chance of survival by up to 75 percent.

During the NHLPA Beard-a-thon, not only will fans be encouraged to grow their beards because of their passion for the sport and interest in helping the Heart and Stroke Foundation, but there are also fantastic prizes to be won. Every day during the playoffs, a "Beard of the Day" will be chosen online, with the winner receiving a prize. The fan who raises the most money in the NHLPA Beard-a-thon will receive the grand prize: an all-expenses paid trip for two to watch Scott and his team play next season where they will meet Scott and will also receive signed jerseys and spending money. There are other great prizes to be won as well, including merchandise, signed photos and jerseys. ?
All information on the NHLPA Beard-a-thon will be regularly updated on the official website, including which players and fans are growing beards, how the beard growing and fundraising efforts are coming along, prizing and contest information, and more.

QUOTES FROM OTHER PARTICIPATING NHLPA MEMBERS:
"Many of us NHL players have had a friend or family member affected with heart problems. This is a great chance to help out by growing a playoff beard with many of our fans so Heart and Stroke can put more public access defibrillators across Canada." – Dan Hamhuis, NHL defenceman
"We are fortunate to have been healthy enough to live our dreams of playing in the NHL. Unfortunately, many people have had this dream cut short due to heart-related issues. The Beard-a-thon campaign is our way of attempting to give all hockey players the chance to enjoy our great game with the comfort of knowing help, in the form of AEDs, is close by should they or their teammates be in need." – Adrian Aucoin, NHL defenceman
"The NHLPA Beard-a-thon is a great way of using the custom of growing a beard for the playoffs to raise awareness and fundraise for a cause that has affected Canadians both young and old. Hopefully, we can raise enough money to put a defibrillator in every arena in Canada!" – Martin St. Louis, NHL forward
"I'm really excited to grow a playoff beard this year along with some of our dedicated hockey fans so we can place more of the much needed AEDs in local rinks back home in Newfoundland. Hockey fans are some of the greatest in the world, and their passion for the game and for the well-being of their fellow fans will be showcased through the Beard-a-thon program." – Dan Cleary, NHL forward?

ABOUT THE NATIONAL HOCKEY LEAGUE PLAYERS' ASSOCIATION:
The National Hockey League Players' Association (NHLPA), established in 1967, is a labour organization whose members are the players in the National Hockey League (NHL). The NHLPA works on behalf of the players in varied disciplines such as labour relations, product licensing, marketing, international hockey and community relations, all in furtherance of its efforts to promote its members and the game of hockey. In 1999, the NHLPA launched the Goals & Dreams fund as a way for the players to give something back to the game they love. Over the past 11 years, more than 60,000 deserving children in 25 countries have benefited from the players' donations of hockey equipment. NHLPA Goals & Dreams has donated more than $20-million to grassroots hockey programs, making it the largest program of its kind. For more information on the NHLPA, please visit www.nhlpa.com.

ABOUT THE HEART AND STROKE FOUNDATION:
The Heart and Stroke Foundation, a volunteer-based health charity, leads in eliminating heart disease and stroke and reducing their impact through the advancement of research and its application, the promotion of healthy living, and advocacy.