When It Matters Most
Colin Wilson and the Predators want to prove they can step up and succeed in the NHL playoffs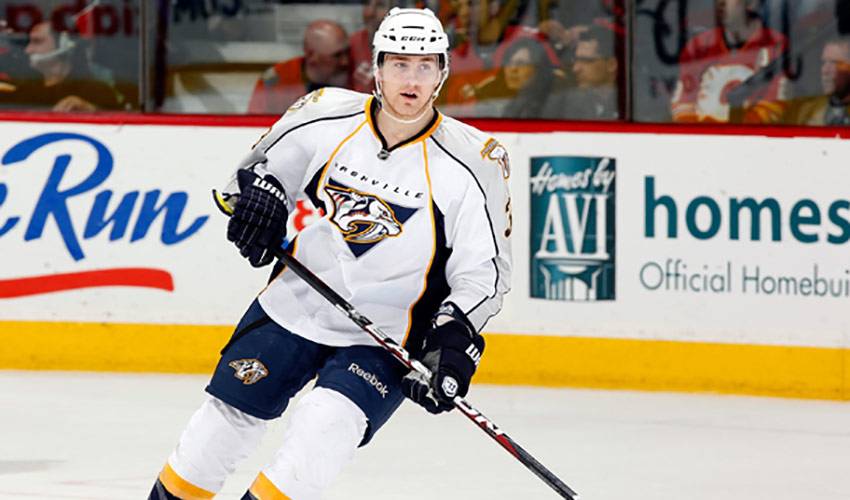 There's one playoff goal that Colin Wilson still recalls to this day.
And while it might not have been the prettiest one ever scored, the Nashville forward would love to find himself in a similar position in 2010-11.
Just one day after the dust had finally settled on the complex Western Conference playoff picture, Wilson, whose Predators will face off against the Anaheim Ducks in the first round, reminisced about his pre-NHL days, including the one post-season goal that is still engrained in his mind.
"Brett Hull's overtime goal to win the Cup," said the 21-year-old, of the tally that saw Dallas oust the Buffalo Sabres in six games in the 1999 Final. "I didn't always get to stay up to watch the finish of games when I was younger, but I saw that one. It was a controversial goal, but I'll always remember that one."
While there was much debate as to whether Hull's skate was in the crease when he knocked home his own rebound for the Cup-clinching goal, Wilson would gladly take the heat if he were to net a similar one.
"Absolutely," said the son of former NHL player Carey Wilson and the grandson of former NHL player Jerry Wilson. "Playoff hockey isn't always pretty and some of the goals can be downright ugly. But you take them any way they come. I wouldn't complain one bit if I scored one that way."
Speaking of complaints, one of Wilson's favourite stories when he speaks of his team is in texts and phone calls he received from friends who happen to play on other clubs throughout the 2010-11 campaign.
In this instance, the highest form of flattery is not being complimented.
"I think it's our competitive drive that makes us a tough team to play against," said Wilson, who after his freshman year with the University of Boston Terriers in 2007–08, was awarded New England's college hockey Rookie of the Year, as well as Hockey East Rookie of the Year. "We come to play. Teams don't like to play us. I have friends that play in the NHL that will phone me or text me after a game and the message is typically, 'I really hate playing against you guys.' I don't mind hearing that."
Seeded fifth in the Western Conference, the Predators know they have just as good as chance as any team to make it to the final.
Wilson, who signed a three-year entry-level contract with Nashville on April 17, 2009, making his NHL debut with the Nashville Predators on October 12 that year, sees a confident, yet grounded group of players every time he walks through the dressing room doors.
"We're not satisfied," said the forward, who won the NCCA title with the Terriers during his sophomore collegiate campaign. "The long-term goal at the start of the year was the Stanley Cup. The short-term goal was to get into the playoffs. We're feeling good. Obviously, we would have liked to have had home-ice advantage in the first round. But that didn't happen. Still, we're feeling good about our chances."
It's been somewhat of an interesting year for the Predators, as offensive stalwart Steve Sullivan dealt with injuries, leaving Nashville with a big hole in their lineup. While it was a major loss, Sergei Kostitsyn, who played his first full season with the club, provided plenty of spark on the front end.
"When Steve was hurt, it was a major loss," offered Wilson, scored his first NHL goal on October 21, 2009 against Tim Thomas of the Boston Bruins. "But Sergei went from the fourth line to replace him on the first and had a great year. It's that type of depth that's key for us."
It also could be a key factor in their matchup with the Ducks.
"Anaheim is a very, very good team," said the 6'1", 215-pounder. "Their top line is exceptional. For us to have success, we have to minimize their impact. We'll have to be banging and crashing. It's all about taking our game to a whole new level."
Wilson also points to Nashville's last line of defence as a major factor in the Predators' post-season fortunes.
Goaltender Pekka Rinne played a huge part in helping Nashville finish the regular season with a 44-27-11 record. The Finnish native fashioned a .930 save percentage, as well as a 2.12 goals against average, stamping himself as a legitimate contender for both the Vezina and Hart trophies.
"You can't help but have confidence, especially with Pekka in net," praised Wilson. "A great goaltender can carry you a long way. You look back at lot of past Stanley Cup winners and a hot goalie was huge in helping win the Cup."
Regardless of who comes up big, Wilson's only matter of concern is that Nashville achieves their ultimate goal.
"We want to be a team that comes up big when it matters most," said Wilson. "We're definitely excited."
And, as Wilson hopes, definitely a team you don't want to have to play.