Passing the Praise
Lubomir Visnovsky had a stellar year for the Ducks, but you wouldn't know by talking to him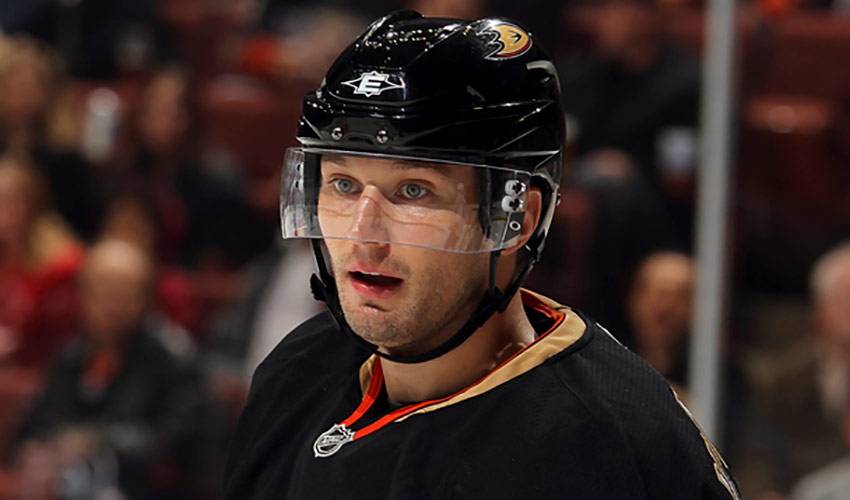 It's easy to rave about the fantastic season Lubomir Visnovsky has had with the Anaheim Ducks. It's not so simple, however, to get the star defenceman to talk about his big campaign.
Deflecting praise seems to be yet another skill that the man from Slovakia has mastered.
In a season where he rose to the upper echelon of NHL defencemen, Visnovsky, who finished the year as the league's top-scoring blueliner, is eager to pass on taking credit for his lofty numbers and fine overall performance.
Instead, Visnovsky, who had 18 goals, 68 points and a gaudy plus-18 mark, instantly heaps praise on anyone else but himself.
"I say thank you to my teammates and I say thank you to my coaching staff," offered the 118th overall selection in the 2000 NHL Entry Draft, taken by the Los Angeles Kings as their fourth choice. "I'm very happy to play for the Anaheim Ducks. This is not about me. They liked my playing style and they let me be myself. It's amazing. But our work is not finished."
After nabbing the fourth seed in the Western Conference in 2010-11, their work has just begun.
If Anaheim has designs on winning their second Stanley Cup (to go along with their 20007 championship), Visnovsky will undoubtedly be a major factor.
While he might be uncomfortable talking about his game, but there are others, including a fellow countryman and Hockey Hall of Fame inductee, who are more than happy to discuss what Visnovsky brings to the rink.
"He can skate, he's got great orientation and great peripheral vision," said Peter Stastny, Slovakia's General Manager for the 2004 World Cup of Hockey, who played 15 big-league seasons and 977 regular season games. "He has a wonderful knowledge of the game and he also has good timing.
"He's mobile, very smart," continued Stastny. "As a forward on his team, you have to play beside him or ahead of him because, especially on the power play or breakout, he'll be able to the puck to you in a fraction of a second. Visnovsky knows about you and at the right moment, he'll get you the puck. He'll also jump in and help you out."
Which is precisely what Visnovsky did in what was a wild year in the West, a season that saw the playoff positions decided on the final day of the regular season.
"It was very crazy this year," said the player who was named to the NHL All-Rookie Team after a 39-point campaign in 2000-01, tops among first-year defencemen. "You look at how close it was throughout the whole season. The playoff-type hockey started a long time before the season ended. But we have great chemistry, some amazing young players and strong veterans. The coaching staff has kept us on a good path, so let's go out and play our game."
Visnovsky, who was named best defenceman in Slovakia in 1999, 2000, 2001, 2002, 2003 and 2005, is looking forward to the challenges and pressures that come with playoff hockey.
"I'm very excited," said the man who was named Slovakia's Player of the Year in 2005. "It's more powerful. It's a great feeling. Here I am at 34-years-old. It's a gift for me. I'm enjoying everything about playing hockey. I like coming to the rink and seeing the smiles on my teammates' faces."
When he's not busy making life miserable for his opponents, Visnovsky, who scored the first hat trick by a defenceman in Anaheim Ducks history on March 4, enjoys hanging out with his number one supporter, his three-year-old son.
"He's got a very good slapshot," offered Visnovsky. "He loves to watch the games on the TV. He doesn't always know what team is playing, but if he sees me, he'll say, 'Daddy!'"
Does he envision an NHL career for his son?
"It's hard to say. Look at my size. I never thought about the NHL when I was young. But then the opportunity came and I said, 'Let me try.' And I did. This is my 10th NHL season. I enjoy everything, the practices, the games, all of it. It's been great and I hope good things are to come for us."
With Lubomir Visnovksy in the lineup, it's hard not to feel good about your chances.