In the Clear to Round 2
Dan Cleary helps lead the Wings to a sweep of the Coyotes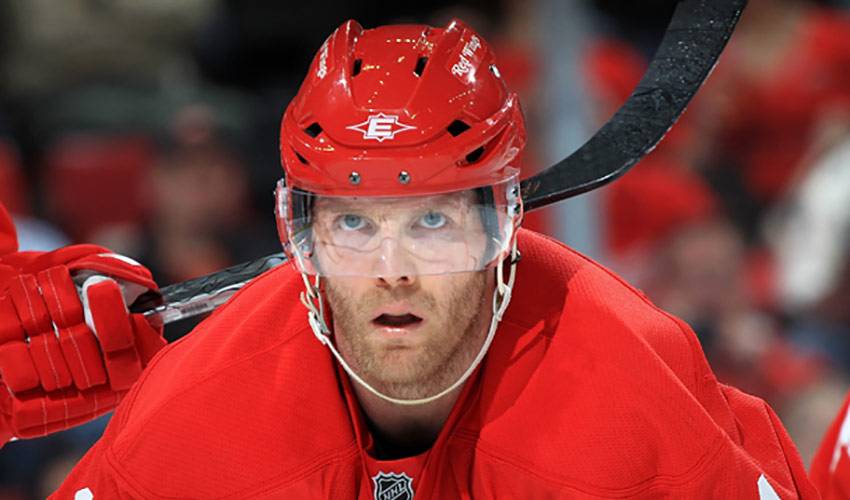 It's not only on the ice where Dan Cleary has earned a reputation as a crowd pleaser.
He was, as is consistently the case, his usual self during Detroit's four-game sweep of the Phoenix Coyotes in their first-round post-season matchup.
Offensively, Cleary, who recorded 26 goals during the 2010-11 regular season, was a constant scoring threat, initiating numerous chances in each of the four games. Defensively, the veteran of nearly 750 games consistently stifled the opposition, negating several opportunities.
And for his hometown fans, the man who became the first player from Newfoundland and Labrador to get his name on the Stanley Cup when the Red Wings won hockey's top prize in 2008, he made sure the Wings got the job done on Wednesday evening.
"I know everyone back home was staying up late, later than most of the country, to watch our games in Phoenix," said Cleary, a native of Harbour Grace, Newfoundland and Labrador, one of the oldest towns in North America. "I know how excited they are when it comes to hockey and especially at this time of the year. I'm glad we were able to wrap it up."
The veteran forward certainly put his stamp on the outcome.
Cleary banked in the game-winning goal with 6:19 left in regulation, breaking a 3-3 tie and sending the Red Wings to a 6-3, series-clinching win at Jobing.com Arena.
He also added an assist and skated off with first star honours. Most importantly, though, Cleary played a major part in giving the Red Wings some valuable time off before they meet their second-round opponent.
"It's so good for so many reasons," said Cleary, who was selected in the first round of the 1997 NHL Entry Draft, 13th overall, by the Chicago Blackhawks. "We played a good series against a good team. But no matter how many games it takes, it's a grind both mentally and physically. To have some time in between rounds is a great thing."
Aside from having time to heal any minor cuts and scrapes, it also affords Cleary and his teammates the unique opportunity to go from player to fan, at least for small period of time.
"I think all of us will be tuning in to watch the games and see what unfolds," said Cleary, who brought the Stanley Cup back to his hometown on July 1, 2008, for a Canada Day celebration that included a parade and a concert that attracted an estimated 27,000 people. "You appreciate the days that you'll have to tune in and see just what's going elsewhere throughout the league. But you know what lies ahead and you have to be focused on what's upcoming."
While he already has his game face on, Cleary, along with other NHLPA members also has perfected another look as well.
The NHLPA and the Heart and Stroke Foundation have joined together to launch the 'NHLPA Beard-a-thon', a charitable initiative that will help the Heart and Stroke Foundation in purchasing Automated External Defibrillators (AEDs) for local hockey arenas and communities across Canada.
Hockey fans everywhere can log-on to www.beardathon.ca or www.nhlpa.com for more information on the 'NHLPA Beard-a-thon'.
By visiting www.nhlpa.com, fans can support the cause in three different ways: growing their own beard as they seek donations from friends and family; pledging a friend, family member or anyone else who is growing a beard; or, by making a pledge to their favourite beard-growing NHL player participating in the playoffs.
Cleary is not concerned about what his beard might look like, as long as the Red Wings continue their push towards winning what would represent the franchise's 12th championship.
"We played extremely well against Phoenix, but we know we'll have to be even better next round," said the 32-year-old. "It's been an interesting year for us. We played great for the first 20 games, then we were up and down after that. We've been playing well of late, we have a good system and we have confidence."
The Wings also have every player contributing on some level.
"When you are missing someone as talented as (injured) Henrik Zetterberg, you have to adapt and I think we have," offered Cleary. "We've had great goaltending and every guy has been dedicated to doing something positive. That's just what you want."
Cleary, in spite of his impressive offensive performance in game four against the Coyotes, is willing to do whatever it takes to bring the Motor City another Cup victory.
"You want to bring energy to both aspects of the game," said Cleary. "It doesn't matter if you score one or stop one, just as long as you are effective."
Effective is the way the people of Harbour Grace, in spite of the odd late night in front of the television, would gladly describe their beloved Dan Cleary.