A New Approach, A Better Result
Jeff Schultz & the Caps have changed their free-wheeling style and they are seeing positive playoff results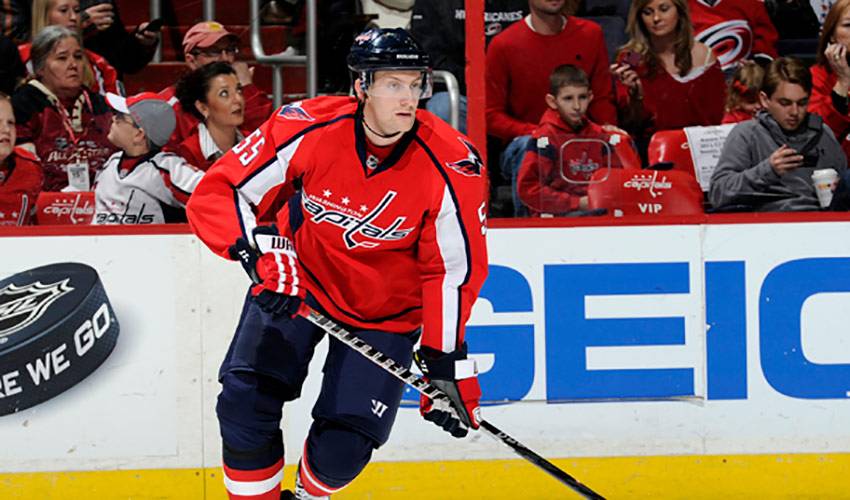 With the Capitals onto the second round of the 2011 NHL Playoffs, Jeff Schultz is hopeful that the victory over the Rangers is just the beginning of Washington's long road to landing their first Stanley Cup championship.
With last year's playoff disappointment still etched in their minds, Schultz and his Capitals' teammates were looking to exorcise their first-round loss to the Montreal Canadiens in 2009-10.
Seeded first once again in 2010-11, Washington brought a decidedly different approach to their game this year. Gone is the freewheeling style of play that saw them light the lamp with ease.
Instead, the Capitals fashioned a more defensive approach to the game, creating offence through limiting the opposition's opportunities.
"Coming into the series against the Rangers, we knew it would be tough in a lot of ways," said Schultz, one of the anchors of the Caps' solid defensive corps, when he spoke with NHLPA.com on Sunday. "We had our hands full with them in the regular season and there were a few blowouts. We knew what they were capable of doing offensive-wise and against Henrik Lundqvist, you're facing an All-Star quality goaltender."
Washington's game one victory, a game that went to overtime to decide the outcome, was by no means a surprise for Schultz.
"Both teams came out hard, played solid at both ends of the rink and we were both very determined," said Schultz, who was selected by the Washington Capitals in the first round, 27th overall in the 2004 NHL Entry Draft as one of the Capitals' three first-round picks that year. "It took an extra period to decide and it was a hard-fought win.
Early on, it was going to be physical and low scoring. I think it came down to what team was going to make the least amount of little mistakes."
Now, Schultz, who spent four seasons (2002–03 to 2005–06) in the Western Hockey League with the Calgary Hitmen, will have some days off before they face their yet-to-be determined opponent in the Eastern Conference semifinals.
It's something Schultz and his teammates are grateful for.
"Winning that first series was a huge confidence-building feeling for us," said the defenceman, who made his NHL debut for the Capitals on December 22, 2006 against the New Jersey Devils. "It was a weight off our shoulders. We're happy to have some time off. You can heal the bumps and bruises and then get revved up for the next round."
Not surprisingly, confidence is running high in the Washington dressing room these days. That said, Schultz, who led the NHL in the plus/minus statistical category with a +50 rating, becoming the first player from Washington to win the NHL Plus/Minus Award, won't be looking past anyone in the post-season.
The Capitals will also look to keep on capitalizing on their commitment to sound defensive play.
"I'm sure a lot of people were wondering why we altered our style," offered the 6'6", 230-pounder. "But we are proud of how we changed gears and still found a way to be successful. Every player is on board with that approach."
Including veteran Jason Arnott, who has been a major catalyst for a team eager to earn their first Cup triumph.
"We have a really good mix of young guys and veteran players," said Schultz. "We're fortunate to have some experienced players who know what it takes to be successful in the playoffs. Jason Arnott has been amazing, both on and off the ice. He knows what it takes to be a champion and the sacrifices that come with it. He pushes us to be at our best."
While Washington might not resemble the run and gun team that easily led the league in goals in 2009-10, the players will tell you they are a much more well-rounded team, the type that can challenge for hockey's most cherished team trophy.
Schultz knows it's been a road worth travelling.
"There is that sense of pride in knowing that we believed in ourselves and how we could make ourselves a better team," offered Schultz. "We proved a lot of people wrong. We are a team that can give our opposition and one that can defend a lead."
And one, it seems, that is worthy of being a favourite to win it all.