The Little Things That Win
Briere prides himself on doing the extras to help the Flyers to playoff success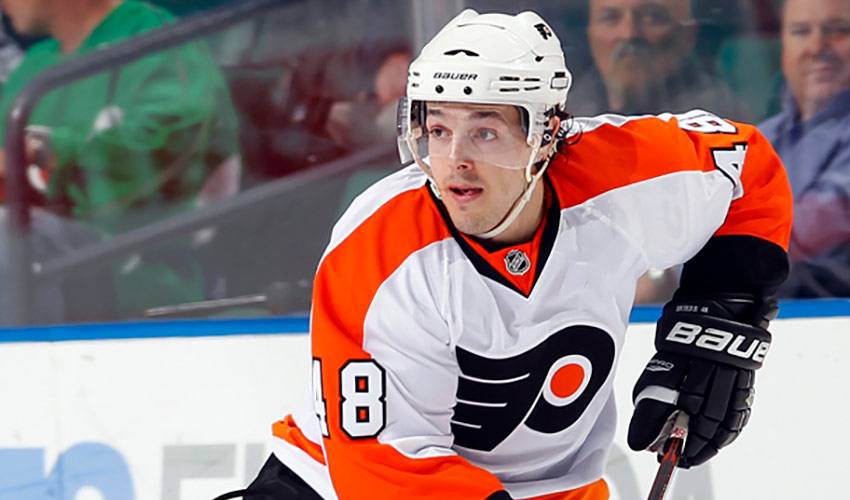 Daniel Briere isn't the least bit disappointed when the forward tells you he's not quite the player he was during the regular season.
The 2010-11 NHL campaign was a perfect illustration of the type of contributor Briere is.
A veteran of nearly 750 regular season games, the 24th overall selection of the Phoenix Coyotes in the 1996 Entry Draft, recorded 34 goals, six of which came on the power-play and six that were game-winning tallies.
And while Briere, who had a stellar junior career with the Quebec Major Junior Hockey League's Drummondville Voltigeurs, is still very much himself offensively, the 33-year-old native of Gatineau, Quebec, he's relishing the chance to show a different side to his game.
"One thing I learned very on in my hockey career is that when it comes to being successful in the playoffs is that you sometimes have to play out of character," said Briere, who was awarded the Michel Bergeron Trophy (rookie of the year), the Marcel Robert Trophy (scholastic player of the year) and was named to the QMJHL All-Rookie Team, all in 1995. "It's going out doing the little things that you aren't normally asked to do."
Such as?
"For a player like me it's winning faceoffs, finishing my checks and blocking shots," said the centreman, who was named the 1996 QMJHL Humanitarian of the Year and the Ford Cup (offensive player of the year). "That's what I learned a long time ago. To be able to apply that approach to your game is extremely important."
And for Briere and the Flyers, dodging drama in the playoffs, would be a welcome relief.
Last year, Philadelphia roared back from a three-games-to-none deficit against the Boston Bruins to win their series en route to the Stanley Cup Finals.
This year, the Flyers spotted the Buffalo Sabres a 3-2 series lead in their Eastern Conference quarter-final matchup before ousting them in seven games.
Although they don't manage to always do things easily, Briere has an appreciation for Philadelphia's resilient ways.
"It's kind of weird that we seem to always have our backs against the wall," said Briere, who was part of the squad that slipped into the playoffs on the last game of the 2009-10 campaign via a shootout win against the New York Rangers. "But we've shown we can be at our best when we have no option but to win. I would say it's more desperation than us being overly confident. When you have no choices and you're in a tough situation, you have to respond. Luckily, we have."
Briere has been a standout playoff performer before and during his NHL days.
Heading into this year's post-season, he had 87 points in 86 games. In 10 QMJHL playoff contests, he recorded 23 points.
Being able to step up when the games matter most has always been front and centre in Briere's mind.
"Even before I played junior or in the NHL, I grew up watching the playoffs, hoping I'd be there. I wanted to be that player, the one skating in the big games. And I feel very fortunate to have that chance. I get to play the game I love for a living. I feel very lucky and honoured to be in that position."
Winning a Stanley Cup, not surprisingly, would be the ultimate for the forward who has won has won four gold medals in as many appearances with Team Canada (at the 1994 World U18 Championships, 1997 World Junior Championships, and the 2003 and 2004 World Championships).
"You go back to those days when you were playing on the street or at the rink, thinking about what it would be like to win the Cup," said Briere. "There were so many guys I looked up to and saw how they performed in pressure situations, like some of my idols, Pat Lafontaine, Mats Naslund and Wayne Gretzky. You never know how many shots you'll have to win it all, so you want to make the most of it. There's just something about the playoffs that is so special."
And what is Briere doing when he's not helping lead the Flyers' charge towards a Stanley Cup Championship? "I know people will laugh, but I'm actually at a hockey rink," he offered. "All three of my boys play, so I'm out watching them. It's a great change of pace for me. I'm usually sitting in the back, very quietly watching them. I don't get emotional. I just love watching them play.
"People know who I am and what I do and they will come up and congratulate me and wish us luck. It's nice to have that support."
It's also nice to have one of the game's top offensive sparkplugs, a player that's willing and able to do whatever it takes to earn the victory.