'Pond' Hockey Champions
Colorado Avalanche defenceman, Kyle Quincey recently took part in a trip with the NHLPA Goals & Dreams fund to Pond Inlet, Nunavut where he helped donate hockey equipment to the children in the small northern community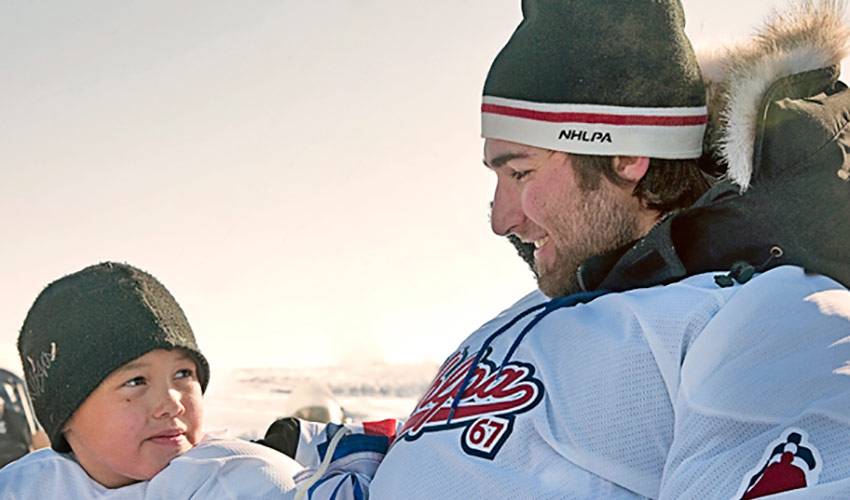 The NHLPA's Goals & Dreams fund, which since its inception in 1999 has helped grassroots hockey programs in 25 countries around the world , recently made another special trip, travelling to Canada's most northern territory to deliver 18 sets of new hockey gear to the children the community of Pond Inlet, Nunavut.
Kyle Quincey, defenceman for the Colorado Avalanche, and Matt Langen, manager of the Goals & Dreams fund, represented the NHLPA on the trip, joining supporters from Project North, which is a group that focuses on improving the lives of children in the Canadian North. Together, the group stayed for three days in Pond Inlet r an experience that neither they, nor the town, will soon forget. Pond Inlet is a small, remote community in Nunavut with a population of around 1,400. While it has very beautiful, untouched landscapes, its geography poses unique and significant issues for people and goods attempting to arrive or leave by plane or by ship. For the most part, food and other basic goods are shipped in from provinces and cities in the south, with the result being a difficult in acquiring many things and extremely high prices for items that are available. This principle applies to hockey equipment, which, even in the populated areas of the country, is becoming more and more expensive every year. This results in a scarcity of quality and modern equipment , despite a true love for the sport amongst the community.
The members of the group spoke frequently of how much hockey means to the community; from joining kids for an impromptu game street hockey on their first night in Nunavut, to how the local children constantly brave the elements to play and share the equipment that they do have with every member of the community.
"What really blew me away," Quincey told NHLPA.com, "was that every other person had an NHL hat or toque or parka that they had made, with handmade NHL logos, which I thought looked really cool."
"They have so much joy and they were so happy," Quincey said, when asked of the impression he took from the trip. "The littlest things that we take for granted, they cherish. The kids, even being in -30 weather at 10 o'clock at night, they're still all out playing street hockey. They're not inside watching TV, or on their computers or iPods; they're all outside, constantly. It's kind of like when we were growing up, which is nice to see. There are a lot of good hockey players up there, because it's all they do."
In a region where basic survival is something that is not taken for granted, hockey serves as a welcome distraction and an outlet for both kids and adults. Michelle Valberg, the founder of Project North, began the programas a way to help the young people of the region positively enrich their lives through sport and physical activity.
Valberg has made 17 trips to Canada's North in different capacities, and will remember this one as accomplishing one of the original goals she had when she created the program.
"One of the things I had always wanted when I started Project North," Valberg said, "was to bring an NHL player up to the north, and see the impact that would have on the children, to have that player talk to them. And when that happened with Kyle, to see him play hockey with the kids, was really a dream come true for me."
"The people are amazing and I love their survival stories – not survival, really, their life stories," Valberg said, on what continues to draw her to the North. "A lot of times they feel forgotten. We often bug Americans about not knowing anything about Canada, but how many Canadians know likewise about our North. And I was one of them, I was no different. It was only after I went up there that I realized how little I knew about the North."
Quincey, who spoke in glowing terms of the trip and the people he met along the way, seemed to have come away enlightened in the same way Valberg described after he first trip.
"We learned a lot from them and they took a lot from us – it was a great experience. That last day, when we gave away the equipment, seeing the joy on everyone's faces, that's something I'm never going to forget. It's hard to put into words. Appreciation is the key thing; everything they get is above and beyond what they expected. It went a long way and I'm just glad to have been a part of it."