Watched And Learned
Tyler Seguin exploded out of the press box & onto the score sheet in the Eastern Conference Final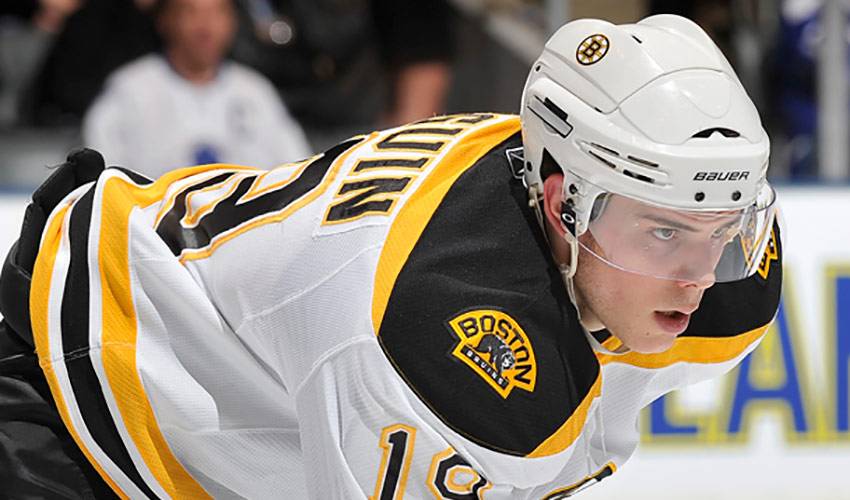 How do you turn a negative into a positive? If you're Tyler Seguin, Boston's promising young forward, two goals, four points and a key playoff win was his preferred method.
For the Bruins' first 11 games of the 2010-11 Stanley Cup Playoffs, Seguin, the second overall selection in last year's NHL Entry Draft, was relegated to the role of spectator, watching his teammates compete for the Eastern Conference crown from the press box.
Recently, however, in front of a raucous home crowd, the 19-year-old was in the lineup in Game Two of Boston's Eastern Conference final series against the Tampa Bay Lightning.
He made absolutely sure he didn't waste his chance to make an impact.
Seguin notched a pair of goals and added two assists for a four-point night, all of which came in the second period on just seven shifts. Needless to say, he played a big role in a Boston 6-5 victory, squaring the series at one as the teams head south to Tampa Bay for the next pair of contests.
"It was definitely tough watching from above," said the Brampton, Ontario native, who played in the series opener, recording a goal and an assist in Boston's 5-2 loss, when Patrice Bergeron sat out due to injury. "I tried to take everything in and learned as much as I can. But it's hard sitting there and not being able to help with the boys, but I wanted to take advantage of any opportunity I got."
A force throughout the game, Seguin, who had 11 goals during the regular season, is now looking to build upon his breakout performance.
He's certainly familiar in showing resiliency throughout his career.
Seguin had a rough start to begin his Ontario Hockey League career with the Plymouth Whalers, scoring only once in his first 17 games. Soon after, though, he displayed the offensive savvy he has become known for.
The forward went on to win the Eddie Powers Memorial Trophy, by finishing the 2009–10 season with the most points in the OHL. Seguin totaled 106 points on 48 goals and 58 assists, alongside fellow NHLPA member Taylor Hall (106 points on 40 goals and 66 assists).
"Whenever I face adversity, I always try to take a negative and turn it into a positive," said the 2009–10 Red Tilson Trophy winner as the most outstanding player in the OHL. "And watching the first two rounds, I could still learn a lot and see the game from up top. So whenever I get that opportunity again, whether it's going from World Juniors and going back to OHL or being in the press box and coming back to the team, I want to take advantage of every opportunity."
The Bruins, seeking their first Cup win since 1972 and sixth overall, would like to see more of the same from Seguin.
His teammates are certainly rooting for him.
"There were a few times where guys who do have experience like Mark Recchi and I remember a specific time where Shawn Thornton came up to me in the second round and he said, 'Look, kid if we're going to the Cup, you're going to get opportunity to play just because injuries are part of the game and have fun with it and enjoy the ride and take it all in and use it as a learning experience.
"So I looked at it up top as an opportunity as well. It was tough watching, but I tried to take it as an opportunity and I got the chance to come in, I just wanted to seize it."
And seize it, he did.
While there have been some trying times, Seguin, who tallied his first NHL goal on October 10, 2010, getting a pass from Michael Ryder and scoring on a breakaway backhand goal against Phoenix in Prague during the 2010 NHL Premiere Games, hasn't lashed out or pointed the finger at anyone.
Rather, the player whose style has been compared to former NHL superstar and current General Manager of the Lightning, Steve Yzerman, has worked hard to keep things in perspective.
"I think if I'm in my head blaming people, I'm not going to be playing well," offered Seguin. "I try to stay positive, and the last 20 games of the season, and kind of these last two games I've been trying to do that with whatever ice time I get or any opportunities, I just want to be ready and be prepared for that."
In Game Two, Tyler Seguin proved he was ready...and able to make his mark on this Eastern Conference Final.