One Shift At A Time
Devin Setoguchi and the Sharks approach each game with a shift to shift mentality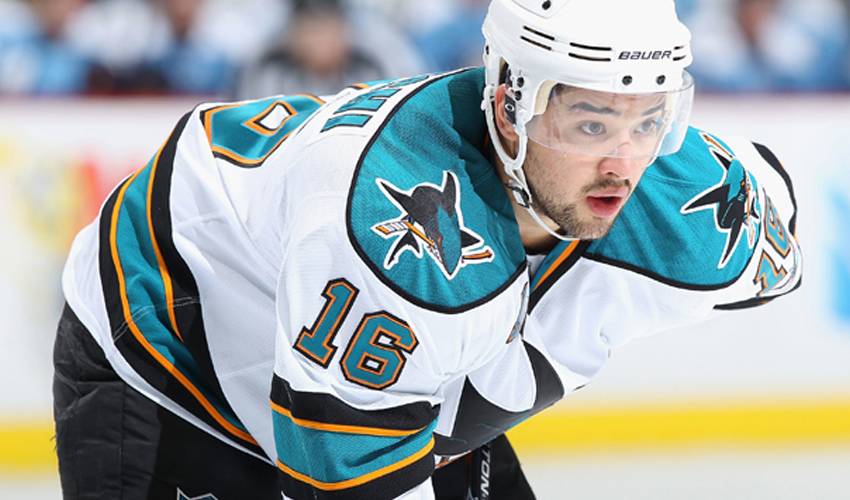 It was somewhat fitting that Devin Setoguchi called when he was on his way to the airport. After all, the San Jose forward has been soaring high in the 2010-11 NHL Playoffs.
It's proven to be dangerous waters for teams attempting to shut down to a hungry Shark in the Stanley Cup post-season, one who already has two-game winners to his name, as well as an ability to lockdown the opposition's top performers.
As for what he takes more pride in, scoring goals or stopping them, Setoguchi, who has nine points in 17 games as of May 23, is equally enthused about both aspects of his game.
"I think any time you are able to score a big goal during the most intense time of the year, it's obviously quite satisfying," said the Alberta native, who had nine points and one game-winning tally in the 2009-10 playoffs. "But there's also sense of accomplishment when you are given the task of shutting down some of the best players in the game. It's a huge challenge."
But not one that Setoguchi fears.
After taking out the Los Angeles Kings in six games in the first round of the Western Conference playoffs, the Sharks squared off against perennial Cup contender Detroit in the semifinals. After watching a three games to none lead evaporate, San Jose bested the Red Wings in Game Seven on home ice.
It was Setoguchi and his linemates Logan Couture and Ryan Clowe who were handed the responsibility of neutralizing some of the game's most reputed offensive catalysts.
"I think we were all pumped with the idea that we were going to be out there against great players like Pavel Datsyuk and Henrik Zetterberg," noted Setoguchi, in reference to Detroit's potent one-two punch. "Our goal was to be even or plus players by the end of the night. And for us, it wasn't just about trying to stop them. It was also about us creating scoring chances."
The dual role was something Setoguchi relished.
"You knew that it wouldn't be easy to go up against those guys, but our line really was ready for the challenge," recalled the 24-year-old right winger. "For as much as we wanted to shut them down, we also wanted to provide some spark on the offensive side, too. You need to be confident when you're given that role and I think we responded well."
Setoguchi, the eighth overall selection in the 2005 NHL Entry Draft, is happy to share the accolades with his teammates, a group, he notes, that is receiving contributions from everyone on the roster.
It's been a big reason why the Sharks find themselves in the West final.
"That's something we all really feel good about," said Setoguchi, who scored his first ever NHL Hat-trick in a 4-0 win against the Colorado Avalanche on February 19, 2011. "Depth counts for so much and we've been really fortunate to have everybody stepping up and playing their best hockey."
Setoguchi, who netted a hat trick in Game 3 of the Western semis against the Wings, including the overtime goal to give the Sharks a 3-0 lead in the series, just happens to be playing some of his best hockey.
Yet he's not willing to rest on any of his achievements from the opening rounds. Rather, he's zeroed on raising the bar against a talent-rich Vancouver Canucks squad.
"It only gets tougher and the demands only get greater," said Setoguchi, who scored his first two regular-season NHL goals on October 29, 2007, in his first NHL game, playing against the Dallas Stars, becoming the first Sharks rookie ever to score two goals in his first game. "Every game becomes more meaningful and you need to be at your best.
"When you're playing the best team that allows the fewest amount of goals and scores the most goals, you need to be the best you can possibly be in order to compete with them."
Setoguchi, for one, is more than happy to embrace the opportunity.
"This is what you play for and what you dreamed of before you made it to the NHL," he said. "There are always going to be ups and downs at this time of the year. You can't get too high or too low. All you can do is roll with things and make sure each shift is better than the previous one."
It's something Setoguchi seems to have no problem with at all.