Right Place, Right Time
Kevin Bieksa deposited a strange bounce in the back of the net & lifted the Canucks to the Stanley Cup Final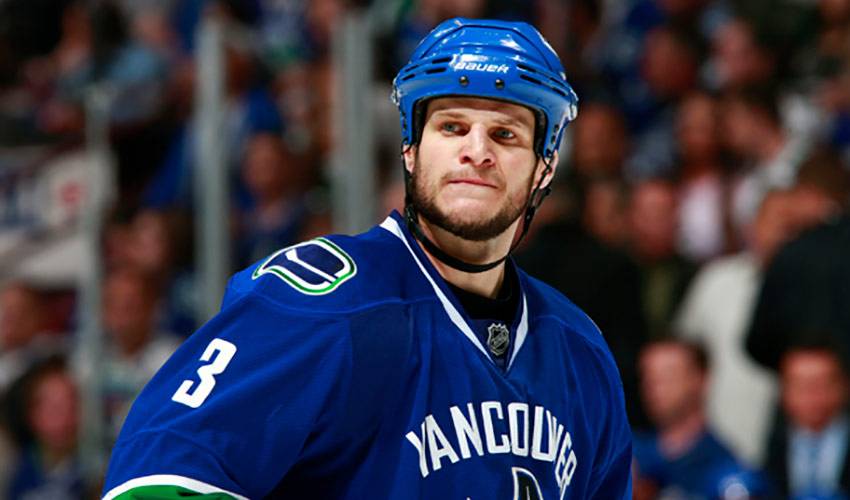 Hard hits. Blocking shots. Killing penalties. Sending the Vancouver Canucks to the Stanley Cup Final. His game isn't defined by just one skill. And that's what makes Kevin Bieksa one of hockey's most dangerous and respected defencemen.
Need a player who can log big minutes? What about one who can add some timely offence? How about a rearguard that can alter the tone of a game with a big body check? Or perhaps the player that scores the double-overtime tally in Game Five of the 2010-11 Western Conference Final?
If you required all those elements in a player, the man who wears the No. 3 jersey for the Canucks can deliver on all fronts.
"I suppose my game entails a variety of things," said Bieksa, in an interview with NHLPA.com. "Whether it's getting down and blocking shots, creating a scoring chance from the point, or working hard on the penalty kill, you try and do your best in every conceivable situation that you face."
Bieksa and the Canucks, who find themselves one step away from winning the Stanley Cup after a five-game triumph over the San Jose Sharks in the Western Conference Final, have rolled with the punches in the 2010-11 NHL Playoffs, including a resilient performance against their recent nemesis, and biggest rival, the Chicago Blackhawks.
After taking a seemingly commanding three games to none lead in the first round of the Western Conference playoffs, Vancouver needed an overtime goal in Game Seven from Alexandre Burrows to complete the series victory.
While there was plenty of panic coming from their supporters, Bieksa recalls a different atmosphere in the Canucks' dressing room after their lead disappeared.
"There wasn't any worry or any second-guessing," said the 151st overall selection of the Canucks in the 2001 NHL Entry Draft. "We had chances to close the series out and we didn't. We knew if we stuck to what we do best and stay focused, we could win. I think what we learned from the Chicago series is that you can't make drastic changes to your game to remedy things. We didn't give up at any point."
After a six-game series win against the Nashville Predators in their Western semifinal matchup, Vancouver bested conference's No 2. seed, the San Jose Sharks in an entertaining and high-paced five game series, earning the clinching victory on a Bieksa double-overtime goal in Game Five that sends the Canucks to the Stanley Cup Final for the first time in 17 years.
Bieksa, who played four standout seasons at Bowling Green University in Ohio, knew just what to expect from the opposition. He also understood what was expected from himself and his teammates.
"Everyone says it, but it's true – things only get tougher and more intense as you go on at this time of the year," said Bieksa, who graduated from Bowling Green with a bachelor's degree in finance and was a two-time CCHA All-Academic honourable mention in 2003 and 2004. "There aren't a whole lot of changes in terms of preparation. It gets more physical and every shift counts. You really have to do whatever it takes. But at the same time, you can't dwell on any mistakes, a bad goal or a bad shift. You really do have to stay in the moment."
You also require contributions from every player on the roster, something that has been a hallmark of the Canucks' Cup run this campaign.
"It doesn't matter if you play five minutes or 25 minutes, and it doesn't matter if you do something outside of your usual game," offered Bieksa, who played his first NHL game on December 19, 2005, against the Los Angeles Kings. "You look at what Jeff Tambellini did against Nashville when he caught their guy on a breakaway. That's a type of play that can not only decide a game, but that can change a series."
Bieksa, who missed 15 regular season games with a broken left foot, has done his part to put the Canucks in prime position to bring the franchise its' first championship.
His combination of toughness, tenacity and timely points has made him one of Vancouver's most high-profile performers and undoubtedly one of their most important players. Through three rounds, Bieksa has nine points, along with a plus-10 rating.
"A lot of things and a lot of players have got us to where we are now," said the 29-year-old Ontario native. "It really has been a combination of different factors. Whoever happens to score the big goal isn't important to us. It's that all the guys are bringing their best game and are doing everything they can to help get us the win."
Bieksa doesn't need to be reminded that they have a loyal legion of fans backing them.
"They are pretty passionate and we are lucky to have their support," he offered. "Everywhere you look, you see the excitement."
With only four more victories between the Canucks and their ultimate goal, Bieksa is hoping that Vancouver's fans have plenty more reason to cheer by the time the playoffs come to a close.