Relishing the Past & Looking Forward
Brian Rafalski retires from pro hockey after 15 seasons; excited about new challenges in life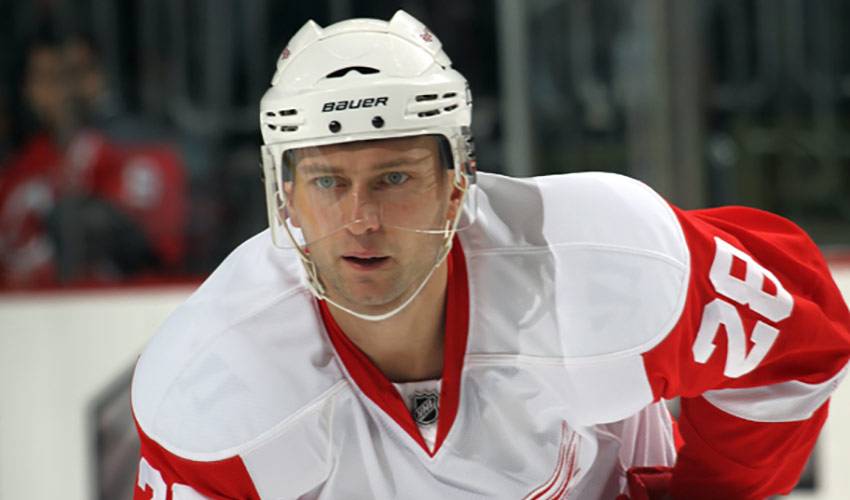 His career was one any hockey player would envy, highlighted by success at every level, including 11 memorable National Hockey League campaigns.
Nagging injuries ultimately led to his retirement from the game, but Detroit Red Wings defenceman Brian Rafalski has no reason to be disappointed for what he achieved both in North American and European hockey circles.
"After 15 years of playing professional hockey, I'd like to announce my retirement," said Rafalski, in a recent news conference at Joe Louis Arena, noting he made the decision two months ago. "It's been a challenging season, both physically mentally and spiritually, but also rewarding. It's time for me to move on."
Although he initially had a tough time breaking into the NHL, spending four seasons in European leagues, Rafalski made the most of his opportunities when he was given a shot. He won the Stanley Cup three times, playing in five Stanley Cup finals (2000, 2001, 2003, 2008, 2009) and suited up for the United States men's ice hockey team in three Olympic ice hockey tournaments (2002, 2006, and 2010).
"I suppose one of the most rewarding aspects of my career was that I didn't listen to the naysayers during my collegiate years and when I was playing in Europe," said the 37-year-old native of Dearborn, Michigan. "I was told that I wasn't big enough and that I got a good education when I went to Wisconsin and I should do something with that. I'm just glad I stuck with it."
Undrafted by any NHL team, Rafalski began his professional career in Sweden, moved to Finland. He finally made it to the NHL at the age of 26, when he was signed by the New Jersey Devils.
Rafalski made an immediate impact.
Upon his arrival in New Jersey, Rafalski was partnered with Devils' captain, Hall of Fame inductee, Scott Stevens. The two would remain together for five years, until Stevens' retirement in 2004.
Rafalski finished the season with 32 points. He led all rookie defencemen in plus-minus with a plus-21 rating, second among New Jersey blueliners and tied for first for all rookies and played a key role in helping the Devils win the Stanley Cup. Along with Calder Trophy-winning teammate Scott Gomez, he was named to the NHL All-Rookie Team.
"It's a different feeling when you come into the league as a rookie," recalled Rafalski, who was named to the WCHA First All-Star Team, the NCAA West All-Star Team, and honoured as the WCHA Defenseman of the Year in 1995. "You want to prove that you belong, but there is some tension in knowing that you are taking a roster spot from a veteran."
Still, Rafalski was happy to have the chance to play at hockey's elite level.
"When you're partnered with Scott Stevens at the very start and you're going up against the other team's top lines, you really have no choice but to be at your best," said Rafalski, who won the Pekka Rautakallio trophy for best defenceman in the SM-liiga in 1997 and 1999, along with the Kultainen kypärä award for best player in the SM-liiga in 1999. "When I arrived in New Jersey, (former star defencemen) Larry Robinson and Slava Fetisov were on the coaching staff. Obviously, they were able to teach me a lot and it really helped me."
On January 1, 2009, Rafalski, who signed with the Detroit Red Wings in 2007, scored the game winning goal in the 2009 Winter Classic, the first NHL game played outdoors by the Red Wings in their club history. The Red Wings defeated the Chicago Blackhawks by a score of 6-4 and went on to win the Stanley Cup.
Rafalski also won silver with Team USA at the 2010 Winter Games, where he was named the tournament's best defenceman.
Not surprisingly, Rafalski has no regrets.
"I haven't had the time to reflect at the things I'll miss about the game. I enjoyed my time in the NHL and made some great friends. But now there are other doors opening for me. And that's what life is about, not necessarily looking back, but looking forward."
Spending time with his wife and three boys, he admits, is something he welcomes.
"To be a bigger part of their lives will be great. Doing what I've done for so long didn't give the opportunity to be there in a full-time way. Now, I can do that. I've never liked being attached to one thing. I was fortunate to have the support of my family and to have enjoyed a great career."
One that was defined by equal parts success, resiliency and class.