The Chance Dreams Are Made Of
Rich Peverley & the Bruins are in a place every hockey player wants to be, the Stanley Cup Final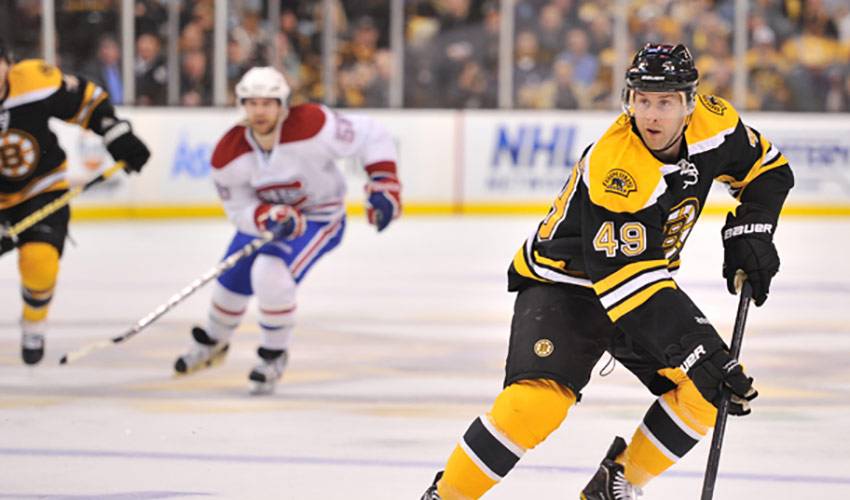 Winning a Game Seven on home ice, one that punched your ticket to the Stanley Cup finals, was a moment Rich Peverley won't soon forget. In fact, the Boston forward, just one day removed from the victory, is still on an emotional high.
Peverley, who has proven to be one of the Bruins' most versatile forwards throughout the 2011 Playoffs, doesn't need to be reminded about what he and his teammates experienced less than 24 hours earlier.
"I guess you can say I'm doing really well," said Peverley, who was on the ice for the final minute of Boston's 1-0 win over Tampa Bay Lightning in the Eastern Conference Final. "It's been a real whirlwind, just taking everything in. It's truly amazing."
Undrafted, Peverley has made the most of his time in the NHL, including his contributions with the Bruins, the team he was traded to from the Atlanta Thrashers on February 18, along with Boris Valabik, in exchange for Blake Wheeler and Mark Stuart.
After 59 games with the Thrashers, Peverley appeared in 23 games Boston, contributing seven points.
In 18 playoff appearances this season, he has eight points, including one game-winning tally. He's also been given the chance to see the ice in key situations.
"I've been given a truly great role by Claude (head coach Julien) in the playoffs and I've really enjoyed it," said Peverley, who played collegiate hockey for St. Lawrence University where he led the Skating Saints in points in three of his four seasons. "I've been able to play on all the lines and be part of different situations. To be out on the ice in the final stages of a game with a Stanley Cup berth on the line…it's very rewarding."
And one Peverley has no trouble recounting.
"It was pretty crazy," said the native of Guelph, Ontario, who signed with the Nashville Predators on January 17, 2007, appearing in 13 NHL games by season's end. "The crowd was going wild and we knew we had to stop them from tying up the game. It was a perfect example of this team. We can rely on everyone to pitch in, embrace their role and do something positive.
"We're very happy to get the win in a very tight game against a very good team," he continued. "You enjoy the moment and you appreciate what you've achieved, but it doesn't take long to start focusing on the next step."
Peverley might not receive the same recognition, on or off the ice, as some of his teammates do, but the 28-year-old isn't bothered by it at all.
"To see this city so alive and excited is great," said the centerman, right-winger. "For me, I'm just happy to be given the chance to grab a role and help the team. I'm getting minutes, regardless of what line I'm on. I think Claude has done an excellent job with the lines."
Peverley, who was claimed off waivers by the Atlanta Thrashers in January of 2009, knows he and the rest of the Bruins will have to be even better when they square off against the Vancouver Canucks for all the spoils.
"We have a lot of respect for them," said Peverley, who collected 35 points in 39 games with the Thrashers for the remainder of the 2008–09 season. "But we have confidence in ourselves and in what we can do. We've been fortunate to have everyone stepping up every night. And that's what you need if you want to win the Stanley Cup."
Peverley, who made his international debut in 2010, when he was named to the Canadian national team for the 2010 World Championship, is looking to make an impact regardless of what line he happens to find himself on.
If the pressure is intensifying, Peverley certainly isn't wilting under the expectations.
"I wouldn't call it pressure," said the veteran of 276 NHL regular season games. "You really enjoy it and soak it all up. It's pretty special to be part of this team and to be playing for the Stanley Cup. When you were growing up, you dreamed of getting that chance."
And as Peverley has shown throughout his career, before and during his NHL days, he's not one to waste the chances he's made for himself.