Perry An All-Around Professional
Ted Lindsay Award finalist has impressed teammates & opponents with his preparation & play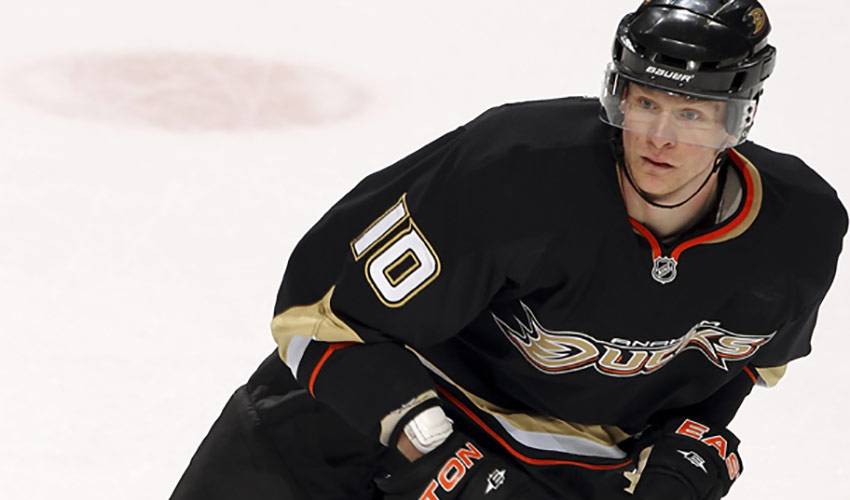 For more on Corey Perry, visit the Ted Lindsay Award section here: http://www.nhlpa.com/About-Us/Ted-Lindsay-Award/
For a rookie, Corey Perry was the ideal teammate to learn from, a player that thrived as an individual, yet only cared about team success, but definitely deserving of being a Ted Lindsay Award finalist.
In his first National Hockey League campaign, Cam Fowler, selected 12th overall by the Anaheim Ducks in 2010, was eager to watch and learn from the players he lined up beside.
Although he had watched him play and knew his reputation as one of the game's elite offensive stars, it didn't take the 19-year-old Fowler long to realize just how good of a player Perry is.
And it certainly didn't take Fowler by surprise when Perry, along with Daniel Sedin and Steven Stamkos, found himself on the short-list for hockey's most coveted individual honour, the Ted Lindsay Award, which is presented annually to the "most outstanding player" in the NHL as voted by the members of the NHLPA.
"I really can't say I'm shocked to see that Corey would be up for this award," said Fowler, of the Ducks' star, whose 50 goals led the NHL in scoring in 2010-11. "He's such a big part of our team and the success we've had. He deserves all of this. I'm definitely rooting for him."
As for what part of Perry's game is the most eye-catching, Fowler, who recorded 40 points in 76 games in his first NHL season, admits he can point to any number of things.
"I think what stands out for me is his consistency," said Fowler, of the 25-year-old right winger. "He's been great the whole season.
Whether it's a Sunday afternoon game at the start of the year or in a crucial playoff game, he plays the same way. He wants to win. He wants to make a difference every time he's on the ice. That's the type of player you dream of having as a teammate."
So, just how good was Perry's 2010-11 campaign?
The Ontario native led the league with 50 goals, winning the Maurice "Rocket" Richard Trophy. He achieved the feat with a hat trick against the San Jose Sharks on April 6, 2011. Adding 48 assists, he finished the season with 98 points, which ranked third in the league.
Perry was also chosen to the play in the 2011 NHL All Star Game, where he won the Shootout Elimination Challenge in the Skills Competition. He was also named a Hart Trophy finalist along with Daniel Sedin and Martin St. Louis, an award that honours the MVP of the regular season.
For all of the accolades and recognition Perry's received, Fowler is even more impressed with his teammate's winning attitude.
"He's someone who works hard all of the time, no matter what the circumstances," praised Fowler. "It's not just that he can he score any way – standing in front of the net getting worked over or scoring those highlight-reel ones that we've all seen so many times.
"That's impressive, but the type of person and professional he is makes you glad he's on your team. At practice, he's fun to be around, always smiling and upbeat. He'll stay after practice is over to work on things, looking to improve his game. He never likes to take a day off. It's good for me to see that."
The two have become good friends away from the rink, something Fowler is equally grateful for.
"He took me under his wing and helped me in so many ways," said the blueliner, who won a gold medal as a member of the American team at the 2010 World Junior Ice Hockey Championships and was a member of the 2010 Windsor Spitfires team that won the OHL championship as well as the Memorial Cup. "I consider him a good friend."
Fowler also considers Perry one of the best in the business.
"He's one of the most competitive guys I've ever been around," noted Fowler. "He has no problem stepping up and saying something if it needs to be said. But he also steps up on the ice, too. His preparation for games is amazing. It's the same routine. It's about getting into a rhythm and having the same mindset each day."
Obviously, it's an ideal method, one that has put Perry on the final ballot for the coveted Ted Lindsay Award.
"With Corey, it's always about the team, but he definitely deserves to be up for an award that any player would dream of winning. We're all behind him."