Turning Up The Energy
Brad Marchand proud to bring high-energy to the Bruins line-up game-in & game-out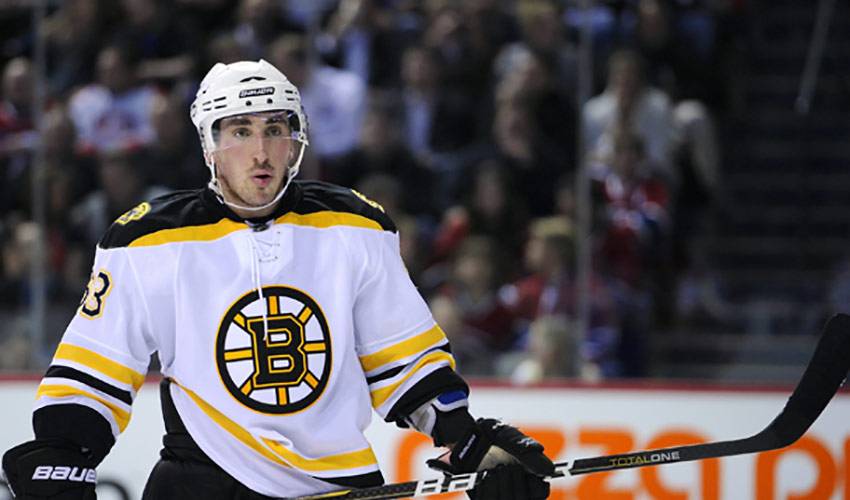 When the Boston Bruins look for inspiration through actions, Brad Marchand is definitely the man for the job.
On the ice, he seems to be in perpetual motion, a fast-skating forward that can put up points and get under the opposition's skin all in one shift.
So, it was somewhat ironic that on the day after the Boston Bruins downed the Tampa Bay Lightning in a hard-fought, high-energy seven-game series, Marchand wasn't much interested in stepping outside his place.
"That day, I just wanted to lie on the couch and relax," said the native of Halifax, Nova Scotia, who has 12 points after 20 playoff games. "But I knew I wouldn't have much time to kick back and just relax. But I don't mind. This is the Stanley Cup Finals. You can't help but be pumped up about that, right?"
He has every right to be.
The 23-year-old, who just completed his second NHL campaign, has been a major factor in the Bruins success, both in the regular and playoffs, a blend of offensive talent, speed and physicality, who also knows how to get under the opposition's skin.
What he does need work on, however, is his timing.
With the clock ticking down in Boston's Game Seven Eastern Conference championship game against the Tampa Bay Lightning, and the Bruins clinging to a 1-0 lead, emotions, on both benches were running high.
"The last few seconds seemed to last forever," said Marchand, the Boston Bruins, 71st overall selection in the 2006 NHL Entry Draft. "I was on the bench it was torture. But I have to admit, I was pretty pumped. I'm pretty sure my leg was over the boards before the game ended. Actually, I'm pretty certain they could have called a too many men on the ice. And it wouldn't have been just me, too. There were a lot of us jumping over to celebrate."
Premature celebrating aside, Marchand was simply thrilled he and his teammates had landed a spot in the Cup Final.
"You can't really put it into words or accurately describe the feeling," said the native of Halifax, Nova Scotia. "After it was over, you look back at all the effort that went into getting to this point. But at the same time, you know that you'll have to be even better in the next series. We've been very lucky in that we always have guys stepping up."
Marchand has certainly played his part.
After recording one point in 20 games with the Bruins in 2009-10, the left-winger shone this season, scoring 21 goals and totaling 41 points in 77 games.
As for what he believes his biggest contribution to the club is, Marchand points to his enthusiastic approach to the game.
"I think my energy is something that I'm proud of," said the forward, who played his junior hockey in the Quebec Major Junior Hockey League before making his NHL debut on October 21, 2009 against the Nashville Predators. "If I can lift the guys' spirits, bring that energy and emotion, something that we can build on, I take pride in that."
It's obvious Marchand is a respected player beyond the dressing room.
While he might have started his career in quiet fashion, Marchand, who has represented Canada twice in the 2007 and the 2008 World Junior Ice Hockey Championships, bringing home gold each time, is now a well-known sports figure in Boston and beyond.
On April 2, 2011, prior to the Bruins' game against the Atlanta Thrashers, Marchand was honoured with the team's "7th Player Award" as voted by the club's fans through the regional New England Sports Network (NESN). The award is given to the Boston player fans believe best exemplifies the player performing most beyond expectations.
"Everywhere we go, you see just how passionate our fans are and how much support we get," said Marchand. They're rallying behind us. You can't help but feel it. I remember one time I drove about an hour away from Boston to do some go-karting and this indoor place. When I walked in, people knew me and the guys I went with. They wished us well. That was amazing. I never expected it, but it means a lot."
So, too, would delivering a Stanley Cup to a city that is firmly behind their team.
With the Bruins down two games to none in the Cup Final, their man of action was being counted on more than ever when the series shifted to Massachusetts.
In Game Three, in front of a boisterous Boston crowd, Marchand responded with a high-energy performance, netting a highlight-reel, short-handed tally, his seventh goal of the playoffs, along with an assist, in an 8-1 victory.
"I love the game and I love being able to provide a spark," said Marchand. "That's what I try to do every game."