NHLPA Hosting Elite CDN Youth at Allstate All-Canadians Camp
NHL players to work hand-in-hand with top youth talent at the first ever Allstate All-Canadians Mentorship Camp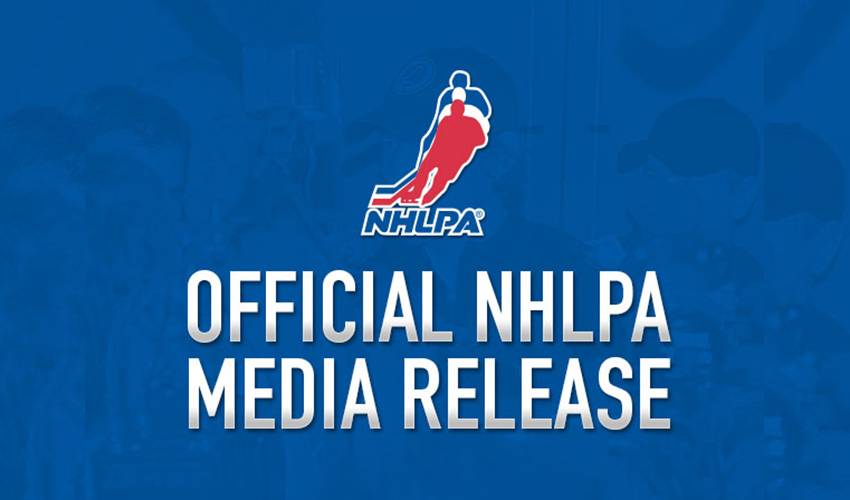 NHLPA TO HOST TOP CANADIAN HOCKEY YOUTH AT ALLSTATE ALL-CANADIANS MENTORSHIP CAMP
Toronto, Ontario (Tuesday, June 7, 2011) - The National Hockey League Players' Association (NHLPA) announced today the names of 42 selected bantam-aged players who will participate in the first annual Allstate All-Canadians Mentorship Camp. Hosted by NHL players under the leadership of 21-year NHL veteran Gary Roberts, the invitation-only camp will be held at the Hershey Centre in Mississauga, Ontario from August 2 to 6, 2011. The five-day camp will conclude with an inter squad exhibition game on Saturday, August 6 at 1:00 p.m. ET.
Since its launch in November 2010, the Allstate All-Canadians program (www.allstate.all-canadians.com) has enabled NHL players and leading experts to successfully reach hundreds of thousands of young athletes, parents and coaches at every age and skill level across the country through the web, grassroots initiatives and special events, for the purpose of mentoring and guiding the next generation of Canada's hockey youth.
"We are incredibly pleased with the grassroots success of the program for players of all skill levels over the past several months," said Mike Ouellet, Chief of Business Affairs for the NHLPA. "Now we are looking forward to making a difference with a group of young players who have already been recognized in their own communities as elite prospects. A key goal of our camp is to help equip these athletes with information and tools to help them deal with the choices that lie immediately ahead in their hockey career plans. Who better to do that than NHL players who have gone down the same road and who have valuable experience and advice to share?"
Players attending the mentorship camp, which would not be possible without the generous support of Allstate Canada, will receive important instruction both on and off the ice. Classroom sessions will cover a variety of foundational topics such as nutrition, strength and fitness, sports psychology, financial responsibility and personal values. Parents will be invited to participate in selected sessions designed to equip families with the information they need to help make well-informed decisions.
"These young players and their families will learn how to strategically prepare to play hockey," said Gary Roberts. "We will emphasize how important it is to make a commitment to fitness, nutrition and mental development if they want to achieve longevity at an elite level. Today's game is played at such a high level that these young players need every edge they can find to be successful. We're going to show them how to get that edge early in their development."
"One of the key differentiators of the Allstate All-Canadians Mentorship Camp is the life lessons these young players will learn from today's stars and leading industry experts, including leadership, teamwork, perseverance and resilience," said Chris Kiah, President and Chief Executive Officer of Allstate Canada. "While not every young player is going to reach his ultimate hockey dream, many will take a place among the leaders of tomorrow in many different parts of Canadian society."
Allstate All-Canadians Mentorship Camp Player Selections by Region
British Columbia
| | |
| --- | --- |
| Jake Virtanen - Abbotsford, BC | Payton Lee – Cranbrook, BC |
| Ryan Gropp- Kamloops, BC | Joe Hicketts – Kamploops, BC |
| Josh Thrower – Squamish, BC | |
Alberta
| | |
| --- | --- |
| Ty Mappin – Big Valley, AB | Duke Reid – Calgary, AB |
| Tanner MacMaster – Calgary, AB | Brayden Point – Calgary, AB |
| Brycen Martin – Calgary, AB | Derek Mazil – Calgary, AB |
| Jordan Papirny – Edmonton, AB | Conner Bleackley – High River, AB |
Saskatchewan
| | |
| --- | --- |
| Ryan Pilon – Duck Lake, SK | Reid Gardiner – Humbolt, SK |
| Miles Warkentine – Prince Albert, SK | Jordan Harris – Prince Albert, SK |
| Collin Shirley – Saskatoon SK | |
Manitoba
| | |
| --- | --- |
| Jordan Thomson – Wawanesa, MB | |
Ontario
| | |
| --- | --- |
| Aaron Ekblad – Belle River, ON | David Miller – Burlington, ON |
| Liam Herbst – Etobicoke, ON | Roland McKeown – Etobicoke, ON |
| Eric Cornel – Kemptville, ON | Robert Fabbri – Mississauga, ON |
| Brett Hargrave – North Bay, ON | Damian Bourne – Oakville, ON |
| Brook Hiddink – St. Thomas, ON | Jacob Middleton – Stratford, ON |
| Jared McCann – Stratford, ON | Josh Ho-Sang – Thornhill, ON |
| Michael Dal Colle – Woodbridge, ON | |
Quebec
| | |
| --- | --- |
| Nicola Hebert – Ancienne-Lorette, QC | Daniel Audette – Blainville, QC |
| Keven Bouchard – Métabetchouan (Lac-St-Jean), QC | Alexis Pepin – Candiac, QC |
| Julio Billia– Montreal, QC | Maxime Chevalier – Quebec City, QC |
| Timothe Simard – Saint-Jean sur Richelieu, QC | Jonathan Deschamps – Trois-Riviere, QC |
Nova Scotia
| | |
| --- | --- |
| Matthew Highmore – Dartmouth, NS | Brendan Nickerson – Shelbourne County, NS |
About the National Hockey League Players' Association
The National Hockey League Players' Association (NHLPA), established in 1967, is a labour organization whose members are the players in the National Hockey League (NHL). The NHLPA works on behalf of the players in varied disciplines such as labour relations, product licensing, marketing, international hockey and community relations, all in furtherance of its efforts to promote its members and the game of hockey. In 1999, the NHLPA launched the Goals & Dreams fund as a way for the players to give something back to the game they love. Over the past 11 years, more than 50,000 deserving children in 23 countries have benefited from the players' donations of hockey equipment. NHLPA Goals & Dreams has donated more than $19-million to grassroots hockey programs, making it the largest program of its kind. For more information on the NHLPA, please visit www.nhlpa.com.
About Allstate Insurance Company of Canada
Allstate Insurance Company of Canada is one of Canada's leading producers and distributors of home and auto insurance products. "The Good Hands Network®" enables consumers to contact Allstate Canada through one of 93 community-based Agencies, directly online at www.allstate.ca and through the Customer Contact Centre at 1-800-Allstate. Allstate Canada is committed to making a positive difference in the communities in which it operates and has partnered with organizations such as Mothers Against Drunk Driving (MADD Canada), Crime Stoppers, United Way and Junior Achievement. In 2010, Allstate Canada, in partnership with the National Hockey League Players' Association (NHLPA), created the Allstate All-Canadians program, a mentorship program designed to guide the next generation of Canada's hockey youth. Learn more at www.allstate.all-canadians.com.