Stamkos as a Star is No Surprise
Former minor hockey coach recognized the Ted Lindsay Award finalist's talents very early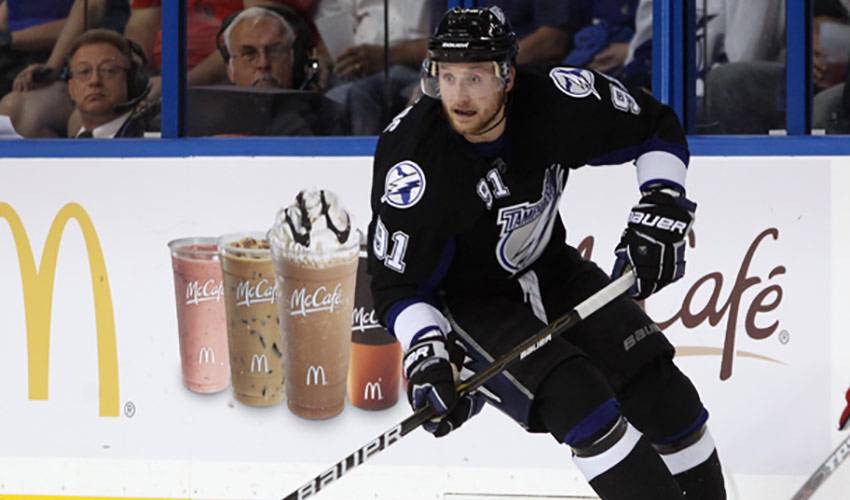 For more on Steven Stamkos, visit the Ted Lindsay Award section here: http://www.nhlpa.com/About-Us/Ted-Lindsay-Award/
June 8, 2011
Paul Titanic's earliest recollection of Steven Stamkos, the Tampa Bay Lightning superstar who happens to be up for hockey's most prestigious individual honour, was as a three-year-old kid, zipping around the ice sporting a big smile on his face.
He would go on to coach the talented young Stamkos, a player who finds himself as a finalist for the NHLPA's 2011 Ted Lindsay Award (the Most Outstanding Player, as voted by the members of the NHLPA) for several of his youth hockey seasons in the Greater Toronto area. Titanic remembers a young boy with an unmistakable joy for the game.
"When my family and I would go to public skating, you would see Steve, who we didn't know at that point, flying around the rink," said Titanic, who went on to coach Stamkos from age nine until he was 15, in Markham, Ontario. "He was always smiling and you could tell he just loved to be out there."
Titanic could also tell Stamkos was NHL material.
"Oh, definitely," said the high school teacher, who the Stamkos family notes as being one of the most influential people in Steven's career. "He just had something special about him. When he was three, he could skate circles around kids much older than him. He was always a standout."
The same can still be said of the first overall pick in the 2008 NHL Entry Draft.
Stamkos appeared in his first NHL game in Prague, Czech Republic at the start of the 2008–09 NHL season. He recorded his first point — a secondary assist — in his eighth game, which was against his hometown Toronto Maple Leafs.
He had a breakout season in 2009–10, finishing the season with 51 goals, tied for most in the NHL with Sidney Crosby of the Pittsburgh Penguins.
He caught Crosby for the lead in goals in the last game of that season.
The duo then shared the Rocket Richard Trophy, awarded to the player, or in this case players, with the most goals in the regular season.
Stamkos became the third youngest player to achieve this accomplishment, with only Wayne Gretzky and Jimmy Carson scoring 50 at a younger age.
In 2010-11, Stamkos scored 45 goals and finished the year with 91 points, appearing in 82 games for the second consecutive season, capped off by his Ted Lindsay nod.
None of Stamkos' accomplishments to date surprise Titanic in the least.
"Not at all," offered Titanic. "It was obvious, even when he was in minor hockey, that he was destined to be a star in the NHL. There were questions as to whether he was too small to make it, but that just motivated him more. He was very driven."
Stamkos was also a good person, always respectful of everyone, never putting himself above others.
"His love for hockey has never wavered," said Titanic, of the former standout with the Sarnia Sting of the Ontario Hockey League. "But above all, he was the ultimate team player. He didn't want any preferential treatment and was always happy to be one of the guys. He only cared about the success of the team."
Titanic is thrilled to see nothing has changed for Stamkos, who played for Canada in the 2008 World Junior Ice Hockey Championships, where he helped the team win a gold medal, while also impressing at the 2009 Men's World Ice Hockey Championships, scoring on his very first shift.
"He has great parents and they have done a wonderful job in raising Steve," praised Titanic. "They are all very down-to-earth, good people. That was something you noticed right from the start in my relationship with them.
"And you can tell that Steve is still very much the same person he was. There are more pressures now, but his passion and love for hockey is exactly what I remember. He is a true professional in every sense."
Stamkos, who scored his first two career playoff goals, as well as recording an assist in an 8-2 victory over the Pittsburgh Penguins on April 23, is also one of the best in the sport, highlighted by his status as a finalist for the Ted Lindsay Award, an honour he shares with Daniel Sedin and Corey Perry.
Win or lose, he continues to be admired every level.
"Steve is a great hockey player and equally so as an individual," noted Titanic. "He worked hard to achieve his goal and he would never take any of it for granted. I couldn't be happier for Steve and his family."