Mr. Stanley Cup Champion
Brad Marchand continues to soak up the spoils of the Bruins Stanley Cup championship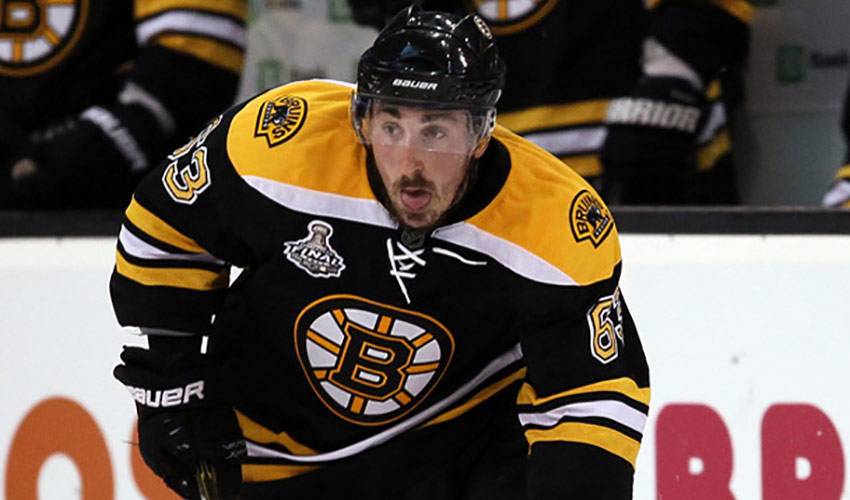 There's absolutely no way you can rain on Brad Marchand's parade these days.
One week removed from winning the Stanley Cup, Marchand, the Boston Bruins forward who notched two huge goals in the seventh and deciding game of the final, a 4-0 triumph, is still marveling at the victory.
"The word I keep using is unbelievable," said Marchand, who contributed 19 points in 25 playoff games. "I'm just really happy. The feeling really hasn't let up. I'm still smiling and I'm still thinking about it."
He should also remind himself of just how great he was throughout the post-season. Marchand recorded 11 goals, tying himself with Jeremy Roenick for second most for a rookie in the NHL all time.
What matters most, he's quick to point out, is that the Bruins were able to deliver the city its' sixth Stanley Cup and first since 1972.
"Honestly, I was just happy to be able to play a certain role," said the 23-year-old, who was selected by the Bruins, 71st overall, at the 2006 NHL Entry Draft. "It was just a case of doing my job, whatever that happened to be. To score a goal or set one up is always great, but doing all the other important things that don't show up on the score-sheet, are equally as important.
"That's what playoff hockey is all about. You do whatever it takes to get that win. I wanted to stay focused and I wanted to be consistent."
And what about that two-goal performance in Game Seven?
"Well, I'm pretty happy with that," laughed the Nova Scotia native, who played his junior hockey in the Quebec Major Junior Hockey League. "It's a pretty good feeling to know that you helped play a part in the win. But all I cared about was winning that game."
The final moments, Marchand admits, are still etched in his mind.
"It was the greatest feeling," said the forward, who made his NHL debut on October 21, 2009 against the Nashville Predators. "Watching the clock tick down and seeing all the guys waiting for the buzzer to sound, how can you forget that? You looked down the bench and everyone couldn't wait to jump over the bench and celebrate."
Marchand was a busy man after the game, reading through a seemingly endless amount of text messages and listening to just as many phone messages.
Not that he was upset at the volume of responses he received.
"If I remember correctly, I had 462 text messages when I looked at my phone after the game," recalled the player who scored his first NHL goal against the Buffalo Sabres on November 3, 2010. "I think it took me about five days to go through all of them. But it was fantastic. Every day, I would get pictures with congratulatory messages, signs that people had made from back home. That meant a lot."
So, too, has the outpouring of affection from the fans of Boston.
"I really don't think winning the Cup truly hit me until we had the parade," offered Marchand, of the event that was attended by thousands of people dressed in black and gold. "To see the number of fans that showed up and to see how happy they were, it blew me away."
Marchand and his teammates also had a chance to meet members of the Boston Red Sox, when the American League East baseball club feted the Bruins at historic Fenway Park.
"It's just one more thing that makes you feel so lucky to have won the Cup," said Marchand, who scored 21 goals while maintaining a strong plus/minus rating in 2010-11, accompanied by five short-handed goals, the third best total in the entire league for the regular season.
"We got to meet the Red Sox players, which was awesome. I got them to sign a few jerseys and they got to hold the Cup. They really enjoyed it and so did we."
Marchand is hoping the winning feeling doesn't come to an end any time soon.
"Every day, it's just great when you look back and relive those moments," he said. "The hard work that it took to get it done, the efforts of every player and how much everyone contributed, it's something you'll always remember."
With the way he played, does that mean he needs to be referred to as Mr. Marchand now?
"It's funny you say that," he said. "I was out a few days ago and someone came up and said, 'Congratulations, Mr. Marchand.' I laughed and said, 'Please, you can just call me Brad.'"
You can also call him what he likes the most – a Stanley Cup champion.