Comes With The Territory
After moving through four teams since '09 - '10, Ian White knows its part of the NHL life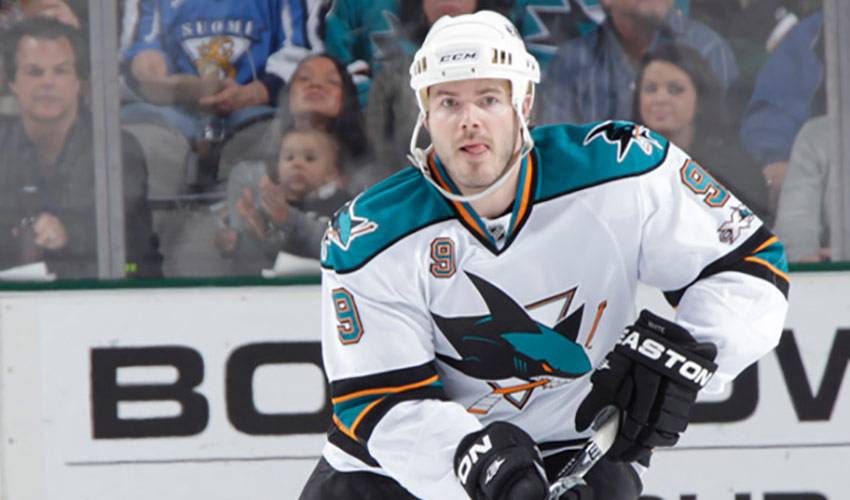 He's worn four different jerseys since the 2009-10 NHL season, but regardless of where he plays, Ian White still brings his A-game to the rink every night.
The pride of Steinbach, Manitoba, located in the southeast reaches of the province, a short distance from the capital Winnipeg, White's traveling ways over the last two big-league campaigns have seen him go from the Eastern Conference to the Western Conference on two occasions.
Yet despite all the upheaval White and his family have endured, the 27-year-old isn't whining about it in the least.
"Obviously, when you're traded, there are lot of things you have to deal with off the ice so that you can focus on the ice," said White, the 191st overall selection of the Toronto Maple Leafs in the 2002 NHL Entry Draft, who was dealt to Calgary along with Jamal Mayers, Niklas Hagman and Matt Stajan to the Calgary Flames for Dion Phaneuf, Fredrik Sjöström and prospect Keith Aulie, on January 31, 2010. "But I think you have to look at every trade as an opportunity."
After 43 games with the Flames, White was traded along with Brett Sutter to the Carolina Hurricanes in exchange for Tom Kostopoulos and Anton Babchuk, on November 17, 2010.
Fifty-five games into his playing days in Carolina, the blueliner was West Coast bound, traded to the San Jose Sharks for a second round pick in 2012, on February 18, 2011.
White wasted little time in making a good first impression on his new team and teammates, recording an assist in his first game as a Shark.
"Well, I guess that's how you want to start off, right?" said White, who notched his first career playoff assist in Game 1 of the first round against the Los Angeles Kings, on April 14. "I felt really welcome right from the start when I came to San Jose. I was fortunate to have played with great guys every place I had played. I think you have to look at as knowing that someone wants you on their team. That's a good feeling."
In 23 regular season games with San Jose, White contributed 10 points. He was a strong factor for the Sharks in the playoffs, with nine points in 17 games.
White and his wife, Tess, who have a son, Paxton, welcomed a daughter, Gracelyn, who was born on May 13, 2011, the morning after San Jose's Game 7 playoff win over Detroit.
"It was a little hectic, to say the least," said the Western Hockey League's (WHL) Most Sportsmanlike Player in 2001-02 and the Canadian Hockey League's Second Team All-Star and WHL First Team All-Star. "But we managed just fine."
White, who made his NHL debut with the Toronto Maple Leafs in 2005-06, and scored five points (one goal and four assists) in his first five career NHL games, has managed just fine, too, a reliable rearguard with 401 games of regular season experience.
While the Sharks fell short of their goal of hoisting the franchise's first Stanley Cup, White likes what he sees in the lineup.
"The one thing that certainly stands out is the balance we have throughout the roster," said the defenceman, who played for Team Canada at the 2003 World Junior Ice Hockey Championships in Halifax, where Canada finished second to Team Russia. "We have an excellent group of young players and veterans. Hopefully, we can put everything together and bring the city a championship."
White, who had a career-best 38 points split between Toronto and Calgary in 2009-10, is hoping to contribute strong play at both ends of the ice when he embarks on his first full season in California.
Helping net the Sharks a Cup is priority No. 1.
"The pieces seem to be in place to have a legitimate shot at winning it all," said White. "I haven't been here a long time yet, but you feel very good when you look at the players we have and what everyone's expectations are. Obviously, it's always tough just to get to the playoffs each year, so you just take things one at a time. But I'm happy to be here and to do whatever I can to contribute."
After two seasons of wearing four different uniforms, White, deservedly, feels right at home.