Things are Good for 'Tampa Teddy'
Teddy Purcell coming into his own in Tampa Bay & excited for the 2011-12 season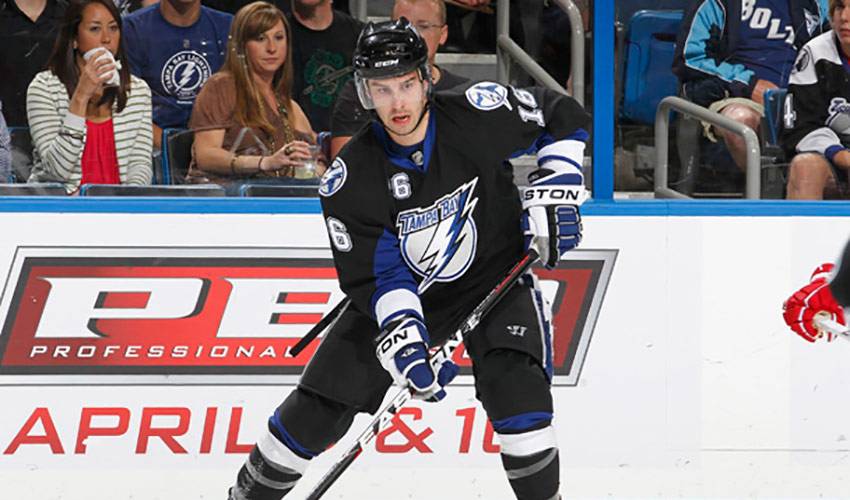 Teddy Purcell looked at last season as perhaps his last shot at landing full-time NHL duty. By the end of the campaign, however, he'd left absolutely no doubt about his legitimacy as a big-league talent. He obviously convinced the Lightning management as well, as they just re-signed him to a two-year contract.
He skated into the 2010-11 Playoffs on a high, having recorded 17 goals and 51 points in 81 regular season games with the Tampa Bay Lightning. And he didn't disappoint in his first NHL post-season, netting 17 points in 18 contests.
In the Eastern Conference Semifinal against the Washington Capitals, Purcell notched six assists to tie the franchise playoff record for most in a single postseason series, as he helped the Lightning complete a sweep of their star-laden Southeast Division rival in four consecutive games.
With the exception of a longer playoff push, Purcell couldn't have scripted things any better.
"A lot of good things happened, not just for me, but for us as a team," said the right-winger, who went undrafted before signing with the Los Angeles Kings, appearing in 10 games with the Western Conference club in 2007-08. "For me to end up in Tampa, it's just worked out really well for me."
So good, in fact, that Purcell recently signed a two-year contract with the Lightning.
"It was kind of a nervous time for me heading into last season," said the native of St. John's, Newfoundland, who scored his first NHL goal against the Calgary Flames' at the Staples Center in Los Angeles, on February 15, 2008. "I saw it somewhat as a last chance to prove myself. But I also saw it as a really good opportunity."
Purcell certainly didn't waste that opportunity, showing he was a consistent offensive catalyst.
At the trade deadline in 2010, Purcell was dealt, along with third-round draft pick to the Lightning in exchange for forward Jeff Halpern. He finished the 2009-10 season with 15 points.
On July 6, 2010, then new Tampa Bay Lightning General Manager Steve Yzerman re-signed Purcell to a one-year contract.
It's been an ideal match for everyone involved.
"The pieces just really seemed to fall into place," said Purcell, who registered his first career multi-goal game on February 1, against the Philadelphia Flyers, scoring twice in a 4-0 Lightning victory. "When you know that people believe in you, your confidence just skyrockets. I had confidence going into the playoffs. But to be honest, I didn't expect to get as many points as I did. But I was really proud of the way we played."
Purcell, who scored his first NHL hat-trick, against the Phoenix Coyotes, on February 23, believes even better days are ahead in Tampa Bay.
"Last year, we were a team that maybe surprised people," said the recipient of the Dudley ""Red"" Garrett Memorial Award (Top American Hockey League Rookie) in 2008. "We have the key pieces in place to go even further. Losing to Boston was tough, but there's always a lot you can about yourself and as individuals. I don't think we're going to surprise anyone anymore. We'll build off it."
Purcell, who played one season of collegiate hockey with the University of Maine in 2006-07, is looking to do the same himself once the puck drops on the new campaign.
"I'm taking it on myself to raise my game and do the right things out there," said the 25-year-old. "It's about your overall game and what you can do to improve. I see it as a positive step for me."
Purcell is certainly glad he didn't throw in the towel in the days he was drifting between the AHL and NHL.
"That's always in the back of my mind…that I stuck with it," said Purcell, who has played in 191 regular season NHL games. "I think it's made me a stronger person and a stronger player. To be part of this team and this organization has been great."
It seems Tampa Bay management is happy to have the 6'2", 200-pound Purcell on their roster.
"We were happy to get Teddy signed for the next two seasons," said Yzerman. "He had a good year in 2010-11, his first full season in the NHL, and we look forward to seeing him continue to grow as a contributor for the Tampa Bay Lightning."
And that, one of hockey's most determined players admits, suits him just fine.