Moulson On Tap in Long Island
Matt Moulson ready to help the Islanders continue to strive for playoff success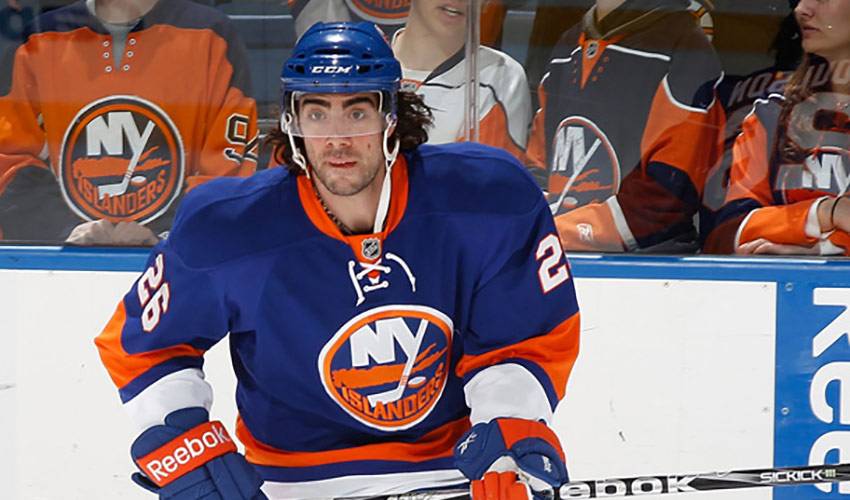 While there appears to be plenty of reason for optimism for the New York Islanders, Matt Moulson, one of their offensive stars, is hoping to let the team's play speak for itself in 2011-12.
For a team that hasn't won a playoff series since 1992-93 and were last in the post-season in 2006-07, confidence, it seems, would be an elusive trait on Long Island.
But that is anything but the case for this Islanders team, representing a franchise that won four consecutive Stanley Cups, starting in 1979-80, boasts six Conference championship banners that hang from the rafters, along with six divisional titles.
"The two years that I've been here, you've seen management working hard to build something special," said Moulson, who has back-to-back 30-goal campaigns with the Islanders, including 31 tallies in 2010-11. "There's a purpose to what they're doing."
The players certainly don't need to be convinced of the path the organization is on.
"We've talked about taking those steps and having the potential to be a playoff team, but it's time to step up and show that we are. You can only talk about it so much. We've put the right the guys in the right places. The pieces are there for us to be successful."
Moulson, a player whose NHL career once appeared to be on the ropes, is a major piece of the Islanders' playoff-hopeful puzzle.
Selected 263rd overall by the Pittsburgh Penguins in the 2003 NHL Entry Draft, Moulson graduated from Cornell University in 2006, where he was captain of the hockey team and a member of the Quill and Dagger society (recognized as one of the most prominent collegiate societies of its type) in his senior year.
Moulson signed with the Los Angeles Kings as a free agent to an entry-level contract on September 1, 2006. He was then assigned to the Kings affiliate, the Manchester Monarchs of the AHL for the 2006–07 season, scoring 57 points in 77 games. He made his NHL debut in the 2007–08 season on November 2, against the San Jose Sharks, scoring his first NHL goal in the 5-2 victory.
On July 6, 2009, Moulson signed a one-year contract with the New York Islanders. He was the club's leading scorer in the pre-season and made the team out of camp as a linemate of No. 1 overall selection John Tavares.
Life on Long Island has indeed been kind to the forward who scored his first NHL hat trick - a natural hat trick - on December 3, 2009 against the Atlanta Thrashers.
"Everyone is improving and everyone is committed to playing to their full potential," said Moulson, who signed a three-year contract extension worth $9.45 million with the Islanders in January of this year. "We have a lot of good players. And this is a tight-knit group. What we've been through the last two years, missing the playoffs and dealing with injuries to our players, it's only made us stronger."
And more determined than ever.
"I'm extremely happy to be with this team," said Moulson, who has 111 points in 193 NHL regular season games. "The guys on this team will do anything for you. That's what you want, especially when you are all dedicated to attaining a playoff spot."
Still, Moulson knows netting one of the eight positions in the East won't come easy.
The race for a post-season berth, Moulson acknowledges, starts the first game of the season.
"It's never easy and it won't be easy this year, too," admitted Moulson. "You don't just show up and make the playoffs. You work hard every game because two points could be the difference between being in or out. The games in October are just as meaningful as the ones you play in April."
And whether rookie or veteran, everyone will be counted on to step up.
"We like the group we have," said Moulson. "It actually feels strange to talk about younger players. I'm only 27. That kind of makes me feel old talking like that."
Yet Moulson sounds very much young at heart when his thoughts turn to 2011-12.
"We're on the same page. Everyone is excited about the new season. It's time to show that we are capable of being a playoff team."