Looking For Shelf Space
Fresh off his 7th Norris Trophy, Nicklas Lidstrom is eager to be at his best in 2011-12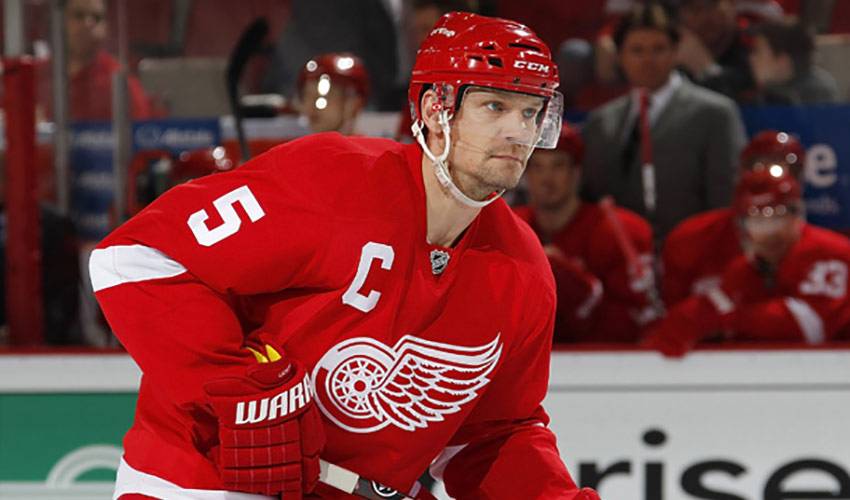 With a sterling reputation both on and off the ice, along with a seemingly endless amount of awards and accolades attached to his name, one would think Nicklas Lidstrom would be rightfully satisfied with his accomplishments. But he isn't.
He has cemented himself as one of the best to ever play the defence position at the NHL level, a sure-fire Hall of Famer, who in his 19 NHL seasons, has won four Stanley Cups, seven James Norris Memorial Trophies as the NHL's top defenceman, and has been voted into 11 NHL All-Star Games. He is also the first European-born and trained NHL captain to win the Stanley Cup, as well as the first European player to be named playoff MVP.
Yet when Lidstrom was honoured with his most recent Norris nod, the Swedish standout was far from boastful about his latest recognition.
"It is surreal, having reached seven Norris' especially at this stage of my career, having played for 20 years and reached the age of 40," said Lidstrom. "So I'm proud to still be able to play at this level and win another one."
One he wasn't quite certain he'd receive when he saw who was on the shortlist for the award.
"I thought both (Zdeno) Chara and (Shea) Weber had great seasons. I thought it was going to be a close race. Felt like it could have been anyone's trophy, really. I thought either one of them was going to win, so I think that's why it's more special to win one.'
Special is an apt way to describe Detroit's ageless wonder, a player that combines speed, skill and savvy, complemented by great leadership and great respect from teammates and opponents alike.
Playing for his country, Lidstrom won the World Championship in 1991 and in the 2006 Winter Olympics, the blueliner was at his best in Sweden's win over Finland, scoring the gold medal-clinching tally and earning a spot on the Olympic All-Star Team. He also became the 17th member of the Triple Gold Club, which recognizes players and coaches who have won an Olympic gold medal, a World Championship gold medal, and the Stanley Cup.
Criticism of Lidstrom is a rarity, but at times, it does come from the man himself.
"I think my mind-set is of not being satisfied with the way I played two years ago," said Lidstrom, who had 62 points, including 16 goals, in 2010-11. "I wanted to come out and have a stronger season and prove just to myself that I can still play at a high level and be one of the go-to guys on the team and be a guy that you rely on to play a lot of minutes and play against top lines. That was my own goals, to play a lot better than I did the previous seasons."
Lidstrom's self-motivation, in his eyes, played a huge part in seeing his name on the Norris for a seventh time.
On December 15, he recorded his first career hat trick, at 40 years of age, against the St. Louis Blues, sealing a 5-2 victory. In January, Lidstrom, named the captain of the Western Conference side at the 2011 All-Star Game, finished with a plus-seven rating and one assist in an 11-10 win over Team Staal, captained by Eric Staal of the Carolina Hurricanes.
"I look at it as being more of a bonus," said the 41-year-old of his Norris win. "If you had a strong season hopefully you have a shot at being nominated so that's the way I'm looking at it. I'm fortunate, if you have a strong season you have a chance at it and I felt like I played a lot better than I did the previous year."
He's looking to be even better in 2011-12.
"It gives me motivation to get ready for next season having won another Norris, winning it helps going through the off-season workouts when you have that in the bag," offered Lidstrom, who has won the Viking Award, awarded annually to the best Swedish ice hockey player in North America, on two occasions.
One more Norris will see him tie legendary Hall of Fame defenceman Bobby Orr for the most all-time.
For the moment, though, Lidstrom will happily work at finding a suitable spot for the latest addition to his trophy case.
"I'll make a place for it," he said. "I'll find a place for it."
That might be easier said than done.