Tee'd Up For Success
Jordan Eberle enjoys golf in the summer, but he is hoping to having less time to play it in 2012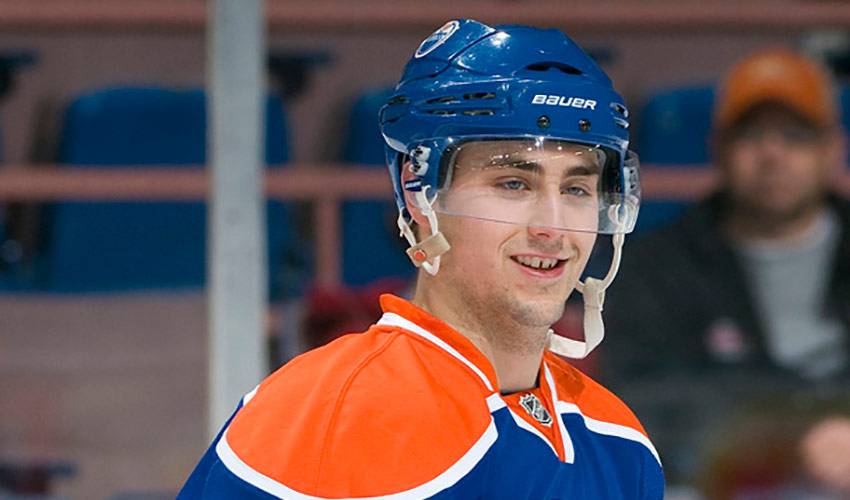 Jordan Eberle is only too happy to be playing a round of golf in August. But he won't be feeling the same way if he's on the links come next May.
While he's no threat to outplay any of the players on the PGA Tour, Eberle, who had an impressive rookie campaign with the Edmonton Oilers, is certainly no slouch whenever he tees off.
That said, the 21-year-old forward, who scored 18 goals and posted 43 points in 69 games in 2010-11, fully intends to not be playing 18 holes in the spring of 2012.
"I'm hoping that I'll be still skating rather than playing golf, that's for sure," Eberle told NHLPA.com in mid-August. "I like getting out to golf, but the less of it I do means that we'll be having a longer year playing hockey. That's what I want."
And there's no doubt Oilers fans want more of Eberle.
The native of Regina, Saskatchewan, made his NHL debut with Edmonton on October 7, 2010, against the Calgary Flames. And what a debut it was.
Eberle scored his first goal, while short-handed in the third period, getting past a defenceman on a two-on-one before depositing a flying backhand deke for a goal that was eventually chosen by hockey fans as the NHL's Goal of the Year.
He then notched an assist on the powerplay, as the Oilers came out on top by a score of 4–0. Eberle was named the game's first star.
While there was plenty of good for Eberle, team-wise, it was a different story. Edmonton finished with the worst record in the NHL for the second consecutive campaign.
"No matter what, it's always tough when you're losing," said Eberle, who, following his NHL rookie season, joined the Canadian men's team for the second consecutive year for the 2011 World Championships in Slovakia. "For the most part, we competed against everyone.
Unfortunately, we lost a lot of the close games. When we had a healthy lineup, we played well. We dealt with injuries, but the guys who filled in really stepped up. But at the end of the day it's frustrating when you lose."
With some of the game's top young talent in 2010 first overall selection Taylor Hall and first-round pick Magnus Paajarvi, there is widespread optimism within the organization, a team that appears poised to start making some noise in the Western Conference.
Eberle is ready to step up his game.
"We're a positive group and we know what we want to accomplish," said the former Western Hockey League standout with the Regina Pats, who won the CHL Player of the Year Award in 2010, the Doc Seaman Trophy as the scholastic player of the year in 2008 and was a two-time First Team East All-Star in 2008 and 2010. "Missing out on the playoffs is tough. But we feel good about ourselves."
As for what he was most proud of when it came to his rookie season, the player who has appeared in two World Junior Championships, winning gold and silver in 2009 and 2010, respectively, did not single out his stellar offensive play, but rather how he performed in his own end.
"I guess I'd look at my defensive game, that was something I really wanted to work on and do well," said Eberle, who was named MVP and Best Forward at the 2010 World Juniors and ranks as Canada's all-time leading goal-scorer at the tournament. "I really felt more and more comfortable on the ice as the season went on."
Eberle heaps praise upon captain Shawn Horcoff for his mentorship at and away from the rink.
"It's not just what Shawn helps you with on the ice, it's off the ice, too," noted Eberle. "He works hard at the gym and in his preparation for the games. Taylor (Hall) and I got to play with him a lot and that really helped us a lot."
Now, Eberle and his fellow Oilers will look to build on their team chemistry when the puck drops on the 2011-12 campaign.
"You take a little bit of time to wind down after the season is over and then your thoughts turn back to hockey," he offered. "That's always my goal after the season is done…relax and then start preparing for the new year ahead."
Eberle is hopeful it's one that will keep his golf clubs in the garage, until well past May in 2012.
"That's the plan," he laughed.
A plan that seems to be on par with what his teammates are thinking, too.