Building A Winning Atmosphere
John Tavares continues to grow as a player and continues to help the Isles create a winning culture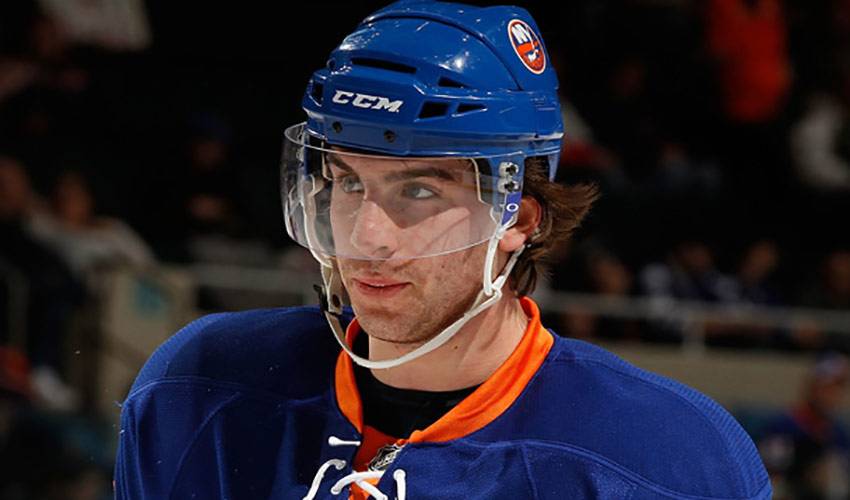 One of hockey's top young centres has long been the centre of attention, a player that wants nothing more than to help put his team on the playoff map.
The hockey world certainly knew who John Tavares was years before his name was called as the first overall selection in the 2009 NHL Entry Draft.
And now, after two seasons of big-league experience, the emerging star is on a mission of sorts: netting the New York Islanders a spot in the top eight of the Eastern Conference.
"I think I'm a guy who understands being in the spotlight, what it's all about, and how to handle all the expectations," said Tavares, who was named the Canadian Hockey League (CHL) Rookie of the Year in 2006 and CHL Player of the Year in 2007, a year in which he broke Wayne Gretzky's OHL record of 70 goals in one season. "I know it's only going to get greater. It's an exciting time for everybody in Long Island and where the team is going in the future, and so for me to be a part of that process, and obviously your goal is to bring success to the team."
Fifty three goals and 121 points in his two NHL campaigns has translated into a successful start for Tavares, but not for the Islanders, who last made the playoffs in 2006-07, when they were ousted in five games in the conference quarter-finals to the Buffalo Sabres.
Last season yielded 30 wins and a fifth-place finish in the Atlantic Division, the fourth consecutive year the Isles have landed in that position.
But with a solid corps of young players and a strong veteran presence, the Isles pursuit of a post-season berth isn't exactly an elusive goal heading into 2011-12.
There are certainly no doubting Tavares' intentions.
"I've got a great passion and heart for the game and very determined and focused on where I want to be and what I want to be able to do," said the Ontario native, who recorded his first career NHL goal and assist in his first ever professional game, scoring on a backhander against the Pittsburgh Penguins on October 3, 2009. "My best assets are obviously being able to produce offensively. That's something I want to be able to do, but you know, I've said before, I want to become a complete player, a guy that can be relied on all over the ice and a leader off the ice."
All signs point to Tavares being well on his way to achieving the game plan he's mapped out. His teammates definitely see what Tavares brings and what he is capable of.
"When you look at the young players we have, players like John, it gives you a good feeling knowing that we have a group, including the veterans, that can do good things," said teammate Matt Moulson. "This is a close team and a group that has that desire to want to turn things around."
While his own expectations continue to grow, Tavares is hoping any individual success translates into team triumphs.
"That's what my goal is and I want to be successful at the highest level," he said. "But obviously, making the playoffs is the key. Everyone here is committed to working towards that goal."
Having a strong bond with the Islanders' fans is also something Tavares cherishes.
"Having the support of the fans and the community, that's huge," said the 20-year-old, who scored his first career hat-trick on October 23, 2010 and his second, and first career natural hat-trick, on January 15, 2011. "I really don't want to put limits on certain things or goals I want to reach. I just want to be productive every single night and contribute as much as I can."
Something he's done time and again in his short NHL career and also on the international stage while playing with Team Canada.
Tavares won back-to-back gold medals for his country 2008 and 2009 IIHF World Junior Tournaments, and was also selected as a tournament All-Star, as well as Top Forward and MVP of the 2009 event.
Now, he'll look to bring some of that success to a team eager to rekindle their storied past.
"The biggest thing to attract attention is to bring a winning product on the ice and obviously that (making the playoffs) is going to be the first step for us towards our goal of creating a winning atmosphere here in Long Island."