A Steph in the Right Direction
Stars' defenceman a key part of an emerging squad in Dallas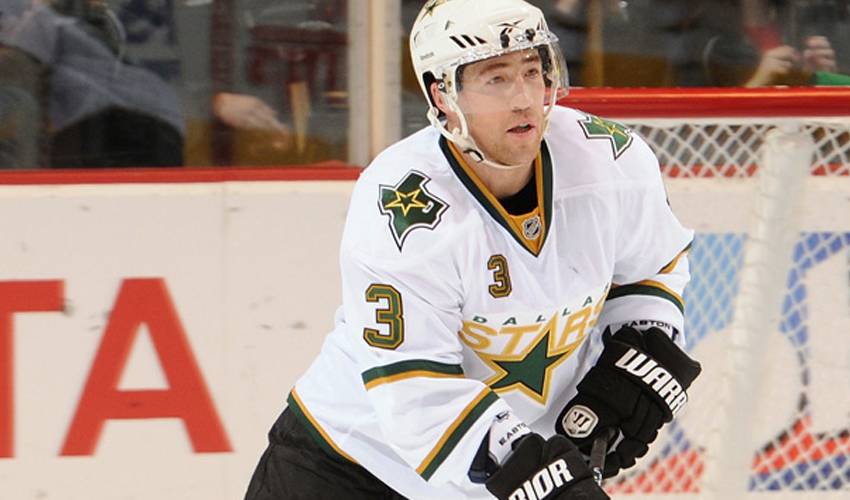 Stephane Robidas started out his NHL career with modest expectations.
But now, nearly 750 regular season games later, the veteran defenceman has somewhat loftier goals.
He still has vivid recollections of his first big-league game, some 13 years ago, during his time as a member of the Montreal Canadiens.
"I was playing for the Quebec Citadelles of the American Hockey League and one day after practice, I was called into the office and told I was being called up," remembered Robidas, who was selected 164th overall, in the seventh round, of the 1995 NHL Entry Draft. "And then it all kind of sank in."
Montreal's opponent was a star-stacked Colorado Avalanche.
"My initial reaction was, 'Oh, my God!'" recalled Robidas, who was claimed by the Atlanta Thrashers on October 4, 2002 in the NHL Waiver Draft, and subsequently dealt to the Dallas Stars for a 6th round selection in 2002. "Peter Forsberg, Ray Bourque and Patrick Roy…it was pretty neat and a great feeling. I grew up one and a half hours outside of Montreal and they were my favourite team growing up."
Robidas, who stands 5'10", was partnered with 5'8" blueliner Francois Boullion.
"I'll never forget that game," recalled Robidas. "My teammates were really good to me, helping me stay calm. And it was great being teamed up with Francois. I guess we were the smallest defensive pair to ever play the game up until that point."
Robidas, at least at that point in time, wasn't thinking about what the future held, in terms of the longevity of his career.
"To be honest, I never thought about playing in 700 or 800 games," admitted Robidas, who was traded to the Chicago Blackhawks in November of 2003 for Jon Klemm and a fourth-round selection in the 2004 NHL Entry Draft, before suiting up with the Frankfurt Lions of the Deutsche Eishockey Liga (DEL) during the 2004–05 lockout season. "If I played in one NHL game, I'd be happy. But I suppose it's like anything in life, once you get something, you want more of it."
Robidas worked overtime to extend his NHL life.
In August of 2004, following the lockout, the Stars signed the free agent to a two-year contract. Two and a half years later, in late 2006, Robidas signed a three-year, $4.5 million contract extension with the club.
In the 2008 playoffs against the Anaheim Ducks in Game 5, Robidas took a clearing shot off the face. He required stitches, but came back, wearing a full face-mask. In the next game in Dallas, he scored the game-tying tally before setting up Stu Barnes for the series-clinching goal.
Robidas, who was selected to play in the 57th NHL All-Star Game in Montreal in 2009, has been an integral part of the Dallas blueline, providing steady play at both ends of the ice as one of the team's alternate captains.
"I suppose I'm like everyone else in the league in wanting to win the Stanley Cup," said Robidas, who has 34 games of NHL playoff experience. "You see the guys bringing the Cup to their hometowns in the summer and you dream of doing the same. We have a great team here and guys that really care for eachother."
It's also a group that will be eager to erase last year's disappointing campaign.
Bursting out of the gates in 2010-11, the Stars were a force in the first half of the season, sitting atop the Pacific Division maintaining a top-three spot in the Western Conference, while sporting a 30-15-6 record.
After the All-Star Game, however, Dallas went through rough patches, yet were still in the playoff picture. In spite of sputtering down the stretch, the Stars still had an opportunity to make the playoffs if they won all their games in April. They managed to do so, except for their last game, losing 5-3 to the Minnesota Wild and missing out on post-season play.
"To miss it by one game, that's a tough pill to swallow," admitted Robidas. "We just couldn't find a way to get the job done."
Robidas is hoping he can play his part in making a return to the playoffs a reality.
"I like it here and I like what we have as a team. We have a good fan base, too. They're very good to us."
And so are his teammates, even if Robidas does endure the odd dig over his accent.
"They know I'm not from Texas, that's for sure," he laughed.
"The guys will bug me in the locker room. My English is far from perfect. When I was younger, it would bother me a bit, but now I just laugh at myself. I'm having fun and I've been fortunate in my career."
A 724-game career that has lasted longer than Robidas ever envisioned.