Drive, Motivation & Focus
Chris Higgins is ready to help the Canucks work to get back to the Stanley Cup Final in 2012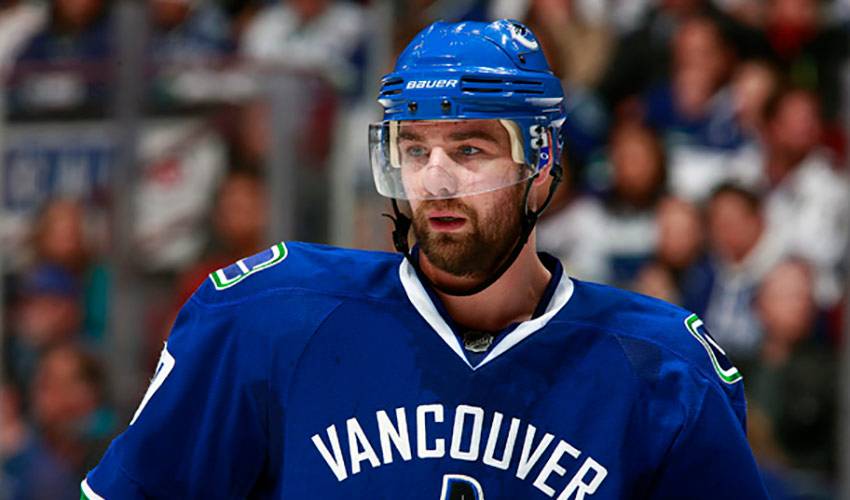 into the chase for the Stanley Cup.Chris HigginsA trade brought him from the southeast United States to the northwest of Canada, a change of scenery that also propelled
It didn't take much time for Christopher Higgins to develop a sense of what the expectations were in Vancouver when he was dealt to the Canucks from the Florida Panthers at the trade deadline in February of 2011, in exchange for defensive prospect Evan Obergand a third-round draft pick in 2013.
"From the first day I arrived, all that was talked about was winning the Stanley Cup," recalled Higgins, who scored his first two goals with the club on March 27 in a 4–1 win against the Columbus Blue Jackets. "The team didn't care about anything else but focusing on that, doing whatever it takes to get that point. It was remarkable how focused everyone was."
While the Canucks didn't achieve their ultimate goal of bringing the city its first championship, Vancouver took the Boston Bruins to seven games, before losing in the deciding contest.
Tasting defeat in the Cup-deciding game on home ice still stings to this day.
"I would say I was very happy with the way everything went for me up until that Game Seven," offered the 14th overall selection of the Montreal Canadiens in the first round of the 2002 NHL Entry Draft. "To be one game away and not win it…that's not easy to take."
But Higgins, who enjoyed a standout two-year career with the Yale Bulldogs, earning ECAC Hockey Player of the Year honors as a sophomore, before turning professional for the 2003–04 season, is able to find positives in Vancouver's 2010-11 Cup run.
"Absolutely, you can find the good in it," said the 28-year-old native of Smithtown, New York. "We had to battle a lot of quality teams, great teams, to get to the Final. To see what it took to get there and what it will take to get back there, those are the things you need to get back to the final. The hunger is there for all of us."
Higgins, who re-signed with Vancouver, a two-year, $3.8 million contract on July 1, will seek to build on his 12-point playoff output, eager to get back to familiar territory.
He also doesn't need to be reminded that looking too far ahead can have a damaging effect on those plans.
"When you realize how many good teams there are and how many good teams sometimes don't make the playoffs, you quickly learn that you need to take things game by game," said Higgins, who has appeared in
411 NHL regular season games and 47 post-season contests. "The key is to be ready play right from the start of the year. Every game is important. You don't want to look back and realize you let any opportunities slip away."
Delivering Canucks fans another thrill ride is something Higgins would love to see happen once again.
"It was an unbelievable atmosphere throughout the playoffs," noted the left-winger, who has played with Montreal, New York Rangers, Calgary, Florida and Vancouver over the course of his big-league career. "I really enjoyed the entire experience. To know you have fans behind you, that's a really motivating thing."
Higgins doesn't need any motivation heading into 2011-12.
"I think when you look at this team, you have a lot of confidence in your teammates," offered the forward, who recorded three consecutive 20-goal seasons to begin his NHL career before being traded to the New York Rangers in June of 2009. "The focus on winning and the drive to want to bring a Stanley Cup to the city is there. It's a great atmosphere."
One he hopes to thrive in when the new seasons kicks off.
"It was a tough way to end the season, but when you look at things going forward, it's a good feeling," said Higgins, who has competed for the United States in two World Junior Championships (2002 and 2003) and one World Championship (2009). "I just want to play my game and do what I can to help it be a memorable year. I'm happy to be here. The commitment to winning it all was evident the moment I got to Vancouver."
A commitment that could deliver Higgins and his teammates a cherished first Cup championship.