Kraft Hockeyville 2012 Kicks Off
Minor hockey to benefit from new early bird prize, expanded format and interactive social tools added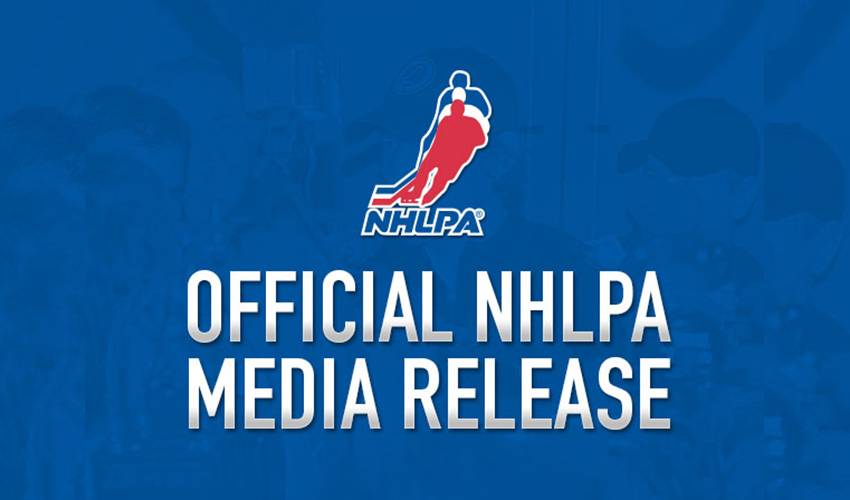 KRAFT HOCKEYVILLE 2012 KICKS OFF WITH NEW EXPANDED SEARCH FOR CANADA?S MOST PASSIONATE HOCKEY TOWN
Toronto, ON – With a mission to inspire more communities to share their pride in Canada's favourite sport, the Kraft Hockeyville partners including Kraft Canada, CBC, The National Hockey League (NHL) and the National Hockey League Players' Association (NHLPA) today unveiled an expanded search for the most hockey connected community in Canada. The new cross-country campaign includes five additional finalist community spots and an early-bird prize of $10,000 worth of hockey equipment from Kraft Canada for a local minor hockey association. In addition, Kraft Hockeyville fans can now extend their involvement through a series of virtual trophies, generated by online activities, including uploading stories, photos and completing other community-based tasks on krafthockeyville.ca. There are five virtual trophies to collect in total.
Starting Friday, November 18, 2011, Canadians can nominate their community for Kraft Hockeyville 2012 with stories that showcase their hometown pride and passion for hockey. Communities that enter before December 16 and complete the early-bird entry submission also qualify for the early bird prize.
Designed to ignite and reflect local communities' passion for hockey, Kraft Hockeyville is immensely popular with Canadians. Since 2006, more than 2,000 communities have entered the competition producing more than 22,000 submissions and 30 million votes. In response, the Kraft Hockeyville partners have expanded the number of finalist communities selected to compete for Kraft Hockeyville 2012 from 10 to 15. The Grand Prize is $100,000 in arena upgrades courtesy of Kraft Canada; a 2012/13 NHL® Pre-Season Game played in their local community arena; and a special CBC's Hockey Night in Canada broadcast from their community. Four runner-up communities will receive $25,000 each for arena upgrades from Kraft Canada. The nomination phase closes on January 31, 2012.
To enter Kraft Hockeyville 2012, Canadians must register at krafthockeyville.ca, complete a simple application form to nominate their community, and submit a story that focuses on originality, community spirit and passion for hockey (maximum 4,000 characters). Canadians will also have the opportunity to show their support by sharing photos and videos. The Top 15 communities chosen to compete for the Kraft Hockeyville 2012 title will be revealed on CBC's Hockey Night in Canada on Saturday, March 3, 2012. Canadians then vote for the top five communities on March 4 and 5. The top 5 communities will be announced on March 17, 2012 before a final voting stage on March 18 and 19, and the winner reveal on March 31, 2012.
"Arenas are the social hubs of communities that bring family and friends together to celebrate their love of hockey," said Dino Bianco, President, Kraft Canada. "This year we're excited to provide more opportunities for Canadians to showcase these important recreation facilities and the people whose passion and hard work make sure hockey remains Canada's favourite game."
""CBC's Hockey Night in Canada is proud to begin a new search for Canada's most passionate hockey community with Kraft Hockeyville,"" says Julie Bristow, CBC's executive director of studio and unscripted programming. ""We're excited to watch how communities rally around their entries this year, with more engagement on-line for hockey fans in communities big and small, from coast-to-coast-to-coast.""
"Kraft Hockeyville is a truly unique event and the NHL is excited to continue to support this great initiative," said Brian Jennings, NHL executive vice president of marketing. "It annually showcases community pride and embraces our fans' love of the game with the ultimate prize - a NHL pre-season game played in their community and better accommodations for future generations of hockey players."
""Kraft Hockeyville is a great initiative as it provides Canadian communities across the country with an opportunity to display their passion for the game of hockey,"" said Mike Ouellet, NHLPA Chief of Business Affairs. ""The nomination process will be exciting as communities compete for the Kraft Hockeyville 2012 crown and the chance to see some of their favourite NHL players play in an NHL exhibition game at their local rink.""
Interested communities are encouraged to visit krafthockeyville.ca to find out more information or look for us on Facebook, follow @hockeyville on Twitter, and visit NHL.com and CBCSports.ca for news, updates and photos.
Kraft Canada has supported hockey for over 30 years through sponsorships and grassroots programs. Since its inception, the Kraft Hockeyville partners have provided $1,000,000 in arena upgrade money, equipment and local food bank donations. Supporting brands for Kraft Hockeyville 2012 include Kraft Dinner, Cracker Barrel, Chips Ahoy, Tassimo, Oreo, and Maxwell House.
©NHLPA. NHLPA, National Hockey League Players' Association and the NHLPA logo are trademarks of the NHLPA and are used under license.
NHL and the NHL Shield are registered trademarks of the National Hockey League. NHL and NHL team marks are the property of the NHL and its teams. © NHL 2011. All Rights Reserved.
CANADIAN BROADCASTING CORPORATION, CBC, and CBC and HOCKEYVILLE logos are official marks or registered trademarks of the Canadian Broadcasting Corporation. All rights reserved.
About CBC/Radio-Canada
CBC/Radio-Canada is Canada's national public broadcaster and one of its largest cultural institutions. The Corporation is a leader in reaching Canadians on new platforms and delivers a comprehensive range of radio, television, Internet, and satellite-based services. Deeply rooted in the regions, CBC/Radio-Canada is the only domestic broadcaster to offer diverse regional and cultural perspectives in English, French and eight Aboriginal languages, plus seven languages for international audiences. In 2011, CBC/Radio-Canada is celebrating 75 years of serving Canadians and being at the centre of the democratic, social and cultural life of Canada.
About the NHL
The National Hockey League®, founded in 1917, is the second-oldest of the four major professional team sports leagues in North America. Today, the NHL® consists of 30 Member Clubs, each reflecting the League's international makeup, with players from more than 20 countries represented on team rosters. According to a Simmons Market Research study, NHL fans are younger, more educated, more affluent, and access content through digital means more than any other major professional sport. The NHL entertains more than 250 million fans each season in-arena and through its partners in national television (VERSUS, NBC, TSN, CBC, RDS, RIS, and NHL Network™) and radio (NHL Radio™, Sirius XM Satellite Radio). Through the NHL Foundation, the League's charitable arm, the NHL raises money and awareness for Hockey Fights Cancer™ and NHL Youth Development, and supports the charitable efforts of NHL players. For more information on the NHL, log on to NHL.com.
About the National Hockey League Players' Association
The National Hockey League Players' Association (NHLPA), established in 1967, is a labour organization whose members are the players in the National Hockey League (NHL). The NHLPA works on behalf of the players in varied disciplines such as labour relations, product licensing, marketing, international hockey and community relations, all in furtherance of its efforts to promote its members and the game of hockey. In 1999, the NHLPA launched the Goals & Dreams fund as a way for the players to give something back to the game they love. Over the past 12 years, more than 60,000 deserving children in 25 countries have benefited from the players' donations of hockey equipment. NHLPA Goals & Dreams has donated more than $20-million to grassroots hockey programs, making it the largest program of its kind. For more information on the NHLPA, please visit www.nhlpa.com.
About Kraft Foods
Kraft Foods Inc. (NYSE: KFT) is a global snacks powerhouse with an unrivaled portfolio of brands people love. Proudly marketing delicious biscuits, confectionery, beverages, cheese, grocery products and convenient meals in approximately 170 countries, Kraft Foods had 2010 revenue of $49.2 billion. Twelve of the company's iconic brands – Cadbury, Jacobs, Kraft, LU, Maxwell House, Milka, Nabisco, Oreo, Oscar Mayer, Philadelphia, Tang and Trident – generate revenue of more than $1 billion annually. On Aug. 4, 2011, Kraft Foods announced plans to divide and create two independent public companies: a high-growth global snacks business and a high-margin North American grocery business. The transaction will take at least 12 months to complete, during which time plans regarding the structure, management, governance and other matters will be announced. A leader in innovation, marketing, health & wellness and sustainability, Kraft Foods is a member of the Dow Jones Industrial Average, Standard & Poor's 500, Dow Jones Sustainability Index and Ethibel Sustainability Index. Visit www.kraftfoodscompany.com and www.facebook.com/kraftfoodscorporate.