Visa Extends Sponsorship of the NHL/NHLPA
Renewed sponsorship reinforces Visa's commitment to one of Canada's favourite pastimes.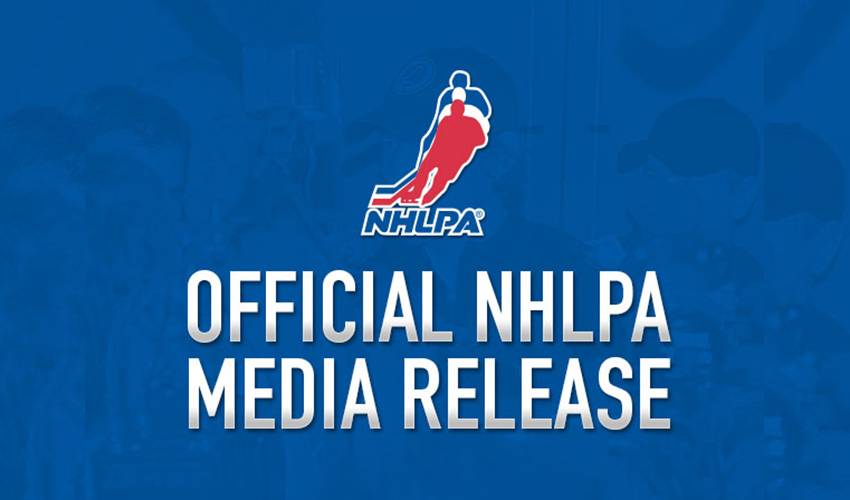 VISA INKS AN EXTENSION TO REMAIN A PROUD SPONSOR OF THE NHL AND NHLPA
TORONTO, November 28, 2011– Visa Canada is celebrating Canadians' passion for hockey as it announces, together with the National Hockey League Players' Association (NHLPA) and the National Hockey League (NHL), concurrent deals that will see Visa continue as a proud sponsor of the NHL® and NHLPA in Canada for an additional three years. The sponsorship also designates Visa as the official payment card of the NHLPA and NHL® in Canada.
"Visa is proud to remain a sponsor of the NHL and NHLPA," said Brenda Woods, Head of Marketing, Visa Canada. "Through this sponsorship, Visa cardholders will have access to a number of exciting opportunities and offers that will help them enjoy and connect with Canada's most beloved sport."
"Partnering with the Visa brand, a leader in Canadian payments, is exciting for the NHL," said Kyle McMann, Vice President of Partnership Marketing for the NHL. "Through this strategic alliance, we will continue to develop and execute unique, appealing programs that will provide hockey fans new ways to engage with the game they love while providing tremendous value to Visa cardholders."
"The NHLPA is excited to work with Visa, an organization that is a strong supporter of amateur and professional sports in Canada," said Mike Ouellet, NHLPA Chief of Business Affairs. "NHLPA members look forward to continuing to collaborate with Visa to bring unique hockey experiences to fans across the country."
The sponsorship gives Visa the chance to develop programs to engage and excite Canadian hockey fans across the country.
In celebration of the passion and loyalty of Canadian hockey fans, Visa launched a popular program called Hockey Love Hurts during the 2011-12 NHL season. With Hockey Love Hurts, Canadian Visa cardholders had the opportunity to win a variety of NHL-related prizes by pledging allegiance to their favourite NHL team at www.hockeylovehurts.ca. The program provided Visa cardholders who signed up with real-time offers to help get them through the ups and downs of being a fan during the NHL regular season. Visa cardholders can expect new and exciting programs as Visa's sponsorship of the NHL and NHLPA continues.
Visa's ongoing support of the NHL and NHLPA strengthens Visa's commitment to amateur and professional sport in Canada. In addition to its global sponsorships of the Olympic and Paralympic Games and FIFA, Visa is a proud supporter of its Canadian Team Visa athletes who will represent their country at the London 2012 Olympic and Paralympic Games.
- 30 -
About Visa

Visa is a global payments technology company that connects consumers, businesses, financial institutions and governments in more than 200 countries and territories to fast, secure and reliable digital currency. Underpinning digital currency is one of the world's most advanced processing networks—VisaNet—that is capable of handling more than 20,000 transaction messages a second, with fraud protection for consumers and guaranteed payment for merchants. Visa is not a bank and does not issue cards, extend credit or set rates and fees for consumers. Visa's innovations, however, enable its financial institution customers to offer consumers more choices: pay now with debit, ahead of time with prepaid or later with credit products. For more information, visit www.corporate.visa.com.
About the NHL
The National Hockey League, founded in 1917, is the second-oldest of the four major professional team sports leagues in North America. Today, the NHL® consists of 30 Member Clubs, each reflecting the League's international makeup, with players from more than 20 countries represented on team rosters. According to a Simmons Market Research study, NHL fans are younger, more educated, more affluent, and access content through digital means more than any other major professional sport. The NHL entertains more than 250 million fans each season in-arena and through its partners in national television (VERSUS, NBC, TSN, CBC, RDS, RIS, and NHL Network™) and radio (NHL Radio™, Sirius XM Satellite Radio). Through the NHL Foundation, the League's charitable arm, the NHL raises money and awareness for Hockey Fights Cancer™ and NHL Youth Development and supports the charitable efforts of NHL players. For more information on the NHL, log on to NHL.com.
About the National Hockey League Players' Association
The National Hockey League Players' Association (NHLPA), established in 1967, is a labour organization whose members are the players in the National Hockey League (NHL). The NHLPA works on behalf of the players in varied disciplines such as labour relations, product licensing, marketing, international hockey and community relations, all in furtherance of its efforts to promote its members and the game of hockey. In 1999, the NHLPA launched the Goals & Dreams fund as a way for the players to give something back to the game they love. Over the past 11 years, more than 60,000 deserving children in 25 countries have benefited from the players' donations of hockey equipment. NHLPA Goals & Dreams has donated more than $20-million to grassroots hockey programs, making it the largest program of its kind. For more information on the NHLPA, please visit www.nhlpa.com.
® NHL and the NHL Shield are registered trademarks of the National Hockey League. All Rights Reserved.
® Visa is a registered trade-mark of Visa.
™ NHLPA is a registered trademark of the National Hockey League Players' Association. All Rights Reserved.