A Milestone of Capital Proportion
Knuble celebrates his 1,000th NHL game; veteran is focused on continued success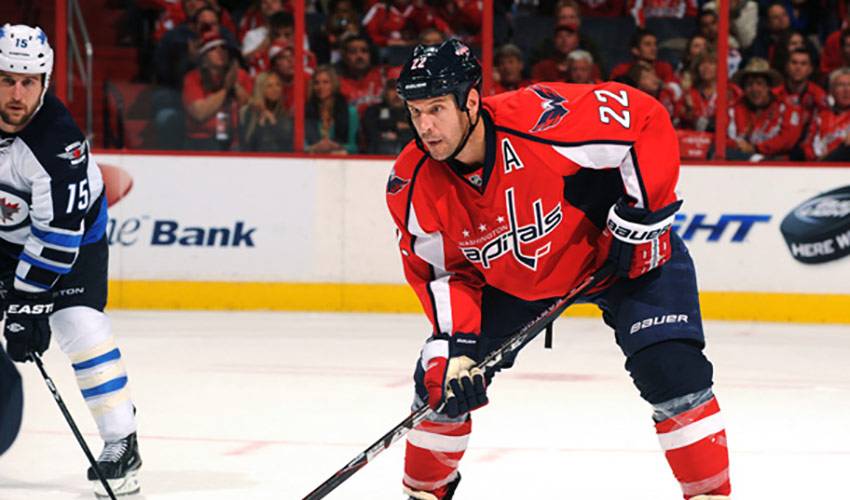 Mike Knublesees his hockey career as two distinct chapters, with the latter one, which includes playing in his 1,000th NHL game, providing a perfect illustration of his perseverance and professionalism.
It's a milestone he never banked on reaching, but a moment he is certainly grateful to experience.
"It's pretty much all I've talked about it the last little while," Knuble told NHLPA.com, the night before he became the 269th NHLPA player to appear in 1,000 regular season games, in a 4-1 home win against the Nashville Predators. "It's been an interesting road to get to this point. I see it as though I've played two different careers since I came into the league.
"From the time I was 25-30, I was trying to find my way in this league," continued the 39-year-old forward, who has reeled off eight straight seasons of 20 goals. "When I was 30, I had a good year and my career changed direction. It opened doors. Not everyone can be a Hall of Famer, not everyone can be an All-Star, but this there is a place in the game for players who can contribute something."
That would certainly be Knuble, whose teammates honoured him on his big night by wearing his No. 22 jersey during pre-game warm-ups.
Selected by the Detroit Red Wings in the fourth round of the 1991 NHL Entry Draft, Knuble eventually skated into a lineup that was loaded with veteran talent and a team that always seemed to have a big shot at winning the Stanley Cup.
The Toronto-born forward played the next four years at the University of Michigan and was awarded Second Team CCHA All-Star honours in 1994 and 1995 and NCAA West All-American Team honors in 1995. Following his NCAA tenure, he made his professional debut in the 1995 Calder Cup playoffs with the Adirondack Red Wings.
Knuble spent the entire 1995–96 campaign and most of the 1996–97 season with Adirondack before making his NHL debut with the Red Wings on March 26, 1997.
It wasn't necessarily the ideal spot for an eager rookie looking to make his mark, but playing alongside some of the game's top talents would serve him well when he would eventually take on a veteran role.
His name is there to see on the Stanley Cup, when the Wings won it in 1998, and painted on the wall at Joe Louis Arena. Dealt to the Rangers the next season, Knuble tallied 15 goals and 35 points in 82 games in 1998-99, his first opportunity in a full-time role.
With a month left in the 1999–2000 season, the Rangers traded him to the Boston Bruins. After posting 20 points in 82 games in 2000–01 and 14 points in 54 games in 2001–02, Knuble found himself playing left wing on a line with Joe Thornton and Glen Murray beginning in 2002–03. He responded by scoring 30 goals and adding 29 assists in 75 games, putting him third in team scoring.
"That was a huge turning point in my career," recalled Knuble. "I think being able to have that kind of year changed things for me."
After 21 tallies and 25 assists in 82 games the following campaign, he signed with the Philadelphia Flyers in the off-season. After playing in Sweden during the 2004-05 NHL lockout, Knuble had career-best marks in goals (34), assists (31), and points (65) in 2005-06.
"You never really know what your career will be when you first start out," said Knuble, who recorded his first career hat trick on February 2, 2008, scoring all the goals in a 3-0 Flyers win over the Anaheim Ducks. "Early on, you just want to stick. As you go on, you do more things to contribute and there's more of a comfort level. When I was younger, I'd watch players and coaches, seeing how they'd prepare and you'd pick off a few things from them over the years."
Now, it's the younger players on the Capitals, the team he signed with on July 1, 2009, three days before his 37th birthday, who are learning from Knuble, one of the club's alternate captains.
"I can't say there was one bit of advice or one person that I look back on and point to as shaping my career," said Knuble, who has scored 271 career NHL goals, 221 of those coming after he turned 30. "You always strive to be a good teammate, a hard worker and a professional."
As for his big moment, the one where he had plenty of family (his mother came in from Michigan, his brother from Alabama, to name a couple), Knuble likened it to a particular part in the 1983 big-screen comedy Vacation, starring Chevy Chase as a father who leads his family on a cross-country journey from Chicago to a Los Angeles amusement park.
"There's a scene in that movie where they get to the Grand Canyon and they get out of the car, take in the view for a second or two and then jump back in the car and continue on," offered Knuble. "That's what this kind of feels like. It goes by pretty quickly because there are still games left to play and you've got to move on pretty fast to the next thing."
But he knows there will be time, eventually, to savour the moment.
"When you actually have time to sit down and really look at your career, I know it will be even more meaningful," noted Knuble. "When you're still playing, it's tough to look beyond the next game or practice. There is always something going on."
As for the next chapter in his career, No. 22 doesn't quite know what to expect. It's a safe bet Knuble will just do as he has always done. He'll take things game by game, the way he has for 1,000 of them.