A Team First Attitude
Ondrej Pavelec's play has the Jets in the playoff hunt, but he points to the play of his teammates for the teams' success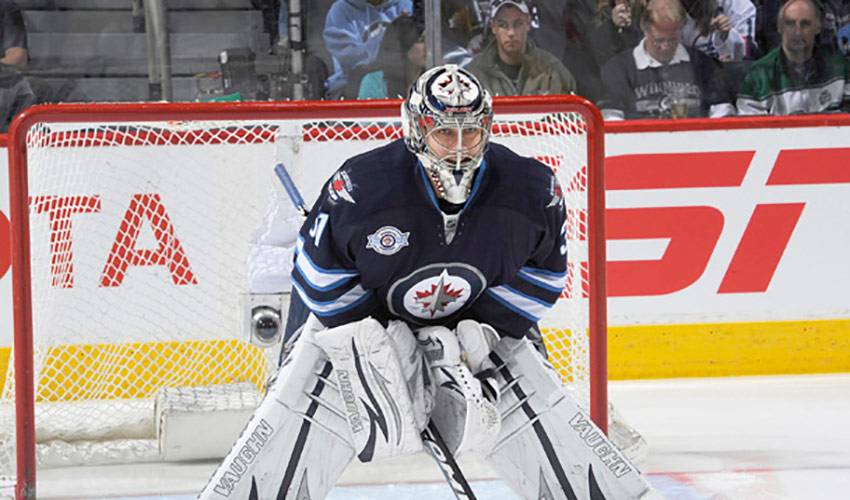 Ondrej Pavelec isn't the type to shy away from many topics of conversation, but there is one subject Winnipeg's man behind the mask likes to steer clear of.
He's been a huge part of the Jets' pursuit of a playoff spot in their return to Winnipeg, recording four shutouts to date, while establishing a career-high mark in wins (24 as of March 5).
And while his stellar play between the pipes has brought him rave reviews from teammates and the organization, the 24-year-old isn't a big fan of speaking about his contributions.
"Actually, I don't really want to talk about myself, if that's okay," said Pavelec, the 41st overall selection of the Atlanta Thrashers in the 2005 NHL Entry Draft.
"Hockey is a team sport and I am very lucky and proud to have the teammates I do. What we do as a group is what I am really proud of. That's what makes me happy."
A humble attitude is just another reason why the city of Winnipeg has fallen in love with the native of Kladno, Czech Republic, the same hometown of fellow NHLPA members Jaromir Jagr, Tomas Plekanec, Jiri Tlusty, Jakub Voracek and Michael Frolik.
Pavelec can certainly feel the love, even when he isn't making a stop.
"I don't have to make a save to hear the fans, they are loud all the time," said Pavelec, who was selected in the first round of the 2005 CHL Import Draft by the Cape Breton Screaming Eagles of the (QMJHL), playing two campaigns with the club. "It starts as soon as you get on the ice. It's great. They really know how to get you geared up for a game."
He's certainly been on the top of his game throughout the 2011-12 campaign, helping Winnipeg keep pace against their competition in the tight Eastern Conference.
Pavelec doesn't need to be reminded just how contentious the playoff fight has been from the start of the season. In fact, he brings up the topic first.
His calm demeanor and ability to battle back after a tough night is just what a team in the heat of a post-season fight loves to see.
"One day, you're in, the next you're; out, it's unbelievable," said Pavelec, who was a First Team All-Star in each of his two campaigns with Cape Breton, winning the Jacques Plante Memorial Trophy for best goals-against average both years, making him just the fourth backstopper to repeat as the award winner. "You just have to take every game as it comes. If you have a bad game, you don't let it get it to you. That's what I tell myself. The best thing you can do is come out and play your best the next time."
That's precisely what Winnipeg had to contend with in recent times.
After a recent lackluster 5-3 home loss to the Edmonton Oilers, the Jets rebounded with an authoritative 7-0 win over Southeast Division rival Florida.
For his part, Pavelec stopped all 33 shots he faced.
With less than 20 games to play in the regular season, Pavelec, who grew up idolizing future Hall of Fame goaltender Marin Brodeur, knows each point becomes that more precious.
"It's felt for a long time that a lot of teams are already playing playoff hockey," said Pavelec, who made his first NHL start and netted his first NHL win against the Tampa Bay Lightning on November 3, 2007. "The games are intense."
Which is why Pavelec, who seems to sport a perpetual smile, appreciates the support he and his teammates are afforded inside and outside of the arena.
"When you are out, the fans, they are very nice," said the 6'3", 220-pounder. "They wish you well, maybe ask you to take a picture or sign something. That's no problem at all. They are great to us."
Pavelec, whose father owns a construction company and mother is a nurse, continues to be a front-page staple in Winnipeg media.
It's no wonder he is quite often the talk of the town.
Just don' expect the man who helped lead the Chicago Wolves to the American Hockey League's Calder Cup championship in 2008 to start talking about himself any time soon.
It's just not in his personality to do so.
"We are working hard to get into the playoffs and it takes all of us to achieve that goal," he offered. "We believe in one another."
And everyone in Winnipeg, his teammates and supporters, believe in Ondrej Pavelec.