NHLPA Gears Up For Northern Canada
Citizens across Canada can help enrich the lives of Inuit children by filling up virtual hockey bags that Project North will turn into the real thing for kids in northern communities.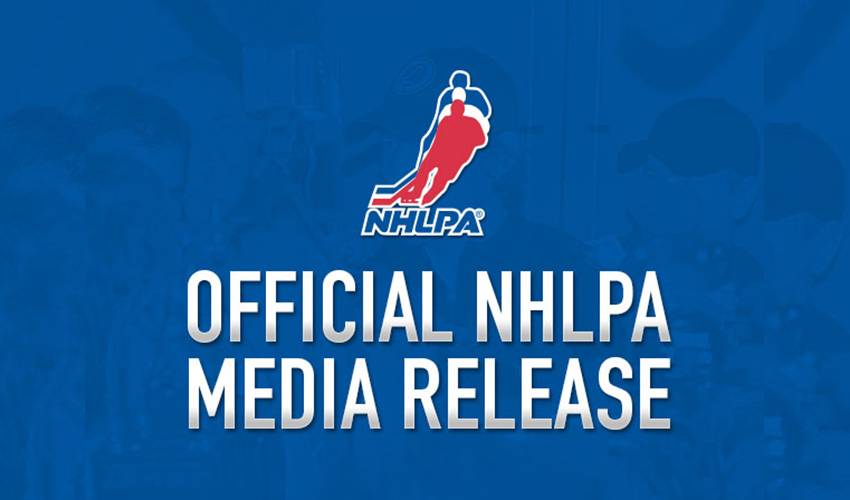 NHLPA GEARS UP
GEAR UP Mrs. Harper, Chris Phillips will be on hand for Thursday's announcement
Virtual hockey equipment campaign set for take-off
Fill a bag … fulfill a dream:

(Ottawa, ON) Beginning March 15, 2012, immediately following an official media launch, citizens right across Canada will be able to help enrich the lives of Inuit children – by filling up virtual hockey bags that Project North will turn into the real thing and then ship off to kids in northern communities.
The initiative, called Gear Up! Fill the Bag, Fulfill the Dream, is the latest campaign sponsored by Project North, a pan-Canadian organization dedicated to making a difference and improving the lives of children in Canada's North. To date, Project North has suited up thousands of Inuit children in 11 communities, providing $300,000 worth of head-to-toe hockey equipment to kids who otherwise would not be able to play the sport, attracted local and national sponsorship.
Project North - which started out as an Ottawa-based grassroots movement - has gained national momentum and is thrilled to welcome Mrs. Laureen Harper, wife of Canada's Prime Minister, as its Honourary Chair.
"I am very pleased and proud to serve as Honorary Chair of Project North," Mrs. Harper, who came up with the idea for
Gear Up!,
said. "Improving literacy and recreational opportunities for Inuit children in the Far North is a truly worthy cause."
One of the programs biggest supporters is the National Hockey League Players' Association (NHLPA) Goals & Dreams fund which has contributed more than 125 sets of brand new equipment to the program over the last 18 months. As part of today's announcement, the NHLPA Goals & Dreams fund has committed to matching equipment donations made to the Gear Up! campaign, up to $25,000 in total. Project North is also thrilled to welcome Chris Phillips, defenceman for the Ottawa Senators and NHLPA member, as Honourary Captain to lead the way and inspire other Canadians to bring Canada's national pastime to children who wouldn't otherwise have the opportunity.
"This is a great honor for me, and I am very proud to be associated with both Project North and the NHLPA Goals & Dreams fund," said Chris Phillips, Senators defenceman and NHLPA member. "It is truly rewarding to be part of this partnership of Mrs. Harper, Project North and the NHLPA Goals & Dreams fund on the Gear Up campaign, which will give children living in northern communities the opportunity to play hockey."
The way Gear Up! works is simple. Donors visit Project North's website at projectnorth.ca/gear-up where they can purchase any single piece of hockey equipment – or the entire bag! Once enough bags are filled they are shipped and supporters will be able to track which Inuit community receives their bag. Organizers are optimistic that the bags will fill quickly and be delivered to new northern communities compliments of First Air, a major sponsor who have steadfastly transported equipment free of charge for Project North for the last three years. Already plans are underway for Gear Up's first two equipment deliveries: to Grise Fjord and Qikiqtarjuaq, in Nunavut.
"People have overwhelmingly supported this effort," said Michelle Valberg, Project North's co-founder. "The outpouring of their on-going support never ceases to amaze us and points to such a generosity of spirit. This project will enable everyone to participate, no matter how much they wish to donate. Kids in schools can do their part by making a small, affordable purchase right through to businesses and corporations who can donate full bags."
"The NHLPA is proud to support the Gear Up! Campaign, said, Devin Smith, Chairman of the NHLPA Goals & Dreams fund. "This program shares the same mandate as our Goals & Dreams fund; to help provide economically challenged children with the opportunity to play the great game of hockey. We look forward to working together on this great program."
Photo and Interview Opportunity
Details of the Media Launch

When: Thursday March 15, 2012 2:00 pm
Where: Valberg Imaging, 322 Richmond Rd. Ottawa, ON

Key Participants:

Mrs. Laureen Harper, Honourary Chair
Chris Phillips, Honourary Captain
Michelle Valberg, President, Project North
Jeff Turner, VP, Project North, Leslie Coates, VP, Project North
NHLPA representatives (hosts)
For more information:
Michelle Valberg 613-862-1035
Leslie Coates 613-691-1122 X 1