Fifty is Nifty Again for Stamkos
Lightning star surpasses the 50 goal milestone again, becoming only the 6th player to accomplish the feat before the age of 23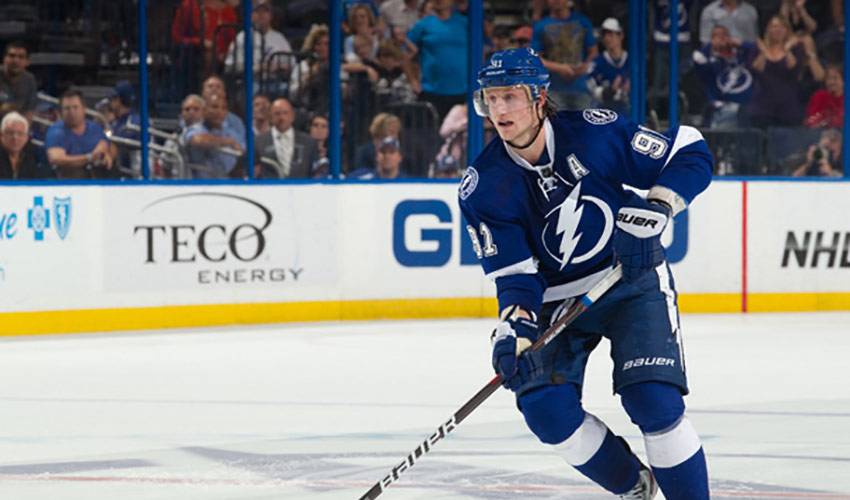 Steven Stamkos' recent milestone moment will go down in the books as a distinguished individual accomplishment, but that's not how the two-time 50-goal scorer sees it.
Tampa's dynamic 22-year-old superstar scored twice to reach 50 in a season for the second time in his career, a home game that saw the Tampa Bay Lightning cruise to a 6-1 victory over the Boston Bruins, the team that knocked them out of the playoffs last season in their seven-game Eastern Conference final pairing.
With his 50th tally, Stamkos became only the sixth player in league history to score 50 goals twice before the age of 23.
For his teammates, it was a genuine thrill.
"For him to do this at such a young age and to be just one of six players to have done it, that just tells you what kind of player he is"
said linemate
Teddy Purcell
, in an interview with NHLPA.com the day after Stamkos' accomplishment. "It means as much to his Tampa Bay teammates, too.
"To be on the ice when it happened, I was thrilled," said Purcell, who plays alongside Stamkos and 2004 Ted Lindsay Award winner Martin St. Louis. "When he went in and scored, we were all ecstatic for him."
It was Purcell who fished the puck out of the net and despite being the last player on the ice to join in on the post-goal celebration; he made certain he was part of it.
"I grabbed the puck and skated about as fast as I could to see him," recalled Purcell, who has been one of Tampa's top producers over the past few months. "Obviously, we were all happy that he did it and that he was able to in front of the home fans. I just went up and said, 'Congrats. Way to go.' It was something I think all of us will remember for a very long time."
Stamkos, an alternate captain for the Lightning and the first overall selection of the Southeast Division squad in the 2008 NHL Entry Draft, made sure he recognized his teammates after the final buzzer sounded.
"In the dressing room, Steve stood up and thanked everyone for helping him get to 50 goals," offered Purcell, of the player who scored 51 goals in 2009-10, which tied for most in the NHL with Sidney Crosby of the Pittsburgh Penguins, as the two shared the Rocket Richard Trophy as goal-scoring champions. "That wasn't a surprise to any of us. That's just Steve. For as great of a player that he is, he's also a class act, a true professional and a good friend."
Purcell is hoping they can use Stamkos' 50th as the catalyst to turn around their disappointing season.
After missing out on the Stanley Cup Final by just one game in 2010-11, Tampa is fighting to simply make it back to the post-season.
"We wanted to carry through how well we played last year into this year, but for whatever reason, it wasn't happening for us," said Purcell, who had 51 points last campaign, before recording 17 points, including 11 assists, in 18 playoff contests. "I hope we can use this as motivation to play hard the rest of the way.
"I just want to make the most of my opportunity to play with Steve and Marty," continued Purcell, who was honoured with the Dudley ""Red"" Garrett Memorial Award (Top American Hockey League Rookie) in 2008. "I want to be a difference-maker when I'm out there and contribute something every single shift."
It's an attribute Purcell sees in one of hockey's top offensive talents.
"If we need a goal, or a big play, you have faith that Steve can get it done," remarked Purcell, who came to the Lightning on Trade Deadline Day in 2010, when he was dealt with third-round draft pick to Tampa Bay in exchange for forward Jeff Halpern. "But for all the big things he does, he is as humble and grateful a person as you'll find. He deserves all the respect in the world."
Which is precisely what Stamkos has for those who played a part in his latest big-league milestone.