Allstate All-Canadians Mentorship Camp Announcement
Expanded All-Canadians program reaches more minor hockey players at every level.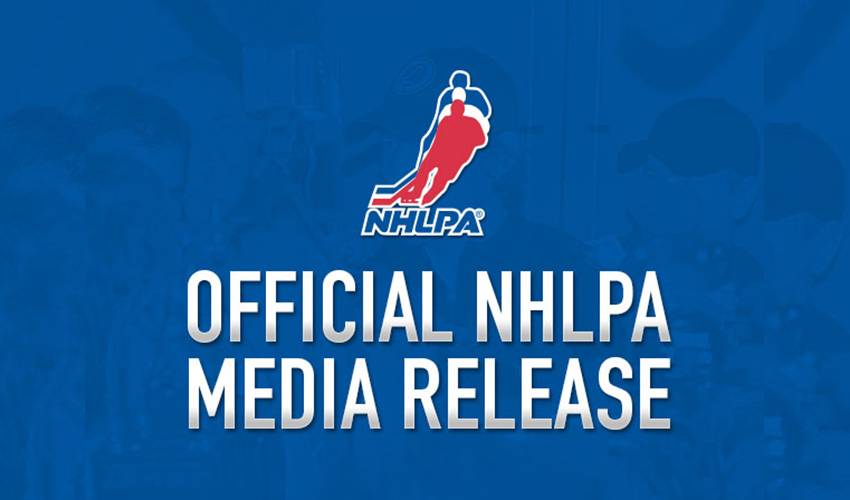 NHLPA'S ALLSTATE ALL-CANADIANS MENTORSHIP PROGRAM ENHANCES OFFERING TO INSPIRE CANADIAN YOUTH, THEIR PARENTS AND COACHES
TORONTO, March 28, 2012 /PRNewswire via COMTEX/ -- The National Hockey League Players' Association (NHLPA), in partnership with Allstate Insurance Company of Canada, is pleased to announce program enhancements to the Allstate All-Canadians Mentorship Program, designed to impact more players at every level of the game. This comes with an updated and improved hockey and life skills resource at www.allcanadians.com, and three regional one-day Mentorship hockey camps for youth ages eight to 15.
These Allstate All-Canadians Regional Mentorship Camps, open to boys and girls at any skill level, will give even more kids, parents and coaches an unprecedented opportunity to learn from NHLPA members and leading experts in the game in foundational areas such as nutrition, fitness, and mental skills. Participants will also learn time management skills to help combine academics and other interests with hockey.
""The Allstate All-Canadians program has been a tremendous success, furthering our commitment to giving back to our community and investing in the next generation of Canada's leaders,"" said Jeff Burke, Senior Vice President of Allstate Insurance Company of Canada. ""We're thrilled to announce the enhanced program features to help protect the development of Canadian youth and make an even bigger difference at every level of the game.""
""Through Allstate All-Canadians, the NHLPA is committed to reaching Canadian youth and giving them the skills to make them better individuals, both in hockey and in life,"" said Mike Ouellet, NHLPA Chief of Business Affairs. ""The latest program enhancements like the regional mentorship camps, the redesigned website, and tools to help manage school work and other interests with hockey, will provide greater learning to players and families across the country.""
Current and past NHL players along with supporting off-ice topic experts will be on site for the Allstate All-Canadians Regional Mentorship Camps scheduled for Calgary (April 21), Toronto (May 5) and Halifax (June 2). Parents can sign up their kids via www.allcanadians.com for a chance to attend. From these submissions, 120 players will be selected by random draw to attend each camp.
The redesigned website at www.allcanadians.com , features new content from the pros, better navigation and customized content for players, parents and coaches to maximize the impact for all audiences and skill levels. The site remains at the core of the program for the most up-to-date program news, content and community resources.
To continue to foster and support the development of some of the finest young bantam-age players in the country, the NHLPA and Allstate Canada will once again host the high performance Allstate All-Canadians Mentorship Camp, for 42 of the best players from across the country starting July 17, 2012. Gary Roberts, program ambassador and 21-year NHL veteran and Stanley Cup Champion will be joined by Canadian NHL players and other leading hockey experts to equip the selected players with the skills to fulfill their potential on and off the ice.
""Sharing my personal success story of the impact off-ice skills like fitness and nutrition had on my career in the NHL with the kids involved in the camp has been a rewarding experience, and I look forward to passing along those messages to an even greater number of Canadian minor hockey players,"" said Roberts. ""I know that by working with our youth at the grassroots level, they can become confident individuals and further their athletic development.""
Scheduled for the Hershey Centre in Mississauga, Ontario July 17 - 21, the camp will again be organized under the leadership of Gary Roberts and give these youngsters a chance to learn directly from some of the finest players in the NHL. Helping instruct at the 2011 camp were 18 NHLPA members, including stars like Jason Spezza, Luke Schenn, Jeff Skinner, Steve Stamkos, Marty Biron and Stephen Weiss.
The camp will also feature the second annual Allstate All-Canadians Mentorship Cup featuring two squads put together from the camp's attendees. Last year's high-octane game was settled in a shootout in front of 2,500 excited fans at the Hershey Centre and a live television audience on TSN. Team Spezza took that 10 - 9 victory and Jason Spezza will return as a head coach in 2012 to defend his title.
About Allstate Insurance Company of Canada Allstate Insurance Company of Canada is one of Canada's leading producers and distributors of home and auto insurance products. ""The Good Hands Network®"" enables consumers to contact Allstate Canada through one of 93 community-based Agencies, directly online at www.allstate.ca and through the Customer Contact Centre at 1-800-Allstate. Allstate Canada is committed to making a positive difference in the communities in which it operates and has partnered with organizations such as Mothers Against Drunk Driving (MADD Canada), Crime Stoppers, United Way and Junior Achievement. In 2010, Allstate Canada, in partnership with the National Hockey League Players' Association (NHLPA), created the Allstate All-Canadians program, a mentorship program designed to guide the next generation of Canada's hockey youth. Learn more about this program at www.allcanadians.com . To learn more about Allstate Canada, visit www.goodhandsadvice.ca or www.allstate.ca .
About the National Hockey League Players' Association The National Hockey League Players' Association (NHLPA), established in 1967, is a labour organization whose members are the players in the National Hockey League (NHL). The NHLPA works on behalf of the players in varied disciplines such as labour relations, product licensing, marketing, international hockey and community relations, all in furtherance of its efforts to promote its members and the game of hockey. In 1999, the NHLPA launched the Goals & Dreams fund as a way for the players to give something back to the game they love. Over the past 11 years, more than 50,000 deserving children in 23 countries have benefited from the players' donations of hockey equipment. NHLPA Goals & Dreams has donated more than $19-million to grassroots hockey programs, making it the largest program of its kind. For more information on the NHLPA, please visit www.nhlpa.com.