Thrilled In The Desert
Adrian Aucoin & the Coyotes are headed to the Western Conference Final & are dedicated to keeping the momentum going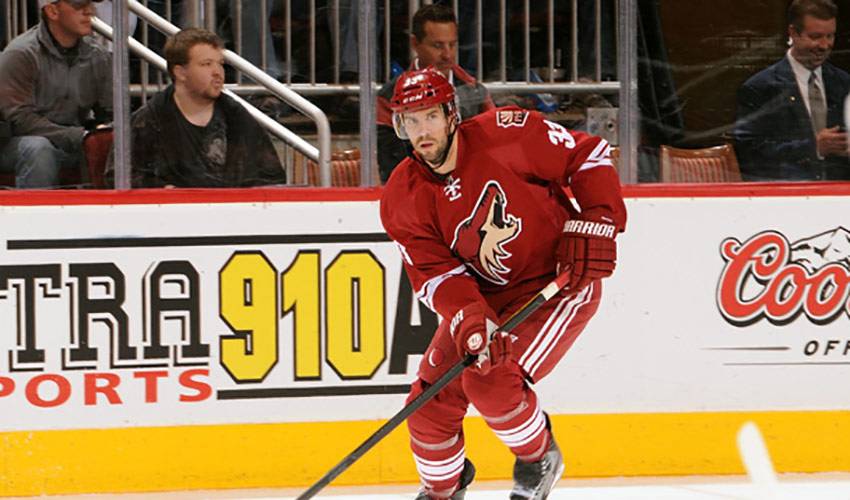 Veteran defenceman Adrian Aucoin got good measure of just how much the playoffs had taken flight for the Phoenix Coyotes when the team landed after their opening-round series victory.
As expected, there was much pandemonium in the Phoenix dressing room after their 4-0 series-clinching triumph in Game Six over the Chicago Blackhawks in their Western Conference quarter-final matchup.
For Aucoin, who has skated in 60 NHL playoff games, it was a familiar feeling in not wanting the excitement and emotion to end.
"I didn't play in that particular game, but to be there in the room, waiting for the guys to come back and then seeing them, it was amazing," recalled Aucoin, whose first big-league playoff experience came in 1994-95 as a member of the Vancouver Canucks. "Any time you win a game like that, it's the best. The whole flight home, everyone was still thrilled. Then, when we arrived back in Arizona, a bunch of our fans were waiting for us. That made it even more special."
Now, for the first time in franchise history, the Coyotes find themselves in the Western Conference final after defeating the Nashville Predators in five games, punctuated by a 2-1 series-clinching win on home ice.
Aucoin, who has one assist in nine post-season games in 2011-12, had 12 shifts in Game Five, as Derek Morris and Marin Hanzal scored for the Coyotes to put them one step away from playing for the championship.
They'll now face the Los Angeles Kings, the West's No. 8 seed, who bested the No. 1 Vancouver Canucks in the quarter-finals and the No. 2 St. Louis Blues in the second round.
At 38, Aucoin, who was taken 117th overall by the Canucks in the 1992 NHL Entry Draft, has dealt with his share of tough playoffs experience.
He went through a stretch of six seasons where he wasn't part of a playoff-bound club. He's made the playoffs the past five campaigns, but up until this year, had never been past the first round.
So, it's certainly understandable that the well-respected and well-traveled (he's played for Vancouver, Tampa Bay, New York Islanders, Chicago, Calgary and Phoenix) blueliner is enjoying the Coyotes' current run.
"We're a hard-working group and it's great to see that dedication pay off," said Aucoin, who in 1997-98, scored 23 goals, 18 of which came on the power-play, tying Denis Potvin for the NHL single-season record (it was broken by Sheldon Souray's 19 power-play goals in 2006–07). "Whether it's the young guys or the veterans, we've been lucky to have everyone stepping up, everyone doing all the extra things to put us in this position."
For Aucoin, who was the recipient of the Babe Pratt Trophy (Vancouver Canucks' best defenceman) in 1999, it's a pack mentality that's put the Coyotes where they are.
"Being able to be strong defensively as a team, that's been very important for us," said Aucoin, who signed as an unrestricted free agent with the Coyotes in 2009. "Mike (goaltender Smith) has been sensational for us, too. He makes those saves that can change a game for you. For me, I'm looking to keep the opposition from getting any big scoring opportunities."
Aucoin's has also had the chance to pair up with several fellow defencemen throughout the campaign, regular season and playoffs.
"I've been partnered with Oliver Ekman-Larsson for a time, Keith Yandle and Rusty (Rostislav) Klesla, too," noted Aucoin. "I'm being counted on for a little bit of everything.
"There's no egos, no selfishness here," continued the native of Ottawa, Ontario, who played in his NHLPA-recognized 1,000th game against the Chicago Blackhawks on March 21, 2011. "Everyone knows what we have to do to win. We all have to be at our best every shift. It doesn't matter who scores the big goal, we're all here to support each other."
Aucoin has experienced big moments in the past, including a gold medal with Team Canada at the 1993 World Championships in Sweden, along with a silver medal at the 1994 Winter Olympics in Norway.
You don't need to ask what he'd like to add to his collection.
"When you were young, you dreamed of what it would be like to experience the feeling of winning a Stanley Cup," offered Aucoin. "When you finally make it to the NHL, that dream doesn't change. All you ever want is that chance."
And that's just what Adrian Aucoin and the Coyotes are working towards, a determined group in search of that coveted opportunity.