NHLPA MEMBERS SELECT EVGENI MALKIN AS THE 2011-12 TED LINDSAY AWARD RECIPIENT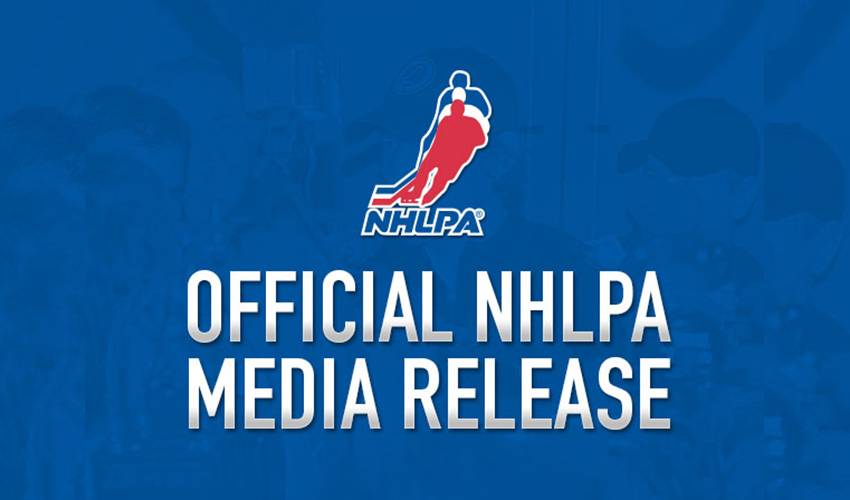 LAS VEGAS (June 20, 2012) – The National Hockey League Players' Association (NHLPA) today announced Evgeni Malkin as the recipient of the 2011-12 Ted Lindsay Award, presented annually to the "Most Outstanding Player" in the NHL as voted by fellow members of the NHLPA.
"Congratulations to Evgeni Malkin for being chosen by his fellow players as the most outstanding player in the NHL this season," said Ted Lindsay, Hockey Hall of Fame player, about the 2011-12 recipient of the award that bears his namesake. "There is no greater honour than to receive such respect from your peers on the ice. Evgeni is a very talented hockey player in all aspects of the game. He had a great season and is a very deserving recipient."
Ted Lindsay was on hand to present the players' award, along with celebrity presenter Cory Monteith from the hit TV show "Glee", as part of the 2012 NHL Awards which were held at the Encore Theater at the Wynn Las Vegas. The finalists for the 2011-12 Ted Lindsay Award, Henrik Lundqvist of the New York Rangers and Steven Stamkos of the Tampa Bay Lightning, were also in attendance.
The Ted Lindsay Award is the only award voted on by the players themselves, carrying on the tradition established by the Lester B. Pearson Award since 1970-71. The Award honours Ted Lindsay, an All-Star forward known for his skill, tenacity, leadership, and for his role in establishing the original Players' Association.
Evgeni is now the fourth Penguins player to receive the "Most Outstanding Player" award as voted on by the players. He follows former Penguins forwards Mario Lemieux (1985-86, 1987-88, 1992-93, 1995-96) and Jaromir Jagr (1998-99, 1999-00, 2005-06), and current teammate Sidney Crosby (2006-07).
The native of Magnitogorsk, Russia led all NHL players in 2011-12 regular season scoring (109 points) to earn his second Art Ross Trophy (2008-09). He also finished with more than 100 points in a season for the third time in his career, while finishing third in assists (59) and second in goals (a career-high 50).
In recognition of being named the 2011-12 Ted Lindsay Award winner, Evgeni was presented with an elegant men's watch from Breitling.
Fans and media are encouraged to visit www.nhlpa.com to view further background information on the Ted Lindsay Award and finalist profiles.
2011-12 Ted Lindsay Award Recipient:
EVGENI MALKIN
Height: 6'3"
Weight: 202 lbs.
Shoots: Left
Age: 25
Born: Magnitogorsk, Russia
Draft: Selected 1st Round, 2nd Overall by the Pittsburgh Penguins in 2004 Entry Draft
Career Achievements:
Ted Lindsay Award (2011-12)
Art Ross Trophy (2008-09, 2011-12)
Calder Trophy (2006-07)
Stanley Cup (2009 – Pittsburgh Penguins)
Kharlamov Trophy (2012)
IIHF World Championships gold medal (2012 – Russia)
NHL All-Star Game (2008, 2009, 2011, 2012)

"Most Outstanding Player" Award Recipients:
| | | |
| --- | --- | --- |
| Lester B. Pearson Award | 1984-85 Wayne Gretzky | 1999-00 Jaromir Jagr |
| 1970-71 Phil Esposito | 1985-86 Mario Lemieux | 2000-01 Joe Sakic |
| 1971-72 Jean Ratelle | 1986-87 Wayne Gretzky | 2001-02 Jarome Iginla |
| 1972-73 Bobby Clarke | 1987-88 Mario Lemieux | 2002-03 Markus Naslund |
| 1973-74 Phil Esposito | 1988-89 Steve Yzerman | 2003-04 Martin St. Louis |
| 1974-75 Bobby Orr | 1989-90 Mark Messier | 2005-06 Jaromir Jagr |
| 1975-76 Guy Lafleur | 1990-91 Brett Hull | 2006-07 Sidney Crosby |
| 1976-77 Guy Lafleur | 1991-92 Mark Messier | 2007-08 Alexander Ovechkin |
| 1977-78 Guy Lafleur | 1992-93 Mario Lemieux | 2008-09 Alexander Ovechkin |
| 1978-79 Marcel Dionne | 1993-94 Sergei Fedorov | Ted Lindsay Award |
| 1979-80 Marcel Dionne | 1994-95 Eric Lindros | 2009-10 Alexander Ovechkin |
| 1980-81 Mike Liut | 1995-96 Mario Lemieux | 2010-11 Daniel Sedin |
| 1981-82 Wayne Gretzky | 1996-97 Dominik Hasek | 2011-12 Evgeni Malkin |
| 1982-83 Wayne Gretzky | 1997-98 Dominik Hasek | |
| 1983-84 Wayne Gretzky | 1998-99 Jaromir Jagr | |

-30-