John Tavares and Taylor Hall Named Mentorship Cup Coaches
Spezza, Seguin, Skinner and Biron are among NHLPA stars to mentor 42 of Canada's top bantam-aged players during the five-day camp and culminating game.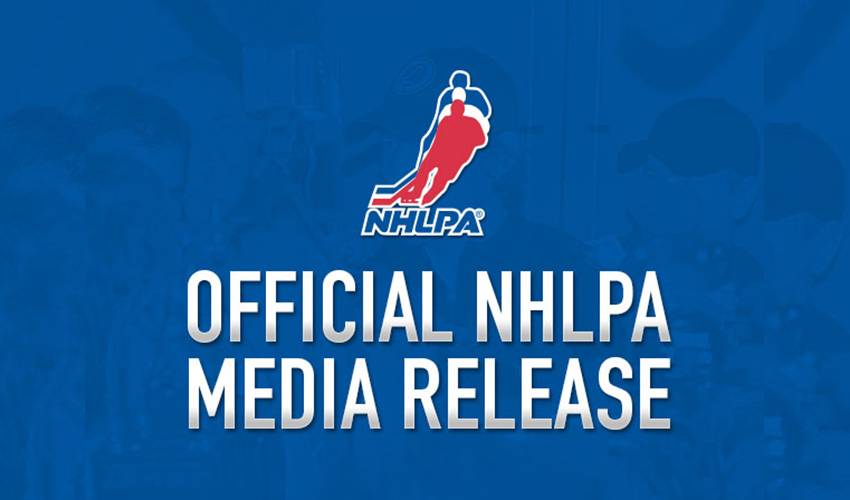 JOHN TAVARES AND TAYLOR HALL NAMED COACHES FOR SECOND ANNUAL ALLSTATE ALL-CANADIANS MENTORSHIP CUP
TORONTO, ON, July 11, 2012 – The National Hockey League Players' Association (NHLPA) is pleased to announce NHL stars John Tavares and Taylor Hall have been named the coaches of the second annual Allstate All-Canadians Mentorship Cup. Fellow NHL players Jason Spezza, Tyler Seguin, Jeff Skinner, and Martin Biron will also participate in the intensive five-day camp that welcomes 42 of the top bantam-aged players from across the country. The camp will conclude with the Allstate All-Canadians Mentorship Cup, an inter-squad exhibition game, on Saturday, July 21 at 1:00 p.m. ET, which will air on TSN.
The Allstate All-Canadians Mentorship Camp will take place at the Hershey Centre in Mississauga, ON, from July 17 to 21, 2012. Led by 21-year NHL veteran Gary Roberts, the camp aims to provide young athletes with the exclusive opportunity to learn from the pros about the importance of on- and off-ice skills including fitness, nutrition, and mental conditioning.
"I'm looking forward to making my coaching debut against Taylor Hall at the upcoming Allstate All-Canadians Mentorship Cup," said John Tavares, NHLPA Member and New York Islanders forward. "This program is a great way to teach the next generation of young hockey players about all the hard work and sacrifice it takes to perform at an elite level. It will be fun to participate behind the bench for a change and I'm excited to be a part of it."
Taylor Hall, NHLPA Member and Edmonton Oilers forward echoes his sentiments. "It's been six years since my bantam hockey year, and the Allstate All-Canadians program reminds me of all the things I've learned since then about taking care of my body and being mentally strong. I hope that I'll be able to pass a few of those helpful lessons I've learned to this group of young hockey players. Last year's Mentorship Cup was an exciting game, and I'm looking forward to taking on John Tavares this year in what should be a fun coaching matchup."
The Allstate All-Canadians Mentorship Program aims to engage all levels of the hockey community at the grassroots level by providing players, coaches, parents and fans important resources through the program website, www.allcanadians.com. The website is quickly becoming a highly valuable hockey reference to Canadian players, parents and coaches at all levels. This year, the Canada-wide program was supplemented by the widely successful Allstate All-Canadians Regional Mentorship Camps, led by NHLPA Executive, and 20-year NHL veteran, Mathieu Schneider, along with present NHL players and supporting off-ice topic experts. The one-day regional camps were held in Calgary, Toronto and Halifax, and brought together more than 350 boys and girls ages eight to 15 at all skills levels selected randomly through an application process on www.allcanadians.com.
"Our passion and commitment to 'give back' to Canada's hockey youth is encapsulated through the Allstate All-Canadians program," said Mike Ouellet, NHLPA Chief of Business Affairs. "We are incredibly excited to engage these young players with the unique opportunity of five full days to develop as athletes by learning from the people who know the game best – NHL hockey players. Our end goal is to not only educate these players on what it takes to be great hockey players, but to provide them with the skills to be better individuals off the ice as well."
"After coaching in last year's Mentorship Cup and defeating Team Schenn in a big comeback, I was eager to once again be involved with the Allstate All-Canadians program this year," said Jason Spezza, NHLPA Member and Ottawa Senators forward. "These young hockey players are tremendously focused and driven to improve, and it was inspiring to be a part of the camp last year. I look forward to attending this year's camp as a Mentor and continuing my involvement with the program."
Fans are invited to watch Team Hall take on Team Tavares live, beginning at 1:00 p.m. ET on Saturday, July 21. Pre-game and intermission autograph sessions with NHL players will take place. Tickets are free and available at www.allcanadians.com, and on game day at the Hershey Centre, located at 5500 Rose Cherry Place, Mississauga, ON, beginning at 12:00 p.m. ET. Fans can also watch the game on TSN.
For the latest news and updates regarding the Allstate All-Canadians Mentorship Camp and Allstate All-Canadians Mentorship Cup, please visit www.allcanadians.com
There will be media availability during the camp with further details forthcoming.
About Allstate Insurance Company of Canada
Allstate Insurance Company of Canada is one of Canada's leading producers and distributors of home and auto insurance products. ""The Good Hands Network®"" enables consumers to contact Allstate Canada through one of 92 community-based Agencies, directly online at www.allstate.ca and through the Customer Contact Centre at 1-800-Allstate. Allstate Canada is committed to making a positive difference in the communities in which it operates and has partnered with organizations such as Mothers Against Drunk Driving (MADD Canada), Crime Stoppers, United Way and Junior Achievement. In 2010, Allstate Canada, in partnership with the National Hockey League Players' Association (NHLPA), created the Allstate All-Canadians program, a mentorship program designed to guide the next generation of Canada's hockey youth. Learn more about this program at www.allcanadians.com. To learn more about Allstate Canada, visit www.goodhandsadvice.ca or www.allstate.ca.
About the National Hockey League Players' Association
The National Hockey League Players' Association (NHLPA), established in 1967, is a labour organization whose members are the players in the National Hockey League (NHL). The NHLPA works on behalf of the players in varied disciplines such as labour relations, product licensing, marketing, international hockey and community relations, all in furtherance of its efforts to promote its members and the game of hockey. In 1999, the NHLPA launched the Goals & Dreams fund as a way for the players to give something back to the game they love. Over the past 12 years, more than 60,000 deserving children in 25 countries have benefited from the players' donations of hockey equipment. NHLPA Goals & Dreams has donated more than $20-million to grassroots hockey programs, making it the largest program of its kind. For more information on the NHLPA, please visit www.nhlpa.com.
- 30 -