National Mentorship Camp 2012 Highlights
A day-by-day recap of the Allstate All-Canadians 2012 National Mentorship Camp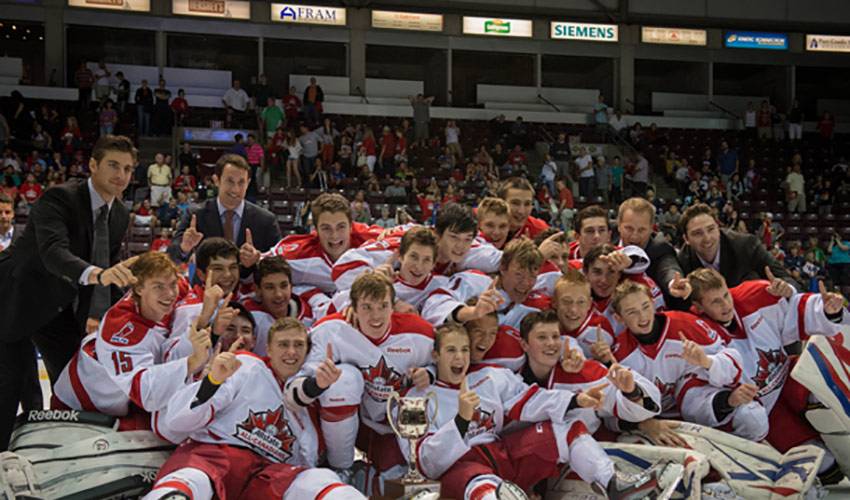 Day 5
The final day of the 2012 Allstate All-Canadians National Mentorship Camp culminated with the dramatic Mentorship Cup game pitting Team Hall (red) and Team Tavares (white) against each other in front of over 3,000 screaming hockey fans at the Hershey Centre in Mississauga. Coming into the game it was hard to believe that the 2012 edition could surpass the drama and excitement from last year, but when the final buzzer rang it was apparent that this year's finale was every bit as thrilling.
In the first period, both teams got off to a cautious start and seemed reluctant to get into a run-and-gun battle right away - likely the result of playing in front of a national television audience for the first time. Key saves by both goaltenders and tight defensive play led up to the buzzer sounding with Team Hall holding on to a slim 2-1 lead. NHL star coaches and NHLPA mentors calmed the nerves of their teams in the intermission. The players then started the second period full throttle and put on a show that gave the crowd plenty of opportunities to cheer. By the end of the period, the teams combined for a total of six - mostly highlight reel - goals during the frame. It was all Team Tavares as they stormed the net scoring four straight goals and taking a dominant 5-2 lead. Team Tavares took advantage of the new penalty format scoring on two back-breaking penalty shots that had Team Hall showing subtle signs of defeat as the period went on.
In true All-Canadians fashion, Hall's players showed mental toughness and spark as Mitchell Stevens picked up a loose puck and wired a slap shot top shelf. Team Tavares then scored on another penalty shot that stood as the final tally in the second which ended 6-3 in favour of Team Tavares. The finally period was one for the ages beginning with Team Tavares' Connor McDavid scoring on an absolutely spectacular penalty shot goal (yet again) as he deftly deposited a backhand top shelf with frightening ease. At 7-3, this could have easily been the final blow - the opportunity for team Hall to fold their hand and quit. It wasn't.
Showing amazing resilience, Team Hall stormed back with a breathtaking and furious four goal run punctuated by the outstanding Matthew Barzal starting the rally off and finishing it with a huge individual effort to hold off an opposing defender just long enough to score before finally being hauled down into the end boards. Team Hall's bench erupted and the crowd went wild as the game was now tied, which seemed impossible just moments before.
After Team Tavares scored the go-ahead marker, Barzal's line was out for the final chance at a tie with their goalie pulled. At 19:59 Travis Konechy gave the fans what they wanted by depositing a heads up pass from Anthony Beauvillier into the net. After sixty minutes the score was 8-8 and the teams headed into a five man shootout.
In the shootout, the goalies got the better of the opposing forwards with some spectular and solid saves. In the end it was Connor McDavid who sealed the deal for Team Tavares with another spectular deke. The 2012 Mentorship Cup lived up to it's reputation and gave the fans a glimpse at what the future of Canadian hockey might look like a few years down the road. Skill, passion, mental toughness, and impecible sportsmanship were on display this Saturday afternoon in July. Red and white shone bright - making Canadian hockey fans proud. It was the perfect end to an All-Canadians week.
Here's a video recap from the week featuring John Tavares, Jason Spezza, Taylor Hall, Martin Biron, and Jeff Skinner:
Day 4
It was another early morning of on and off-ice workouts at the Gary Roberts Fitness Institute and the Hershey Centre. For the first time, Team Tavares and Team Hall were joined by their NHL star coaches at the rink. As the players ran through another morning of drills, their coaches paid close attention to their teams and started plotting their strategies.
In the afternoon the players and their parents listened to Canadian Alpine Freestyle Ski Olympic Medalist Deidra Dionne, who shared her inspirational story about overcoming a life-changing injury, conquering fear, and making the right life choices that will ultimately lead an individual to success. After lunch and more workout sessions, the players and their parents were treated to a highly entertaining seminar about financial responsibility from The Funny Money Man. In a light hearted moment the financial seminar ended in a dance-off!
As the day came to a close, the players and their families were given a night off to explore the city of Toronto, as this is a first time visit for some of them. Tomorrow marks the end of the camp and the big Allstate All-Canadians Mentorship Cup game that will be broadcast on TSN. Can't wait to see who will win - Team Hall or Team Tavares!
Day 3
Like day 2, today kicked off with on and off-ice workouts for Team Tavares and Team Hall. After a visit to the Gary Robert Fitness Institute, NHL stars Jeff Skinner and Martin Biron, as well as renowned instructor Jari Byrski of Sk8ON Hockey School joined the boys on the ice to run drills. Jason Spezza was also at the Hershey Centre to film some interviews you'll soon see on AllCanadians.com, as well as take part in today's seminar.
After the players broke for lunch, Jeff Skinner, Jason Spezza and their dads took part in a panel-style discussion in which they talked about raising hockey players and the high level of influence parents really have on their children.
The evening ended with a trip to the Ballroom in downtown Toronto, ON, where the boys get to meet their respective coaches Taylor Hall and John Tavares and challenge them to a few bowling matches. It's another early morning tomorrow! Get some rest, boys.
Day 2
Day two of the invite-only camp was more demanding - but also more rewarding. The '97-born boys started their day at the Hershey Centre in Mississauga where they were split into two teams that will ultimately be coached by NHL players John Tavares and Taylor Hall in Saturday's Mentorship Cup game. Both teams took part in four sessions throughout the course of the day that cover every dimension of on and off-ice drills, sports psychology and nutrition.
In the on-ice sessions, NHL player Tyler Seguin and fellow former Stanley Cup champion Gary Roberts joined the other on-ice mentors to lead both teams in a variety of drills designed to challenge and educate the players. During their off-ice workouts, Roberts, along with strength and conditioning expert Lorne Goldenberg, and Team Canada's fitness coach Matt Nichol led the players through a variety of warm-up stretches and exercises. Sports psychologist Dr. Paul Dennis later presented a seminar that explained why a player's mental game is as critical as their physical performance.
The day came to a close with a trip to Nature's Emporium in Newmarket, ON where the players listened to a presentation about the importance of whole foods from sports nutritionist Ryan Dennis, and ate a recovery meal to fuel up for another big camp day on Thursday.
Day 1
The Allstate All-Canadians National Mentorship Camp kicked off Tuesday, July 17th with 42 of Canada's top Bantam-aged players coming into the NHLPA offices in Toronto to meet their fellow camp attendees; get completely outfitted with new equipment from Reebok; and to have their All-Canadians headshots taken. In the evening, the players and their families headed over to the Hockey Hall of Fame for a welcome reception and dinner where they had the chance to see the historic hockey exhibits, trophies & displays in person and fuel up for Wednesday's early morning on and off-ice workouts.
For a complete photo gallery of the camp, visit our Facebook page.
Follow us on Twitter @All_Canadians and use the hashtag #AllCanadians to join in on the conversation. We're posting live updates daily.