Westgarth a "Hockey Nerd"
A self-confessed "hockey nerd," Kevin Westgarth's knowledge of the game extends far beyond the hockey arena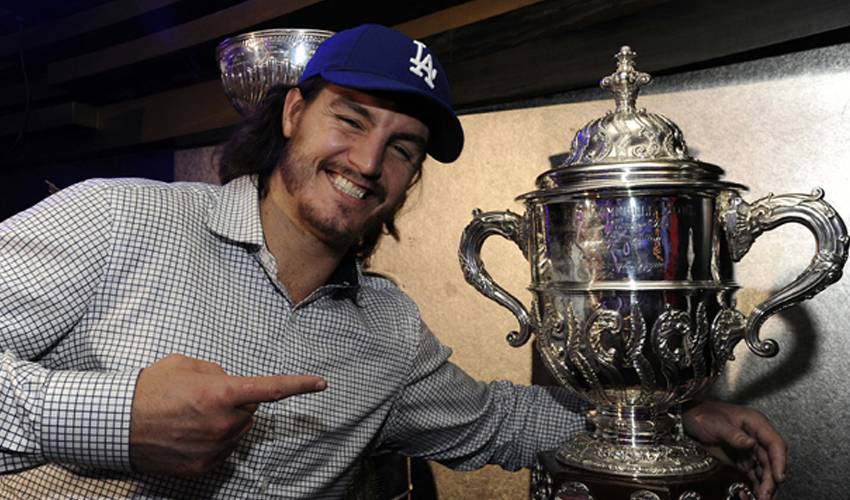 "We might not be wearing crests on our chests, but we're working together as one unit to get a fair and equitable deal. If there was any concern that younger guys, European players or top-line players wouldn't be involved, it's quite the opposite. Every single type of player is immersed in this. It doesn't matter age, country, what role you play, everyone is standing together." – Los Angeles Kings forward, Kevin Westgarth
He's a self-confessed "hockey nerd," but Kevin Westgarth's knowledge of the game extends far beyond the hockey arena.
Years before he would skate at the big-league level, Westgarth, who hails from Amherstburg, Ontario, located less than 20 miles south of Detroit, pondered what it would be like to one day see his own name etched on the Stanley Cup.
When it became a reality this year, the well-spoken 28-year-old found himself at a loss to describe the feeling.
"You remember when you had your first glimpse of the Cup, whether it was at the Hockey Hall of Fame, or on television, and then there you are, in your house having a coffee and it's sitting on the table in front of you," recalled the former Princeton University alumnus. "To be able to bring it to my hometown, to see how people are so enamored with it, their passion for the game, it was quite humbling, really.
While most of the fans who came to the local arena were thrilled to touch the Cup and have their picture taken with it, Westgarth, who signed autographs and posed for photos, took a more a forensic approach when he had it in his home.
"To see young kids, parents and grandparents smiling and ecstatic to see the Cup, to get their photo beside it, that was a great day for myself and my family, one we'll never forget," recalled Westgarth, who made his big-league debut on in January of 2009. "For me, I'm still a big hockey nerd. I love trying to find all the dents, the misspelled names, looking to find the names of your heroes, the big names that have won it, the fact the Kenora Thistles won the Cup in 1907…I love it."
He's hoping he and his teammates won't have to wait long to have the chance to defend their title. Westgarth, who has been part of numerous negotiating sessions throughout CBA talks, simply wants to get back on the ice, just like his fellow NHLPA members.
"We have one purpose and a united cause," said the forward, who scored his first big-league goal on November 23, 2011. "We might not be wearing crests on our chests, but we're working together as one unit to get a fair and equitable deal. If there was any concern that younger guys, European players or top-line players wouldn't be involved, it's quite the opposite. Every single type of player is immersed in this. It doesn't matter age, country, what role you play, everyone is standing together."
That would include players Westgarth has dropped the gloves with.
"Look at me and George Parros," laughed Westgarth. "We've scrapped with each other several times in the past and we've talked quite a bit during this process. Maybe we're being so nice because neither one of us has really got the upper hand on the other. It's been civil between everyone. We play and play hard against one another, but this is our association and we're proud of that.
"We've got a great leader in Don and everyone that works in the NHLPA office is keeping us informed," he continued. "We're a unified group, 100 per cent."