#FoundAPlaceToSkate
On what was supposed to be the opening night of the 2012-13 NHL season, locked out NHLPA members around North America re-connected with their minor hockey roots, giving youth players across the U.S. and Canada with a surprise they will never forget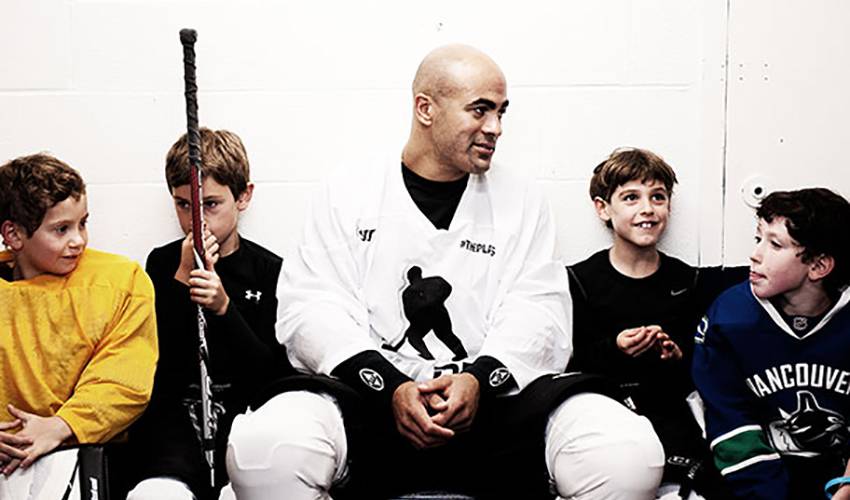 On what was supposed to be the opening night of the 2012-13 NHL season, locked out NHLPA members around North America were left feeling the itch to find a team to hit the ice with and hone their skills. Unable to lace up the blades with their NHL brethren, many of them turned their attention to re-connecting with their minor hockey roots by providing youth players across the United States and Canada with a surprise they will never forget.
Despite all 30 NHL rinks remaining dark, 29 NHLPA members took to the ice to brighten up the lives of hundreds of aspiring hockey players on both sides of the border. For the Players, Thursday instead marked the culmination of what has been a rapidly growing Player driven initiative to get out in the community and give back to the fans who love the game so much.
It was simply a day to smile, laugh and have fun. No matter what rink the Players stopped in the overwhelming feeling was just that. Daniel Paille took teammates Brad Marchand, Gregory Campbell and Johnny Boychuk and surprised kids in Boston area rinks. Matt Kassian , Jeff Woywitka and Jeff Petry took to the ice in Edmonton, while Ryan Miller alongside Stanley Cup Champions Rob Scuderi and Matt Greene, provided some guidance to a Peewee AA team in Los Angeles to name just a few.
Over the past few weeks, more than 60 Players from around the league have popped into community rinks and surprised youth hockey teams by hitting the ice and taking part in full practices as if a member of their team.
Jamal Mayers Surprises the Falcons:
Players like Matt Stajan, Carlo Colaiacovo and Shawn Mathias went back to skate with their minor hockey coach who still coaches in the same Mississauga Senators organization. Kevin Bieksa and Dan Hamhuis made a couple of stops in Vancouver, working with teams in the Vancouver area. Steve Montador and Mike Brown skated with kids in Chicago, while Matt Hendricks helped kids in Washington.
In all, more than 1,000 children from over 50 minor hockey organizations have skated with NHL players since the owner's lockout began back in September.
The Player-driven initiative has been a great way for them to give back to the communities where they live and work, as well as, for some, the places where they themselves learned to play the game – bringing back some great memories along the way.
"I have never done a practice where the kids didn't know I was coming beforehand. It was fun to see how the kids changed when they realized they were practicing with a professional hockey player. It is easy to see how big of an impact someone in our position can have on these kids just from spending a little time with them," said Minnesota Wild forward Darroll Powe, who practiced with kids from Hastings Minor Hockey.
By re-connecting with their hockey roots, the players have had the opportunity to teach and participate in drills, talk to the kids about their futures and provide insight into what it takes to be successful at the highest level of the game.
"I remember having a similar visit when I was their age and know how much it meant to me. Hopefully in 20 years, some of these kids will be on the other side of one of these visits as well," Powe added. The players understand the importance of giving back and growing the game, but also understand that fans are eager to see NHL hockey back on ice, and they feel the same way.
"I think it's important to get involved with local hockey during the lockout. It gives us a chance to connect with the kids and parents of the community, and ultimately, grow hockey in our areas," said Boston Bruins defenceman Joe Corvo.
Kids of all ages have been impacted by the Players' visits, from five year olds just learning to skate to 16 year old AAA players, also to the delight of the parents and coaches of kids of all skill levels.
"On behalf of the entire 14U Troy Lady Sting hockey team, I would like to send out a huge thank you to Mr. Dan Cleary for spending time with the team," said Diane Gialloreti, Team Manager of the Troy, Michigan team surprised by Dan Cleary. "As hard as it was to keep the secret, the girls were totally surprised and awestruck when he arrived on the ice. They appreciated the tips Danny gave them and enjoyed challenging him during the drills. I watched as the players came off the ice and every single one of them was beaming with happiness."
Players began rallying around the hashtag #foundaplacetoskate to share photos and messages about their surprise practice visits. Through Twitter, they've been able to connect with fans at the rinks visited but also those following along online.
Fans are encouraged to snap a picture of their local stars skating with minor hockey teams and tweet about it using the #foundaplacetoskate hashtag. Below is a compilation of some of the best tweets and photos from recent skates.